Girls Cadet College Mardan Admission
Girls Cadet College Mardan starts taking admission applications for the 7th Entry session in 2023–2024. A Project of the government of Khyber Pakhtunkhwa was established in 2017 by the elementary and secondary education departments.
Girls Cadet College Admission Last Date
Last Date for submission of Admission applications for 8th grade: October 22, 2023
Last Date for Submission of Admission Application form for 11th Class: December 4, 2023
Entry Test Examination
Eligibility and Selection Procedure
Girls Cadet College Eligibility for 8th Class
Age 12 to 14 years on April 1, 2024.
Candidates should have passed 7th grade at the time of admission and should apply with a hope certificate. A medical and fitness certificate is necessary.
Girls Cadet College Eligibility for 1st Year (11th) Class
Age limit: 15 to 17 years as of April 1, 2024. Candidates should have passed 9th grade with 70 Percent marks and have appeared in a metric examination at the time of admission.
Candidates can apply with the hope of a certificate from the principal mentioning that she will secure an overall score of 80 % in the SSC Part 2 examination.
Candidates must submit a DMC from the 9th grade.
Medical fitness is mandatory for both categories.

Girls Cadet College Entry Test Exam Date
The entry test will be held at girls cadet college Mardan. The college prospectus can be obtained from bank branches of askari bank limited at the cost of Rs. 2000/-
Class 1st Year Entry Test Date: 17 December 2023
Class 8th Entry Test Date: 05 November 2023
Admission Form and college prospectus
Admission form and prospectus can be obtained or demanded by post sending bank draft of Rs 2300/- in the name of principal girl's cadet college Mardan. In case of overseas Pakistani citizens applying for their daughters, prospectus along with forms may be download from college website www.gccm.edu.pk.
Download Admission Application Form: Here
Syllabus for Entry Test
Girls Cadet College Mardan announced the Syllabus of Entry test for 8th Class and 11th Class. Download Below PDF Syllabus for Entry Test examination.
Download Syllabus for 8th Class Entry Test: Download Here
Download Entry Test Syllabus for 11th Class: Download Here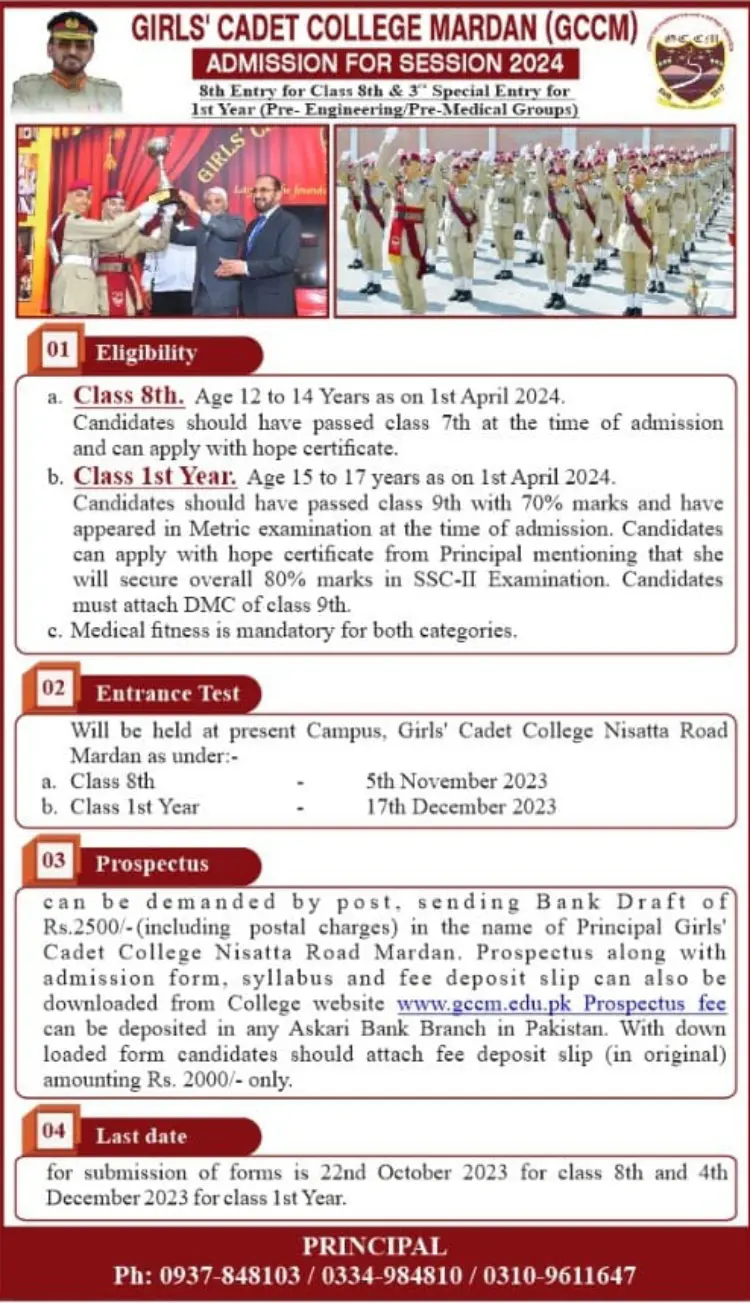 Cadet College Mardan Entry Test Syllabus for 8th Class
Subjects:
Structure of Atom:
Water:
Physical and Chemical Changes:
Transmission of Heat:
Organ System of Human:
Transport System in Human:
Reproduction in Plants:
Dispersion of lights:
Sound Waves:
Circuits and electric current: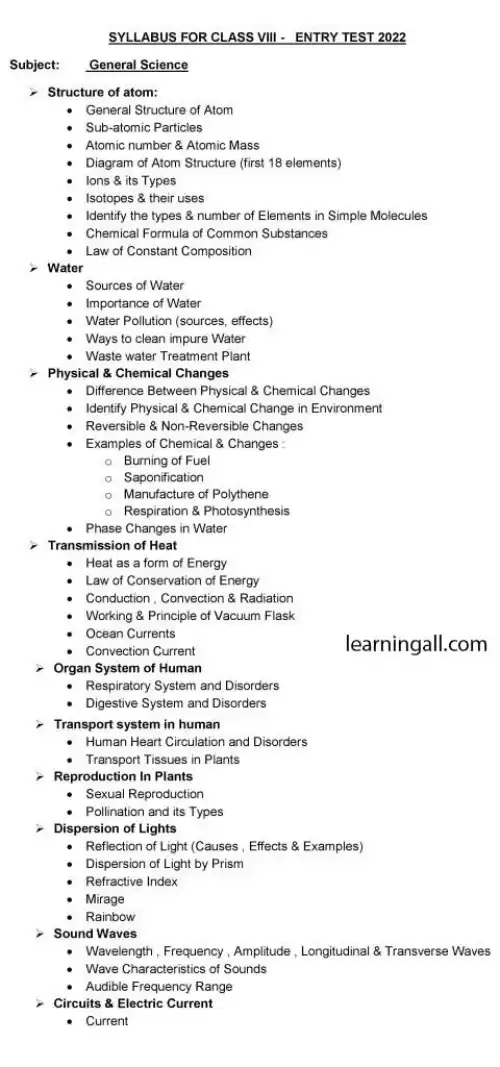 Syllabus for 1st Year Entry Test 2023
students can preparation for Entry Test for 11th class as below complete HSSC Part 1 syllabus is given for Entry Test.