Govt Sadiq College Women University Bahawalpur starts taking admission applications online session 2021-2022 for BA, BSc, Msc, and MS Programs.
The GAT general test for MS will be held on date 13 September 2021 Monday
Test / Interview for Hafiz E Quran 18 September 2021
Test for Sports Quota will also on date 18 September 2021
Schedule:
Last Date for submission of Admission Application form: 20 September 2021
Display first merit list: 23 September 2021
Last date for submit dues: 26 September 2021
2nd Merit list Date: 27 September 2021
Last Date for depositing Fees: 28 September 2021
Display of 3rd Merit List: 29 September 2021
Last Date for submission of Fees: 01 October 2021
Classes will be start from 28 October 2021
How to Apply Online:
A candidate / Applicant seeking admission in BS, MA/MSc, and MS Evening (E) programs shall apply online as per prescribed procedure:
Note: The candidates are advised to have all information about their Academic record, CNIC number, E-Mail ID and scanned/soft copy of picture before applying for online admissions.
Candidate shall register herself on the university website www.gscwu.edu.pk by filling the registration form.
Enter all the required Personnel information and get registered. Please remember your e-mail ID and Password for future queries/login.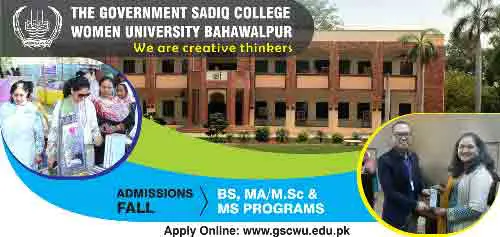 Enter Academic Information according to your admission preference(s) and submit application form(s). You will have to submit separate online application form and application processing fee for each desired program.
Print online generated Challan Form and deposit it in any HBL Branch of Rs.600/-.
You can apply in different programs as per eligibility criteria through your registered account. However for each program you must deposit separate application processing fee of Rs. 600/-.
Read Also: University of Gujrat UOG 1st Merit List 2021 Selected Candidates
You can login your registered account using CNIC/B-Form No and password to edit / update your application form or to check the status of your application(s).
Candidate must submit a hard copy of following documents in Admission cell up to September 17, 2019 for inclusion of her name in merit list. A separate hard copy shall be submitted for each program if the applicant has applied in more than one programs.
Documents Requirement:
A printed copy of online submitted application
Original copy of Challan form deposited in any HBL branch
A Copy of academic Certificates/ Degree(s)
A Copy of CNIC/B-Form
One photograph
A Copy of Domicile for quota seats
Approved documents for any other quota seats
In case of any query / problem, please contact Admission Cell GSCWU.
Online Admission Application Centers:
The computer literate applicants are encouraged to submit online admission forms through their own systems.
Read Also:UHS MDCAT 1st Merit List 2021 For MBBS Candidates
To facilitate such candidates who are not expert enough to apply for online admission, GSCWU Campus is providing a service at Data Entry Desk, where candidates can hire the expertise of computer experts [Key Punch Operators (KPO)] on payment of nominal charges Rs.130/- for each admission form.www gscwu edu pk merit list
NOTE: University reserves the rights to cancel any admission or not to start any program.
Registrar, The Government Sadiq College Women University, Bahawalpur