Jinnah Islamia Group of colleges for girls and boys in township Lahore starts receiving admission applications for following programs:
Ics
FA
Com
sc (Pre Medical and Pre Engineering)
Bsc
BA
BBA
Com
MBA (semester System)
com (2 Years Program)
MA (English)
Jinnah Islamia Girls and boys college is become best college of Pakistan because Jinnah Islamia college Lahore always take Positions from different programs every year, this year Jinnah Islamia college Lahore take first Position in MBA from University of the Punjab Lahore. Jinnah Islamia College is affiliated from University of the Punjab Lahore.
Read Also These for Admission in Lahore:
University of Education Lahore Admissions 2021 Fee Schedule for UOS Lahore Apply UOS Lahore Admissions 2021 Entry Test Result if you want to apply for Akhuwat College: Akhuwat college Lahore Admission 2021 Last Date Scholarship Scheme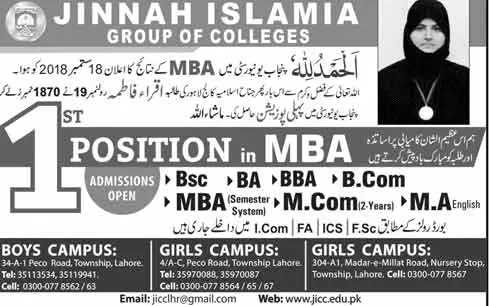 Jinnah Islamia college is private college but the faculty members and professors of this college is unique and wonderful teaching skills as previous students of Jinnah Islamia college always give the credit to teachers and other faculty members of this college that's why Jinnah Islamia college always get the positions from year session 2021 till current year session 2021.