Concordia College Admission Graduate Programs 2024
Concordia College starts taking applications for Bachelor programs BA, BSC, B.com IT, BS Hons, Computer Science, BBA Hons, BS Hons IT, and B.Ed Secondary.
Interested and Inter-Pass students can submit admission application forms for graduate programs.
Concordia College Admission in the First Year 2024
Concordia College offers admissions in FA, FSC, Ics, I.com, BA, BSC, B.com, BBA, and BSCS. Scholarships are available for talented candidates. The campuses of Lahore Garden Town, Gulberg, Canal, Hardanspura, Iqbal Town, Johar Town, Shahdara Town, and Walton Lahore
Concordia College campuses are also available in Islamabad, Gujranwala, Kasur, Mandi Bahaudin, Sahiwal, Multan, Sheikhupura, Gujrat, Sialkot, Peshawar, and Nowshera.
1st Year and ACCA Admissions 2024 at Concordia College Lahore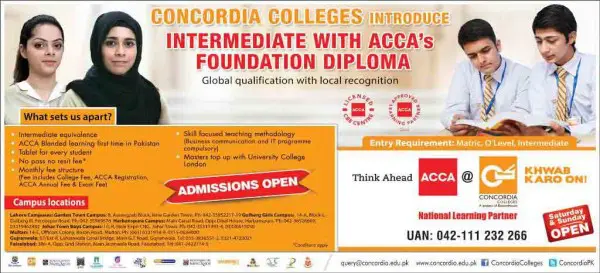 Students may choose from the following intermediate F.Sc., Ics., and Icom programs:
Pre-medical
Pre-engineering
Computer Science
General Science
Commerce
ACCA @ Concordia
General Admission Regulations
Admission is granted strictly on merit.
Admission is granted in accordance with the rules and regulations as well as the general policies and procedures of Concordia Colleges.
College Authorities can reject any candidate's application for admission on grounds of unbecoming character or conduct.
College authorities have the right to cancel the admission of a candidate at any stage if it is discovered that the documents presented are fake or that there is a misstatement or an error in the documents that may affect the merit position of the candidate.
Admission Procedures
The prospectus and admission form may be obtained from any of the Concordia College campuses.
Admission forms, duly filled out and certified by the parent or guardian, along with all required documents, should be submitted to the specific Concordia College campus where admission is desired.
No admission form will be accepted after the last date for submission of admission forms, except with the special permission of the principal of the campus.
After the completion of all formalities pertaining to admission, a list of selected candidates will be displayed on the campus notice board and the Concordia Colleges website, www.concordia.pk.
Candidates who fail to deposit their fee by the due date will forfeit their right to admission.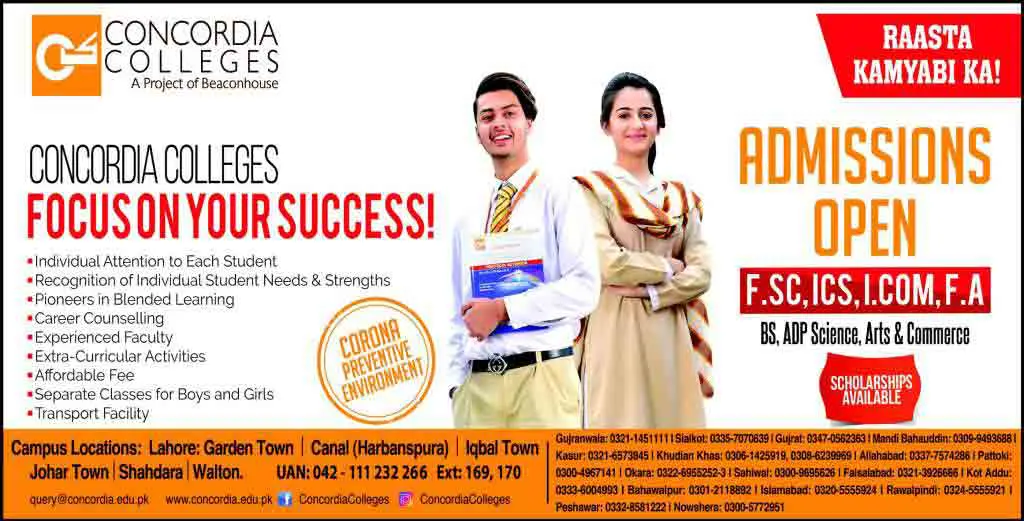 Entrance Requirements for O Level/Equivalent Examinations
Students who have passed the O Level or equivalentent examinations (i.e.,, not from a Board of Intermediate and Secondary Education in Pakistan) will be admitted on the basis of their O Level or equivalentent examination result. Their merit will be determined after converting their O-level or equivalentent grades according to the following formula:
A*= 90 marks A = 85 marks B = 75 marks
C = 65 marks D = 55 marks E = 45 marks
Only candidates who have passed in the following subjects, in addition to any other three subjects, will be eligible for admission.
English, Pakistan Studies Islamiat, Urdu, and Mathematicscs
Marks will be calculated for 8 subjects, including English, Pakistan Studies, Islamiyat, Urdu,, and Mathematics.
Admission on the basis of O level or equivalent will be made provisionally after the declaration of the results of those candidates who have passed the O level or equivalent examination in the years of admission.
Admission on an O-level O-level Level/equivalent basis will be confirmed after the submission of the equivalentcertificate obtained from the office of the the Inter Board Committee of Chairmen (IBCC).
For details,, please visit: https://www.ibcc.edu.pk
Courses of Study
Subject combinations can only be selected from the sets given in the prospectus. If a student selects subjects outside the given sets, he or she shall have to change these subjects in accordance with the given sets.
Pakistani students will have to study the same syllabus for Urdu; they come from an English-du-medium school.
Students who wish to attempt any paper in English for the board's examination must attempt all papers in English, including Islamiat and Pakistan Studies.
How to Apply Online:
he online Registration form is is available:

here