Abbottabad International Medical College and dental college starts admissions in MBBS and BDS session 2023
Abbottabad International Medical College required admissions form from Pakistan and International students for the Program of MBBS and BDS for Abbottabad city of Pakistan.
The last date of receiving admissions forms: 08 January 2024
MBBS and BDS admissions it's necessary that you must give entry test for more information check below this advertisement dated 19 December 2022. for check website www.aimca.edu.pk
Admissions Selection:
The admission selection committee is chaired by the principal.
The admission selection committee has discretion to refuse admission to any candidate who is its view is unsuitable or unlikely to benefit form the institution.
The decision of the admission selection committee shall be final and binding and unchallengeable in any court of law.
Admission Rules:
Applicants seeking admission in the MBBS must have passed the intermediate Certificate, F.Sc. (Pre-Medical) of the Board of Intermediate and Secondary Education or of university in Pakistan in the first division securing least 660 marks i.e. 60% or above marks. Students seeking admissions who possess a qualification from foreign university or college/school, which in scope and standard is found equivalent to the F.Sc. (Pre-Medical) examination of Pakistan, such as the British GCE, "A" levels or the American/Canadian High School Examination etc. are also eligible to apply.
Equivalence of foreign qualification with the secondary school certificate F.Sc) is judged by the inter-Board committee of chairman; sector H-8/4, Islamabad.
It will be the responsibility of the application to obtain equivalent certificate form the inter board committee of chairman, Islamabad. Equivalent certificate of such a candidate will not be accepted if he/she has not studied the subjects of Physics, Biology, Chemistry and English in his/her 11th and 12th years of studies. In case there is no mention of the marks in the certificate of the candidate issued by the inter board committee of chairman Islamabad, the conversion of marks will be assessed and decided by the Admission Selection Committee of the College.
After the college entry test, successful shortlisted applicants are called for interview by the Admission Selection Committee.
Admission will be provisional. All particulars, certificates or any other documents submitted with the admission form will be subject to verification. Any candidate whose documents are found to be incorrect or forged in any way or whose authentication is doubtful, will not be granted admission or struck off from the college rolls even if the candidate has been granted admission. A student can be removed form course of his/her studies if incorrect or wrong documents are found to have been submitted by such a candidate or his/her parents or guardian at the time of admission. No show cause notice will be necessary for such an action under this rule, nor would the principal or any other authority be liable for damage for any action taken under this rule.
The admission fee, tuition fee and other dues will not be refunded to those students whose admission has been cancelled or who leave the college for any other reason whatsoever.
Admission will automatically close, 60 days after the start of the academic session.
Applicants reporting for interview/admission should preferably be a accompanied by their parents. In case both the parents have expired their real elder brother/sister bring their identity cards or the copy of their parent's identity card if they are less than 18 years of age.
Requirement or Required Documents:
Applicants must attach with the application form attested photocopies of the following certificates.
Detailed Marks Certificate of the Examination, on the basis of which admission is sought i.e (F.Sc Premedical equivalent examination).
Secondary School Certificate Examination, (Matriculation)
National Identity Card (where available) or copy of father's National identity card. For Foreign and overseas applicants a photocopy of the first two pages of their passports.
Domicile/residence certificate.
Character certificate from the head of institution most recently attended by the applicant.
Students seeking admission on the basis of B.Sc, detailed marks certificate of B.Sc and F.Sc examination as well.
Overseas Pakistani and foreign candidates from USA, Canada and UK should submit a copy of the High School Certificate result and a copy of the transcript.
Students completing GCE A Level should submit certificate and transcript.
Any other educational or co-curricular activity certificate which an applicant wishes to be considered such as the scholastic aptitude (SAT) score etc.
Ten, passport size recent photographs of the applicant.
It is absolutely essential to present the originals of all the above documents at the time of interview. The original documents submitted will remain in the custody of the college till the student completes his/her course of studies.
Read Also: Abbottabad Public School Admission 2023 Test Date Result
Entry Test and Selection Procedure:
To determine merit for admission an entry test is held for the students belonging to the provinces where central entry test is not mandatory.
The entry test is an objective type test of multiple-choice questions in the subject of English, Chemistry, Biology and Physics. There are 110 questions, 25 each from the above questions. For each questions, 4 possible answers are given. The candidate selects one answer. Every correct answer scores 4 marks and for every wrong answer one mark is deducted. A blank reply carries no marks. Marks gained in the entry test, F.Sc, Matriculation and interview have the following weight age toward accessing entry test merit.
Matric 10%
F.SC Pre Medical 30%
Central entry test 30%
Aptitude interview/test 30%
Government Entry Test is a requirement of PMDC for all candidates applying for admission in MBBS or BDS.
In case of those candidates in whose province Entry test is not held, their entry test will be taken by the college.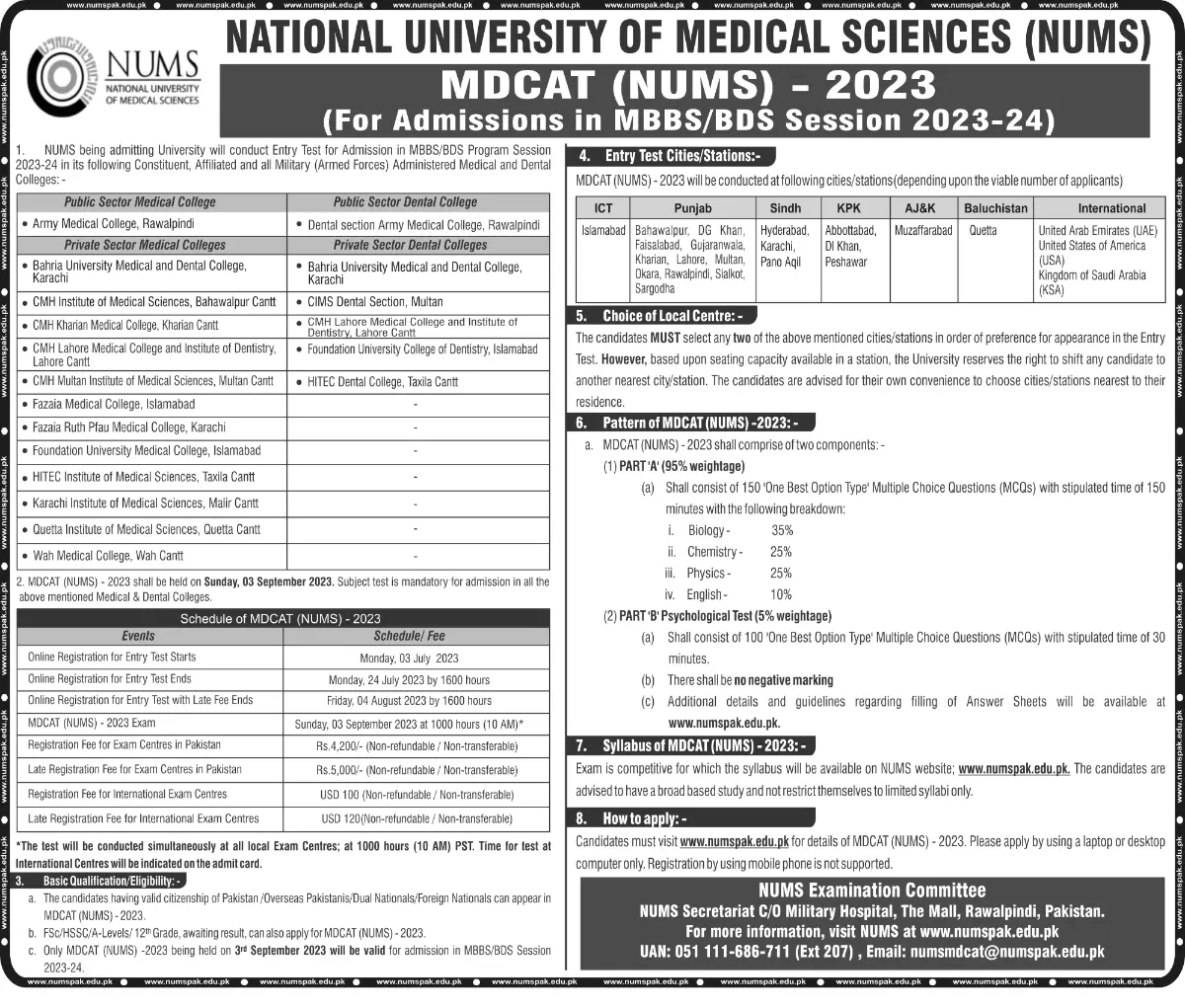 Foreign students are welcomed.
Both men & women candidates of all nationalities from abroad can apply.
They must have passed an examination from a university, college or school, which in scope and standard is equivalent to F.Sc. premedical (with subject of Biology, Physics and Chemistry) of Pakistan such as:
The British G.C.E 'A' level examination American High School examination Higher Secondary School exam of the Middle East Baccalaureate examination.
The may submit their MCAT score in support of their applications. Selected candidates from abroad will be assisted in obtaining students Visa and other legal documents required to study in Pakistan at Abbottabad International Medical College. Foreign Students do not have to appear in the Entry Test unless they wish to compete for the scholarships/ awards.
They will have to obtain equivalence certifications of their qualifications from:
The Inter Board Committee of Chairman,
Federal Board of Intermediate and Secondary Education Building, Sector H-8/4, Islamabad.
Phones 00-92-51-9235023 (From Overseas) 051-9235023 (from within Pakistan)
Read Also: Abbottabad University Science Technology Admission 2023 Test Merit List
Tuition Fee:
Medical education is expensive. According to PMDC rules there has to be highly qualified and experienced teaching staff, other facilities and expensive equipments in different basis and clinical departments of a medical college. On the clinical side teaching hospital facilities are very costly. It is estimated that the cost of training a medical graduate in Govt. Medical college is over Rs. 9 million in five years in Pakistan. The same or similar training abroad costs about Ts. 20 million in the UK and still more in the USA. Whereas at AIMC it may cost about a tenth of international cost and less than about one fourth of the cost that Govt. incurs on training of a doctor in Pakistan.
The fee charged by the college barely covers the cost of teaching training programs. Instruments, equipment's, material and chemicals and salaries are required in this process. As this college is functioning on self-finance basis, it is imperative that students admitted to the college pay the college dues in time. The college has to make arrangements and organise various teaching and training programs well in advance of the time when these facilities are required by students. These facilities are also inspected by the University students. These facilities are also inspected by the University and the PMDC teams regularly and have to be of the desired standard.
Read Also: RMC Rawalpindi Admission 2023 Entry Test Merit List Date
Abbottabad International Medical College is a self-financing institution; therefore, it has to charge a reasonable tuition fee. For those Pakistani students who are capable, have leadership qualities and are keen to pursue the medical profession and they fulfil the requirements of admission and are able to follow the rigorous academic requirements of, a highly scientific course, confessional fee have been fixed which are less than about a quarter of the actual cost of education in a Govt. medical colleges in Pakistan or in any recognized medical school abroad. AIMC fees are less than the fees charged by the Govt. Medical colleges from the paying students.