Admissions in Al-Sibgha School System Samanabad Lahore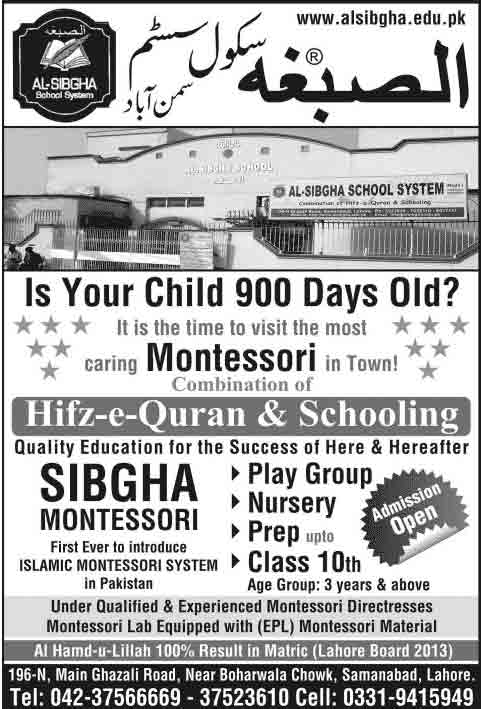 JUNIOR SECTION: This section consists of two levels.
Level-I: In this level the child will first study regular Nursery class and then will move on to the Prep class, where the basics for Hifz-e-Quran will be developed, along with the regular school education.
Level-II: In this section the Hifz-e-Quran will be started along with the regular but limited schooling.
II- SENIOR SECTION: In this section the students will continue their regular schooling from 6th class onward to "O Level" / Matriculation.
III- SPECIAL SECTION: The children (at the age of 10/11) who have completed their Hifz-e-Quran in the institute other than AL-SIBGHA, arrangement has been made for their admission in class VI subject to the condition that they have spent two years in AL-SIBGHA to cover the courses from class I to class V. Such students will take matriculation examination under Lahore Board. alsibgha.edu.pk
AGE:
Class: Age (Approx.)
Play Group: 2.5 – 3.5 years
Nursery: 3.5 – 4.5 years
Prep: 4.5 – 5.5 years
Class I: 5.5 – 6+ years
Class II: 7+ years
Up to Class X / "O" Levels.
Contact us:
196-N, MAIN GHAZALI ROAD,
NEAR BOHAR WALA CHOWK.
SAMANABAD, LAHORE,
PAKISTAN.
Tel: +92-42-7523610
+92-42-7566669
+92-42-7026110
+92-42-8417111
Email: info@alsibgha.edu.pk