Admissions starts in The Knowledge School system in All over the Pakistan. Here is a Detail of Admissions in all cities of Pakistan. For admission contact your Nearest TKS Campus. Admissions are open from Playgroup to Matric in The Knowledge School.
The Knowledge School johar town Lahore open admissions from Play Group to Matric
Admission Procedure
Parents seeking admission of their Children must fill in Registration Form for each child.
They must also obtain a copy of school prospectus from school.
Date of admission test and interview is indicated at the registration slip.
Admission is based on merit, availability of seats, and sibling reference.
Those found suitable, are issued admission forms.
Once the admission is approved by the Principal, necessary fee Challan is issued.
Admission will be confirmed on deposit of fee as well as receipt of the following:
For Fresh Admission
Parent's / Guardian's CNIC Copy
Birth Certificate of the Child
Two 1"x1" sized latest photographs of the student
For Migrating Students
Parent's / Guardian's CNIC Copy
Two 1"x1" sized latest photographs of the student
School Leaving Certificate
Last Progress Report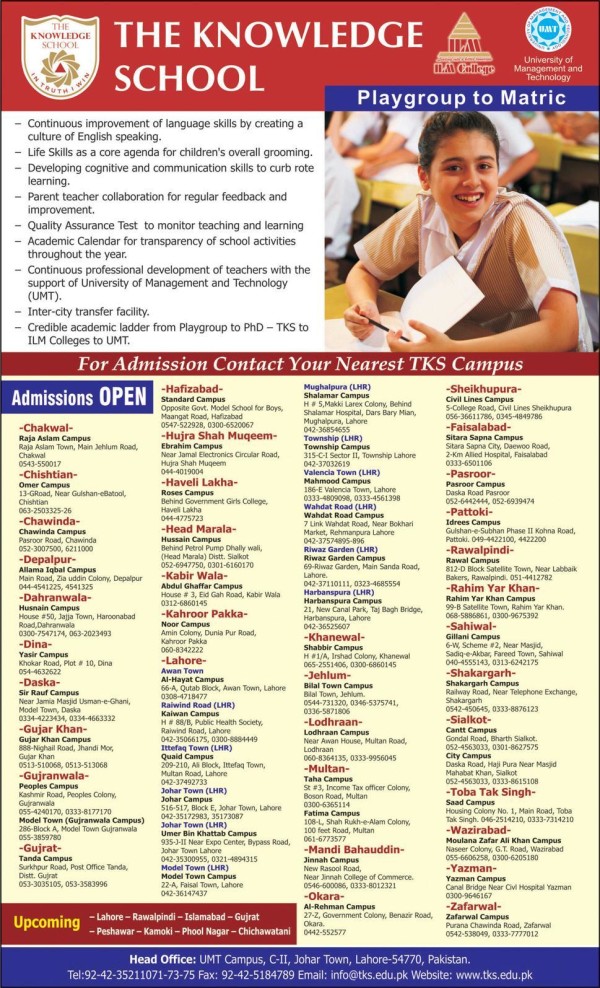 The Knowledge School Campuses:
Zoha Campus
Dunya Pur Road, Adda Zakhera,
060-8601410 / 0302-8749211
Arifwala Campus
396- Gulshan-e-Iqbal Colony,
Arifwala.
Cell: 0322-7047794
Toheed campus
House # 21-A, Fareedia Colony,
Arifwala, Distt Pakpattan.
Cell: 0321-6530043
Ali Pur Campus
Opposite Goraya Marriage Hall,Alipur by pass near khan & Chatta CNG.
0300-4506012/ 03224369707
Badar Campus
Hamza Town (BWP Road), Ahmed Pur East
0334-3333829
Touheed -I Campus,
Sahiwal Road, Ada Kameer
Ada Kameer
03013735647,03217552435
Ahsan Campus
Bhegowal Road, Badiana
0321-6161614 / 0324-2222822
Bahawalpur Campus
24-A, Satellite Town, Bahawalpur
062-2284050
Shahab Campus
13-A, G.O.C, General official colony, Model Town B,near Masjid Farooqia.
0334-6852855
Husnain campus
House no 50, Jajja Housing Scheme, Haroonabad Road, Dahranwala, Tehsil Chishtian, Distt Bahawalnagar, Dharanawala
Chowk Marly Campus
Bahawalnagar Road, chowk Marly
0302-6903133
Roses Campus
Depalpur Road, Baseerpur
0333-6940723
Ali Ahmad Campus
Sabirabad, Adda Begowala
0526-523622
Raza Campus
Factory Area, Bhalwal
048-6644466 / 03006007465
Burewala Campus
Ilyas Garden Chichawatni Road, Burewala
067-3012587 / 0333-6998060 / 0302-7998777
Bhadana Campus
butt sweets and bakers, kashmir point, yousaf plaza bhadana
03016312289/03218609200/03246203789/03246203779
Omer Campus
13-G road,near Gulshan-e-Batool,Chishtian
063-2503325-6
Chawinda Campus
Pasroor Road, Near Masjid Al-Jana, Chawinda
052-3007500
Raja Aslam Campus
Raja Aslam town,Main Jehlum Road, Chakwal
0543-550017
Dhoda Campus
Near Sabz Mandi, Dhoda Chakwal
0300-7114517
Chakwal Campus
chakwal bypass thanal road peer ladha chowk chakwal.
03325939021/0543553228
Umer Bin Abdul Aziz Campus
Kingra Road, Chobara
03217184584, 052-4001884
Sardar Jafar Ali Campus
Faisal Colony, H # 4036,Tehsil Chunian, Distt Kasur
0300-4345147
Charsadda City Campus
Gulbahar Colony,Mardan Road,Charsada
091-6512330 / 0336-8578571
Sultan Abdul Hakeem Campus
Hujra Road, Chorasta Mian Khan
03317544810 03457544810,03041006566,0444890011
Sir Rauf Campus
Near Jamia Masjid Usman-e-Ghani,Model Town, Daska
0334-4223434, 0334-4663332
Rashid Campus
Gulistan Colony, Jamshaid Street, College Road, Daska
03344663332
Allama Iqbal Campus
Main Road, Zia uddin Colony, Depalpur
044-4541225/044-4541325
Husnain Campus
Yateemwala Road, Opposite Malik Hardware, Dharanwala, Bhawalnagar
Yasir Campus
Opposite Govt. Girls Higher (Secondary) School, Dina
0544-632622/0544-631621
Dhoda Campus
Near Sabz Mandi, Dhoda
Dhoda
03007114517
Lahorian Campus
P-7 Main Rajay Wala Road Green View Colony ,Faisalabad
03205757381
03336508388
Deen Campus
P-26 Muslim park, Noorpur Road, Muslim Town # 1, Sargodha Road, Faisalabad
041-8860471 / 0321-6688471 / 0300-6688471
State Campus
State School,Baba Fareed Town, Main Samanduri Digkot , Faisalabad
0300-7990458
Gulistan ColonCampus
P-419, G, Gulistan Colony, Faisalabad
041-8787519/0300-8663697,03006674502
Faisalabad
Imaan Campus
Mohallah Dar-ul-Islam,Civil Hospital Road, Farooqabad
056-3877786
Ahmad Din Campus
Sagheer Park near HBL Noshehra Road Gujranwala
055-4215246 / 0324-9001467
Awan Chowk Campus
Awan Chowk,Nowshehra Road,Gujranwala
0300-8430750/0345-7888260
Gujranwala Campus
286 Block A ,Model Town, Gujranwala
055 3859780
People's Campus
Kashmir Road, People's colony, Gujranwala
0554240170
Gujar Khan Campus
888 Nighail Road, Jhandi Mor, Gujar Khan
0513-510068 / 513068 / 0513-514473-514474
Bhagowal Campus
Mohallah Shamali, Bhagowal Kallan,
Dakhana Khas, Tehsil & Distt Gujrat.
0334-4656010
Roses Campus
Canal Road, Haveli Lakha
0333-6940723/0312-6940723
Standard Campus
Behind General Bus Stand, Opp Gov Model School for Boys, Mangat Road, Hafizabad
0547-522928
Aima campus
Baig colony, Near Ahsan Honda, Haroonabad, Distt Bahawalnagr,
0300-7699989
Hyderabad Campus
Banglow # A-23,Unit # 3,Latifabad,Hyderabad
022-2100396,0223816803,03003048856.
Ebrahim Campus
Near Jamal Electronics, Circular Road, Hujra Shah Muqeem
0300-4439663
Haroon Campus
House # 118, Principal Road, F-15-1, Khayaban-e-Kashmir, Islamabad
0301-8085618
Bara Kahu Campus
Kiyani road Bara Kahu,
Islamabad.
0333-5634426,03222595465,03005277671
CAPITAL CAMPUS
MAIN KASHMIR HIGH WAY, G 12/4, ISLAMABAD.
0300-5521248
Chaudhry Fazal Campus
YA RASOOL-ALLAH Chowk, Vanikey Tarar Road, Jalalpur Bhattian
0333-6995590
M.A Jinnah Campus
22- F, Satellite Town, Jhang
047-7630404-5
Bilal Town Campus
Bilal Town, Jhelum
0544-731320 / 0335-7313200
City Campus
Opposite District nazim Office (Dingi Pully) Civil Lines, Jhelum
0544-624320/0346-5375741
Kalasswala Campus
Pasroor Road, Klasswala Khanewal
0301-8749638
Shabbir Campus
House # 1/A, Irshad Colony, Khanewal
065-2551406
Abu Bakar Campus
Maadi Shah Chowk Near Sui northern office Ali Pur Road,Khangarh
03128740070 03438740070 0662610070
Zainab Campus
Gulshan-e-Iqbal, Opposite Shafi Pump bypass Road, Khanpur
0685576000 / 03455576000
Noor Campus
Amin Colony, Dunia Pur Road, Kahroor Pakka
0608-342222
Abdul Ghaffar Campus
House # 3, Eid Gah Road, Kabir Wala
065-2411247
Gillani campus
Gillani Cottage Saddiquea Colony Khuddian Khas Thesil & Distt. Kasur.
0323-6585655 / 0300-6585655
Kingra Campus
Sabaz Kot Road, Kingra, Tehsil Pasroor, Distt Sialkot
0321-7182010/0300-7162728/0314-4702662
Tahir Campus
Opposite Cheema Traders, Adda Kotli Bawa, Faqeer Chand
0345-4070614 / 0331-6681871
Hassan Campus
Main Rasoolpur Road, Jamat Pura Near Railway Station,Kasoor
03117291988 , 03244517882
Al-Shafi Campus
Kulluwal, Tehsil Sambrial, Disst Sialkot
0344-6349137,03446347422
North Nazimabad Campus
Banglow # LTS/SB/23,Block K,Behind Farooq-e-Azam Mosque, North Nazimabad
Karachi.
021-36721171/021-36721172/
03218753333.
Rehman Campus
Bangla Road near chanab cotton factory, Kot Samaba, Distt RYK
Kot Samaba
03009740828
Habeel Campus
23-C, Nawab Town, Raiwind Road , Lahore
042-35300023
0320-4488488
Amna Fayyaz Campus
D-524, Main Amir Road, Shadbagh Lahore
0320-4748019
Ahmed Campus
13-3-AII, Township, Lahore
0300-8414481
Al-Qalam Campus
821-R Model Town, Lahore
042-35864617
Bhukhari Campus
33-Jahanzaib Block, Allama Iqbal Town, Lahore
042-37805624 / 0300-4152962
Chaudhry Fazal Campus
Faisal Town, Kahna Nou, Lahore
042-35274745 / 0300-4259594 / 0321-8479745
Fazal-e-Kabir Campus
77-A overseas A, Behria Town, Sector B, Lahore
Harbanspura Campus, Lahore
170 NEW CANAL PARK STREET # 2. TAJ BAGH ROAD LAHORE.
0423-7048620,  0333-4171087
Malik Campus, Lahore
997 H Block, Samanabad, Lahore.
0323-9634302
Mohi-ud-Din Campus
348 G3,Johar Town, Lahore
0313-4004009 / 0335-4891132
Mahmood Campus
186-E Valencia Town, Lahore
042-35210787
Royal Campus
113-B, Shadman I, Lahore
0300-4786902 / 0323-4011564
Umer bin Khattab Campus
935 J II , near Expo Centre, By Pass Road, Johar Town, Lahore
042-35300955
Jalal Campus
7-E, Gulshan-e-Ravi, Lahore
0323-2400009 / 0333-4154065
Johar Campus
516- 517, Block E Johar Town, Lahore
042-35172983 / 35173087
Quaid Campus
209-210,Ali Block, Ittefaq Town, Multan Road, Lahore
042-37492733/37492670
Township Campus
305C-2-C1, Township, Lahore
042-37032619
Al-Hayyat Campus
66-A, Qutab Block, Awan Town, Lahore
0308-4718477
Shalamar Campus
5 Makki Larex colony, behind Shalamar Hospital, Dars Baray Mian, Mughal Pura, Lahore
042-37009428/36854655
Wahdat Road Campus
7 link Wahdat Road, near Bokhari Market, Rehmanpura, Lahore
042-37574895-896
Khayaban-e-Jinnah Campus
177-D Block,Architects Engineers Housing Society, Lahore
0304-4488844
Kaiwan Campus
LDA Avenue,6-k.m, Raiwind Road, Lahore
042-35321682
Loralai Campus
Near Tablighi Markaz, Loralai
0824660098 / 0306-3932423
Manawala Campus
Farooqabad Road, Faisal Town, Manawala, Sheikhupura
056-3772699 / 0332-4431699
Mandi Bahauddin
Jinnah Campus
New Rasool Road, near Jinnah College of Commerce, Mandi Bahauddin
0546-600086
Mandira Campus
Main GT Road, Mandira
051-3591099/051-3592099
Haseeb Campus
132-Khayaban-e-Iqbal Housing Society, Union Council Road, Manga Mandi
0321-4087791/0345-5757990
Mianwal Bangla Campus
Pasroor, Gujranwala Road
052-3003535 / 0323-7770144/0336-7575811
Fahad Campus
E 94 street Haji Sahar Gul Khan,Vandi Ghond Val,Mianwali
0302-4463771
Sultan Abdul Hakeem Campus
Mr Ahmad Nawaz
Hujra Road,Chorasta Mian Khan.
Tel # 0331-7544810/0345-7544810/0304-1006566/0444-890011
Fatima Campus
29-Y, Main GT Road, New Multan, Multan
0344-4451947, 0616773311,03446773311
Fatima Campus
108-L,Shah Rukhn-e-Alam colony, 100 feet Road, Multan
061-6773577
Taha Campus
Lodhi Colony, Obhay Market, Nishat Road, Multan
061-402675
Resham Campus
Bangla Road, Muridkey
0306-4447475
Hassan Campus
Behind Sohail Petrolium, Multan road, Muzafargarh
066-2422201
Daira Chowk,Mandi Tharo,Tehsil Pasroor,Distt Sialkot
Mandi Tharo
03009442646,03217184320
Taj Campus
Eid Gah road Norowal
03318452017 03007766015
Iqbal Sipra Campus
Talwandi Bhindraan Bank Chowk Halowal Road,Muridkey Road, Distt Narowal.
0346-7739399
Al-Rehman campus
House #2 7, Block Z, Main Road, Government Colony, Okara
0442-552577
IMT Campus
165- Rehmat Ullah Town, Okara
044-2700235 / 0321-6955235
SMT Campus
23-24 D Block, Tehsil Road, Okara
044-2525876/0321-6955235
Sardar Muhammad sharif Dogar Campus
Mohallah Miankey Mor,Kot Radha Kishan Road,Phoolnagar,Tehsil Pattoki,Distt Kasur
Phoolnagar
03338081250
Baba Fareed Campus
House # 96/97,Al-Fareed Garden,Gate # 3,PakPattan
0332-6833281
Idrees Campus
Gulshan-e Subhan, Phase-II, Kohna Road, Pattoki
049-4422100/4422200
Pasroor Campus
Daska Road, Pasroor,
0322-6442444/0323-6442444
Gulbahar Campus
Near Jan's shopping Arcade, Gul Bahar # 3. Peshawar
Ph: 091-2261352 / 0335-9800034
Afaq Campus
Qasim Colony Takht Bhai, Mardan
0314-9620063.093-7552435
Ameer-e-Millat Campus
Near Sofia Marriage hall, Qila Ahmedabad
0335-4357004/0331-6150009/0332-8175286
Fatima-Tu-zahra(R.A) Campus
Main Road,Qila Kalarwala
0321-4512023
Qaboola Campus
Al-Hammad oil Mills, Qaboola
0302-6903133
Alamo Chowk Campus
Airport Road, Quetta
0333-7895662
Kuchlak Campus
Ziarat Road, Quetta
0301-8554475
Shehbaz Town Campus
Phase 2 House No 32 D, Shehbaz Town, Quetta
081-2863187
GawalMandi Campus
Arif road , Quetta
081-2835553/0300-3867200
Satellite town Campus
bilal colony,Block-5 satellite town,Quetta
0333-7807977,03138422472
Rahim Yar Khan Campus
99-B, Satellite Town, near Orion College, Rahim Yar Khan
068-5886861-2
Rehman Campus
386-D, Satellite Town,
Distt Rahim Yar Khan.
Cell: 0300-9740828
Gulshanabad Campus
house no 1305,
street no 66,
sector 2. Gulshanabad, adyala road
Rawalpindi.
0331-5191912
0310-4444555
Tulsa Campus
CB 438 Tulsa Road, near Manosalva Sweet house Lalazar, Rawalpindi Cantt
0323-8500178
Muhammaden Campus
Qadri Plaza, Pakistan Town, P.W.D, Rawalpindi
0323-8500178
Gulreez Campus
Street # 5,house # 289, Gulrez Housing Society, Phase 3, Rawalpindi
0323-8500178
Rawal Campus
812-D block, Satellite Town, near Labbik Bakers, Rawalpindi
051-4412782/0333-5912964
Sadiqabad Campus
Canal Bank,near Khanqah, Sadiqabad, Distt Rahim Yar Khan,
068-5036255
Gillani Campus
6/W Scheme No 2 Near Masjid Sadiq e Akbar, Farid Town Sahiwal.
040-4555143 / 0300-6907883
Moosa Campus
Old Zarai Bank Building, Kandair Road near hospital, Sanjer pur
Sanjar Pur
03458579727
National Campus
Mor Sambrial, Sambrial
0526-523348
AFNQ Campus
97-A Satellite Town, Sargodha
048-6004878
Shakargarh Campus
Gumtala Chowk, Noor Kot Road, Near Gulzar-e-Madina Masjid, Shakargarh
0542-602044
Civil Lines Campus
5-college Road, civil Lines, Sheikhupura
056-3611786
Sheikhupura Campus
18-19,Z block, Housing colony, Sheikhupura
03009472986 0563500472
Civil Lines Campus
5-college Road, civil Lines, Sheikhupura
056-3611786
Sheikhupura Campus
18-19,Z block, Housing colony, Sheikhupura
03009472986 0563500472
Rafiquee Campus
Peer Mahal Road,Shor Kot Cantt
Shorkot.
0301-7281327 / 0334-6044281 / 0475500481
Tanda Campus
Surkhpur Road, post office, Tanda, Distt. Gujrat
053-3035105, 053-3583996, 03006267218, 03316267917
Saad Campus
Housing colony no 1, Main Road, Toba Tak Singh
046-2514210
Toheed Campus
Main tarikni road, Tarikni ada
0321-6530043,0457310300
Afaq Campus
Takht Bhai, Mardan
Peshawar
03149620063,0937552435
Al-Nazar Campus
105/2A, Model Town, Ugoki, Distt Sialkot
0306-9775064/0302-5441249
UBARO Campus
Gulshan-e-Alhabib,near Al-Mustafa medical centre,Tehsil UBARO, Sindh
0723-688555 / 0305-3760989 / 0300-8247234
Moulana Zafar Ali Khan Campus
Naseer colony, G.Troad, Wazirabad
055-6606258
Yazman Campus
Canal Bridge Near Civil Hospital, Yazman
0300-9646167
Zafarwal Campus
Behind ZFC, Purana Chawinda Road, Zafarwal
0542-538049