Aitchison College Lahore open admissions update 2021-2022
All Admission queries should be directed to Administration and not the Principal's office, please. Aitchison College Lahore have received record numbers both national and international. We will free-up as many seats as we can but for the moment maximum places per year are as advertised on the website.
Testing dates, times and school venues for April are advertised on our website. Please read the FAQ section and familiarize yourself with the Rules of Admission.
Test results are the sole property of the College and used purely for ascertaining a merit list. These are not diagnostic tests for parents. Results are not shared with third parties. No age waivers are provided.
Admission testing is very fair for all ages and based on the Guide to Assessment also posted on our website. These tests are secured with the Principal. Boys asked to interview are not guaranteed a place. Interviews matter. Should places not be offered or taken up, we will select boys for additional interviews from the Merit List.
Aitchison College Lahore starts admission process will be start from Saturday
Admission Entry Test will be held in June 2021
Please apply personally or send a Bank Draft favoring the principal, aitchison college Lahore for Rs. 1000 for the necessary application forms and prospectus. While applying please state the date of birth of your son and the class of which admission is required.
Admission Courses:
A Level
O Level
Intermediate (FSC, ICS, I.com, FA)
All necessary information is provided in the Admissions section on this website. Please read this information carefully as ALL questions are answered.
We DO NOT provide age waivers so please do not ask. No exceptions.
Please do not email the Principal as once the Admissions process begins, he will not respond and nor will he take appointments to discuss individual admissions.
Our fees are published for this academic year 2020-2021 as a guide only. The expectation is for between a 5% to 8% annual increment, but the Board of Governors is solely responsible for making this decision.
We do not share results of Entrance Examinations with families nor release papers. Testing is purely for the College's benefit to determine suitable academic capabilities for interview. This is a condition of Admission testing.
Admission papers are marked by qualified teachers and a team of designated assessors count and confirm. Do not ask for papers to be recounted. This is a condition of Admission testing.
Enrolments are in two categories: Day and Boarding. No boarding place offer can be transferred to Day enrolment from Prep School upwards. Junior boarders must commit to 8 years. No exceptions.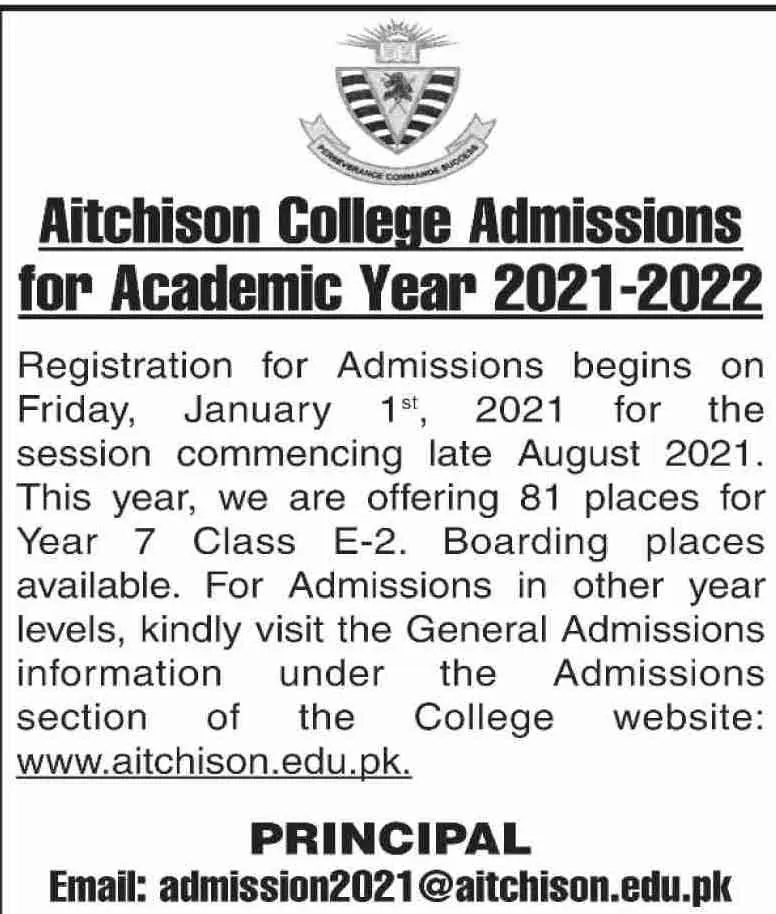 The Guide to Syllabuses is a guide only.
No tests can be retaken once a boy has entered the Examination Hall. There are particular rules for boys who are ill prior to the testing. A doctor is always on-hand. Please read these conditions. No variations to these rules will be considered.
Read Also:
 LCWU Lahore Intermediate Admissions 2021 Merit List
Aitchison runs a very professional and secure Admissions testing process. Papers are secure and marking is confidential. We do not publish results or the names of boys we admit. An invitation to interview does not constitute an offer of a place.
Read Also:
Lahore College for Women University LCWU B.Ed Admission 2021
To know best Colleges in Lahore see also:
 Top Best Colleges in Lahore for Admission in Inter