CFE College of Commerce and Science Admissions open in different campus in Punjab Pakistan. EFE Admissions in Fsc, Ics, Icom, B.com and BBA for session 2022.
CFE College provides educational activities in Lahore, Sahiwal, and specialist in Commerce, Accounting and Science. CFE Group of Colleges also provides scholarships to talented students. CEF already got positions in Lahore board. For more information about CEF college Admissions:
Eligibility
College of Accountancy & Finance
ACCA
ACCA offers different entry routes, depending on your age and previous academic qualifications.
Route – A
2 Passes in GCE A' Levels and three GCSE/ GCE O' Level in five separate subjects including Maths and English (If not English, then IELTS 6.5 band or TOEFL with CBE – 170/PBE 500 scores)
American Higher School Certificate with at least 50%
Route – B
Graduation (B.A, BBA, B.Com, B.Sc from any recognized University)
Route – C
Via ACCA Foundations Diploma (FD) or Foundations in Accountancy (FIA)
Recommended for Matriculate or Intermediate passed students
Students having passed the Seven Examinations from Introductory, Intermediate and Diploma stage of FD/ FIA qualification are eligible for exemptions of knowledge modules (F1, F2 & F3) papers. (requiring 11 papers to pass out of total 14)
AFD
ACCA Foundation Diploma offers various entry points, allowing maximum flexibility for prospective students to select the most appropriate entry route and progression to additional qualifications, based on their previous qualifications, experience and future career aspirations. It is important to note exams FAB, FMA and FFA within
Route 1: No formal Academic Qualifications
There is no formal academic qualifications required.
There is also no age requirement should you wish to start the qualification.
O-levels, Intermediate or Matriculation students are recommended to pursue their career in accountancy & finance.
Route 2: Entry Requirements for ACCA Qualification
For students who meet the minimum entry requirements to commence the ACCA Qualification i.e. have a minimum of 2 A Levels and 3 GCSEs or equivalent, they can either register for the ACCA Qualification and commence their studies at the Knowledge modules with F1, F2 and F3; or register on the AFD and complete the Introductory and Intermediate Certificates in Financial and Management Accounting if they prefer to take this route first. ACCA recommends students register directly onto the ACCA Qualification if they meet the minimum entry requirements for the qualification instead of entering the ACCA Qualification via ACCA Foundation Diploma. However, the option is available to those students who wish to obtain additional certificates at introductory and intermediate levels before commencing their studies on the ACCA Qualification.
Optional English and Mathematics Self-Check Modules
ACCA will continue to retain its open entry policy via AFD. However, to assist prospective students in gauging their general level of ability in English and mathematics, ACCA has developed optional self-check modules in English and mathematics. Included within the self-check modules are learning materials and links to other materials to help students improve their English language and mathematics skills which they may wish to complete before embarking on any of ACCA's qualifications. The self-check modules and recommended tutorial support are optional to complete, the self-check modules are free of charge and can be accessed from the ACCA website.
CA
There are two schemes of Entry:
Full Time Study Scheme
Trainee Scheme
Full Time Study Scheme
Candidates who have HSSC with minimum 50% marks, 'A' Levels with minimum two passes or equivalent qualification and graduates with minimum 45% marks.
Students meet the above criteria can enter the first level (AFC) after registration.
Before entering into the professional examination candidates pass or obtain exemption from entrance test; Assessment of fundamental Competencies (AFC). A candidate may be provisionally registered for AFC examinations as full time student if result is awaited
On successful completion of CAF, it is mandatory for the students to join an authorised training organisation of the Institute for a prescribed period.
Trainee Scheme
This scheme is designed for university graduates who want to pursue CA qualification.
Graduation and post-graduation qualification with minimum 45% marks are eligible.
Before entering into the professional exams candidates pass or obtain exemption from Assessment of Fundamental Competencies (AFC).
Training includes specific learning hours for each field of specialisation through practical experience. These standard working hours are mentioned in detail in the Training Regulations and Guidelines of the Institute.
During training the candidate qualifies the following stages:
Certificate in Accounting and Finance (CAF)
Certified Finance and Accounting Professional (CFAP)
Multi subject Assessments (MSA)
Financial Reporting Professional Competence; and Audit professional competence.
College of Commerce & Science
B.Com
Intermediate from any recognized Board, A-Level or Equivalent Or 12 years of education
Intermediate
At least matriculation (or)/ O-Level with equivalent certificate
Institute of Management Sciences
M.Com
Candidate having 2-year Bachelor (14-year of education, i.e. BA/ B.Sc./ B.Com etc) from a recognized university/ institute
MBA
Candidate having 2-year Bachelor (14-year of education, i.e. BA/ B.Sc./ B.Com etc) from a recognized university/institute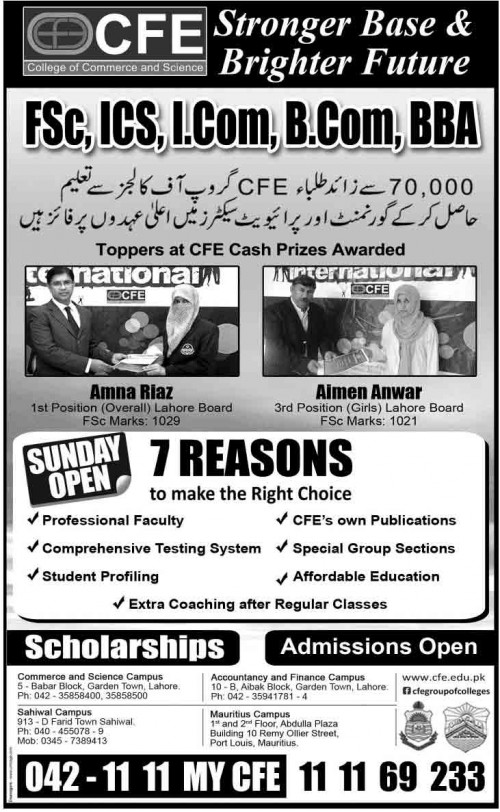 Fee Schedules
Pre – 1st Year
Tuition Fee
Marks Fees
90% and above marks in 9th class 100% scholarship
Less than 90% marks in 9th class Rs. 1,000 Registration and Rs. 1,000 tuition fee (adjustable in case of regular admission)
Graduation B.Com
Tuition Fee
Fee Structure Rs
Admission Fee 15,000
Tuition Fee 25,000
Miscellaneous 15,000
Total 55,000
M.Com
Tuition Fee
Fee for total course is (Rs. 90,000 per year)
MBA
Tuition Fee
Total Fee for MBA is Rs. 120,000 per year
CFA (USA)
Tuition Fee
CFE tuition fee for level I is Rs. 50,000
CFE tuition fee for level II is Rs. 70,000
CFE tuition fee for level II is Rs.80,000