Admissions Open in Chenab College Gujranwala
Chenab College of engineering and technology Gujranwala affiliated with UET Lahore and GC University Lahore starts admissions Bsc Electric Engineering, Bsc Mechanical Engineering, BS Computer Science GCU Lahore. Admissions open latest update 17 September 2023.
GET UET Degree in Gujranwala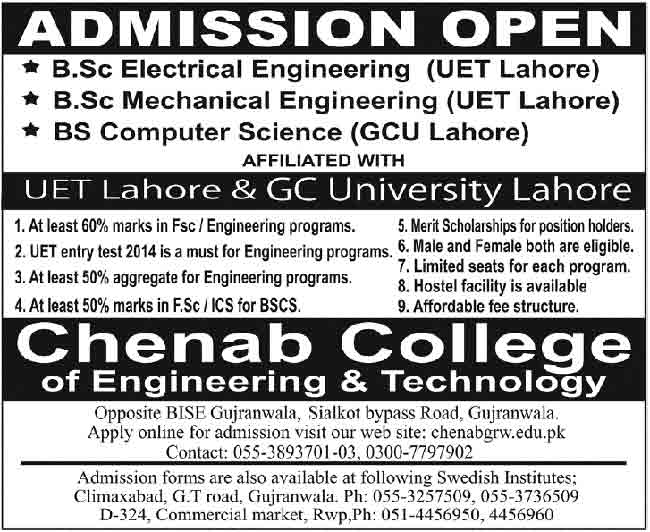 Eligibility Certiera Chenab College of Engineering Technology
At least 60 percent marks in Fsc required for engineering programs, UET Entry test is must for engineering students. 50 % Aggregate for engineering programs and admissions in BSCS 50 % marks are required from their HSSC.
official website: www.chenabgrw.edu.pk
Eligibility for B.Sc Electrical & Mechanical Engineering
A candidate is eligible to submit his/her application for admission if he/she satisfies the following condition.
That he/she has earned at least 60% marks in FSc. or equivalent examination.
That he/she has earned a minimum aggregate of 50% marks calculated by giving 70% weight to percentage marks earned in F.Sc. or equivalent examination and 30% weightage to percentage marks earned in the UET Entry Test.
Fee Structure B.Sc Electrical & Mechanical Engineering
> Admission Fee: Rs. 26,000 (one time payable)
> Semester Fee: Rs. 84,000
Selection for admission
Merit list of the candidates will be prepared by calculating the overall merit, based on the marks obtained in F.Sc and Pre-Admission Test and multiplying them with the respective weightage and adding the result up to calculate aggregate merit marks.
Percentage of Marks in: Multiplying Weightage
FSc / BSc / B Tech / DAE adjusted marks 0.7
Pre Admission Test 0.3
For example if a candidate has secured 70% adjusted marks in FSc/BSc/B Tech /DAE and 50% marks in Pre Admission test: his/her aggregate merit marks would be;
Aggregate merit marks= 70* 0.7 +50*0.3=64%
Important Note:
2% Admission seats will be reserved in every technology for the members of Al-Asar Gujranwala Technical Education Society.
Admission will be based on first come first serve policy.
Admissions are not challenge able in any court of law, forum or authority.
Eligibility for BS Computer Science
The applicant must fulfill the following criterion for admission to BS Computer Science
Intermediate with minimum 50% marks, in one of the following combinations:
F.Sc (Pre-Engineering)
F.Sc (Pre-Medical with additional Math)
ICS with Physics or Statistics or Economics
General Science with Mathematics,Statistics or Economics
OR
A-Level / Equivalent with:
At least three full credit Science courses including Mathematics.
Minimum B Grade / Equivalence certificate from IBCC
Fee Structure Computer Science
> Admission Fee: Rs.26,000 (one time payable)
> Semester Fee: Rs.60,000