Sadiq Public School GCE O and A Level February 2023 Notice:
All the students who are going to appear in CIE GCE O and A Level January and February 2023 Exams are required to collect their statement of Entries from HD. M SR, Hd.M G, Office before Sunday 03 February 2023. the candidates will be required to bring their original CNIC or Passport on the day of their Exam in addition to school ID card and the statement of Entry.
Class KO,KI, K2, K3, K4, K5, 6th, 7th, 8th, Pre O Level, Pre Matric and 9th.
Last Date for Submission of applications forms through mail / by hand for 
FA / FSC : 23 January 2023
A Level : 20 February 2023
Interview for provisional Admission: 
FA / FSC Girls on date 05 and 06 August 2023
A Level Girls interview will be held on date 19 August 2023
A Level for Boys Interview will be held on date 20 August 2023
FSC Pre Medical / Engineering and FA Interview for male will be held on date 7 to 08 August 2023
Regular Academic Session starts for 
FA / FSC on date 19 August 2023
A Level on date 26 August 2023
Some Seats in other classes are also available.
Sadiq Public School, Bahawalpur  starts admissions in FA / Fsc and A Level. submission of application forms.
Saqib Public School is a leading residential educational institution of Pakistan having celebrated 61 years of glorious achievements and traditions aims at providing quality education to boys and girls from class K0 to O-Levels and FA / Fsc.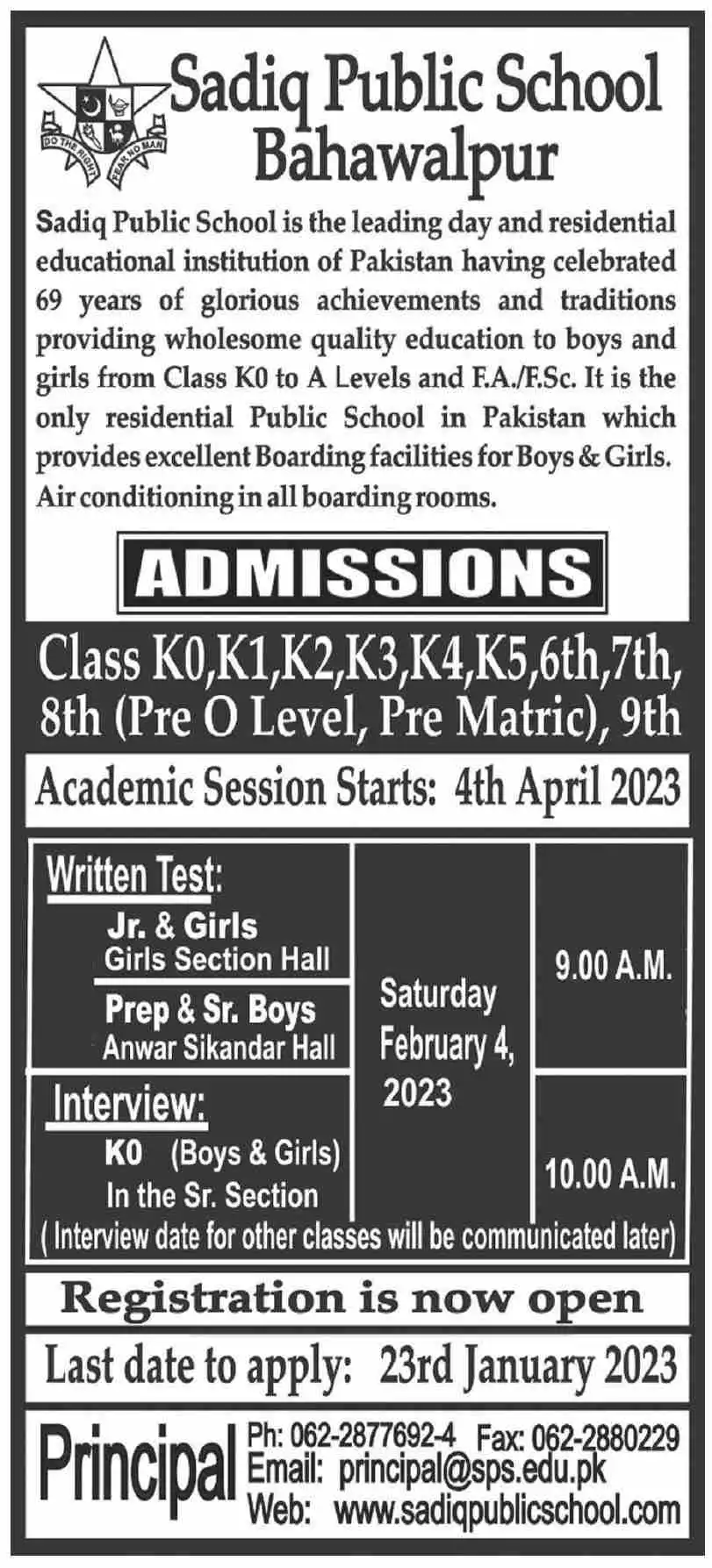 Excellent hostels facilities available for boys and girls.
Sadiq Public School takes admission written test on dated and Interviews for all boards will be held on dated.
Sadiq Public school is largest school in bahawalpur and providing wonderful educational as well as other activities for wonderful future of students. the teachers of sadiq public school. school also provides scholarship for talented students and fee concession for talented and needy base students.
Prospectus and admission form on cash Rs. 1000/- or by post you can take with Rs. 1200/- the DD must be in favour of sadiq public school.
Subjects Offered in A Level 2023
Physics
Chemistry
Mathematics
Biology / Computer
Business
Economics
Accounting / Computer
Sociology
Psychology
Urdu
Law
Computer
Download Admission Form: Click Here
Syllabus for admission test 2023: Click Here
Read Also Admission for Women University in Bahawalpur: Govt Sadiq College Women University Bahawalpur Admission 2023 Merit List
| | | |
| --- | --- | --- |
| Admission fee (payable on admission) | Day Pupil | Boarder |
| Registration fee | 5,000 | 5,000 |
| Admission fee | 20,000 | 20,000 |
| School development fund | 55,000 | 85,000 |
| Deposit | 2,000 | 5,000 |
| Guest House fund | 0 | 2,000 |
| Total (Rs) | Rs 82,000 | Rs 116,000 |