Agriculture University Community College Faisalabad opens admissions in intermediate pre agricultural certificate.
For admission to Intermediate (Pre-Agriculture) certificate, an admission office has been established in old NBP building near Faculty of Agriculture at main campus of UAF. The interested candidates may contact/visit the admission office for required information.
Eligibility:
The matric pass candidates in year session 2023 to 2024 and minimum marks 50% from Matric can apply.
The admission forms and prospectus available from bank al habib, Agricultural University, UAF Community college near airport chowk,Jang road Faisalabad, or central administration officer, near old building national bank main campus.
The admission forms and prospectus also available at uaf.edu.pk, download admission form you need to submit Rs. 1000/- DD with the name of UAF before submitting admission forms to community college for admission in intermediate.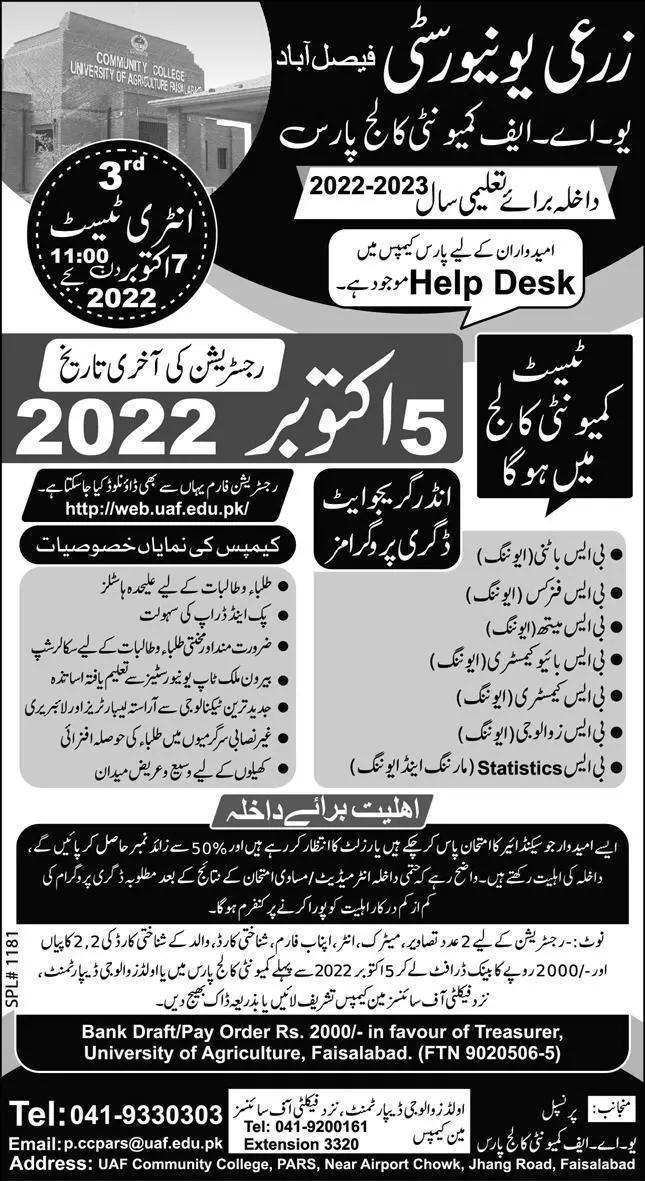 Brochure and Application Forms will be available in the admission office w.e.f 25-07-2023.
Merit Lists View

BS Admission Form for Registration 2022-23 DownloadBS 3rd Entry Test advertisement (Last date 05-10-22)DownloadRevised Program for Admission to Undergraduate Degree Programs for the Session, 2022-23 DownloadFee Structure-DownloadFee Refund Form DownloadTrials for Admission Undergraduate DownloadFor online application submission Click HereResult of 2nd entry test held on July 24, 2022 DownloadResult of 1st entry test held on June 05, 2022 DownloadNotification of Hifz-e-Quran DownloadAllocation of Seats Chart for Session, 2022-23 Download Pre-Admission Notice for the academic session, 2022-23 Download Detail of degree programs, minimum qualification for admission and matching entry test streams for the academic session, 2023-24 Download
Terms and conditions for registration/appearing in entry test and submission of online admission applications to first degree courses during the academic session, 2023-24 Download
S.#
Event
Dates
1.
Commencement of admissions from
05 October 2023
2.
Last date for receipt of applications
05 October 2023
3.
Hifz-e-Quran Test in DSA Office
4.
Display of merit lists and schedule for depositing dues
1st on
2nd on
Entry Test 3rd on
07 October 2023
5.
Commencement of Classes for new entrants