AKhuwat Foundation offering Fellowship program for Youth of Pakistan, as officials of Akhuwat Foundation said in their remarks:
The Akhuwat Fellowship Program seeks to build and cultivate a community of change makers, creative entrepreneurs and moral leaders committed to making a difference. It will serve as a platform enabling people and organisations to unlock their potential to drive social change. Through trainings, sessions and field visits, the Fellowship will equip them with the courage to think differently, the passion to translate their ideas into action and the values to make a meaningful impact.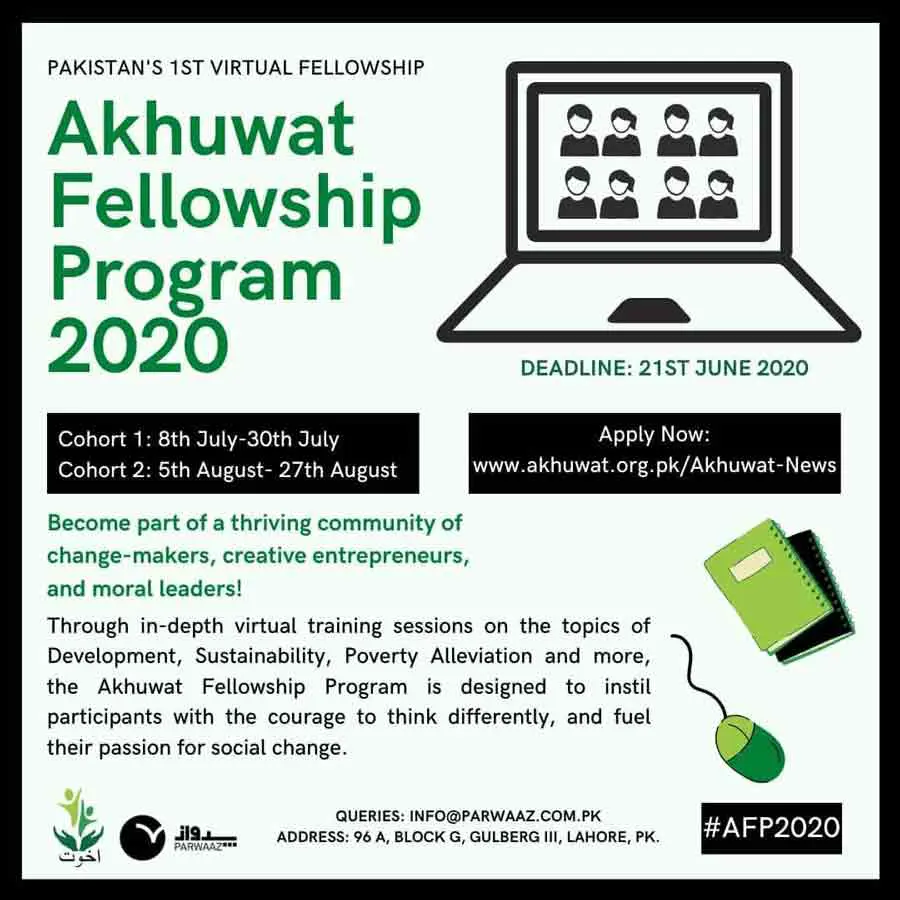 Akhuwat Foundation offering fellowship program and the online applications are open for junior and senior Young people of Pakistan.
The last date to submit Application form online is June 21, 2024
How to apply online:
Age: 18 and above may apply (won't be able to apply if born after 31-12-2001.
Apply for 18 and above aged people: Click Here
( From 10th July to 3rd August 2023 Timings: Monday to Saturday, from 9:30 am to 4:00 pm)
Link for below aged 18 Years old: Click Here
Age: Between 14 – 17 years may apply (won't be able to apply if born before 01-01-2002
Complete the opened Fellowship application form online and submit it, after few days the officials of Akhuwat Foundation will be called for test and interview to those who will apply before last date.
The selected candidates will be joined to Akhuwat Foundation classes from Date 10 July 2023 to 3rd August 2023.
How to Contact:
If you have any question related to Akhuwat Fellowship program than you can contact officials of Akhuwat Foundation mobile numbers are 0335-4571743 and 0321-4445627
Read More:
Akhuwat college Lahore Admission 2024 Last Date Scholarship Scheme
the form Akhuwat Fellowship Program 2023 is no longer accepting applications currently Akhuwat Fellowship Training program will be open soon. meanwhile students can apply for Free Hospitality and Tourism Management Course in Pakistan.
Akhuwat College Kasur Offering as Below:
Free Hospitality and Tourism Management Course in Pakistan: Free Course in Pakistan