Askari Cadet College kallar kahar Admissions open in 6th to 11th Class the last date of submission of admission forms 06-02-2023. get admission forms from college office free and from official website of acckk.org with demand draft SR 600. Askari Eden College Kallar Kahar approved by federal board of intermediate and secondary education Islamabad.
Registration Date: 06 January 2023 to 06 February 2023 For Admission Form, please go to Downloads Section
Admissions Closed in Class XI for Boys
Admission Forms:
Class XI Girls – Download
Class VIII Boys- Download
Last Date to apply 06 February 2023
Entrance Test: 13 February 2023 Sunday
Class VIII Girls- Download
Last Date to apply – 13-02-2023
Entrance Test – 13-02-2023
Class Age Limit
5th Class 9-10 Years
6th Class 10-11 Years
7th Class 11-12 Years
8th Class 13-14 Years
9th Class 14-15 Years
11th Class 17-18 Years
Examination:
Admission into various classes is subject to qualifying written Test from the subjects given below followed by an Interview and Medical Examination:
Admissions in Class V to IX
English
Urdu
Mathematics
General Science
Admissions in Class XI
English
Urdu
Computer Science/Chemistry
Mathematics/Biology
Entry Tests:
Entry Tests are Conducted according to requisite academic standard of the class of Which the candidate has applied.
Communication:
The candidate who apply for admission shall be communicated exact time, date and center of the written examination and interview through call letter /admit card.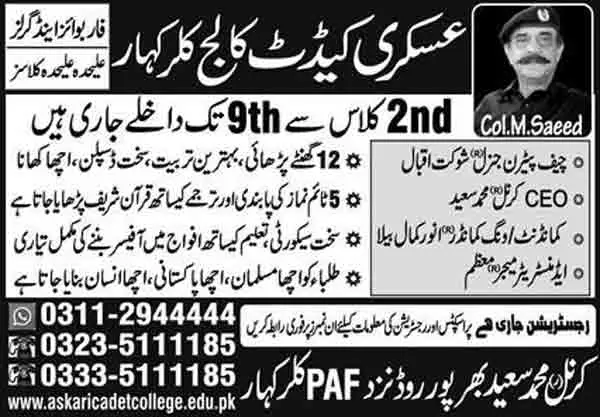 Open Merit System:
Admission is purely on open –merit system for all the candidate appearing from all Parts of country.
Askari Cadet College Download Admission Form: Download Form