Bahria University Lahore Campus opens online admissions for graduate and Inter pass students session 2023. Bahria University Lahore campus is new campus basically the main campus of Bahria University is in Karachi but Bahria University also working in Islamabad and Lahore. Now Bahria University opens admissions in all their campuses and Lahore campus also.
BAHRIA UNIVERSITY LAHORE CAMPUS An Initiative of Pakistan Navy DISCOVERING KNOWLEDGE ADMISSIONS OPEN LEAD TOMORROW.
LAHORE CAMPUS I SPRING 2023 BS I MS I PhD (PhD intake is for Fall Semester 2023)
PROGRAM LIST BULC
DEPARTMENT OF MANAGEMENT SCIENCES
BBA
MBA (1.5 years)
MS (Project Management)
PhD (Management Sciences)
DEPARTMENT OF COMPUTER SCIENCES
BS (Information Technology)
MS (Computer Sciences)
PhD (Computer Sciences)
DEPARTMENT OF PROFESSIONAL PSYCHOLOGY
BS PSYCHOLOGY
Admissions Deadline: 2nd February, 2023 CBT 4th February, 2023
PHD Class will start from September 2023
For PhD Admissions Deadline 13 APRIL-2023 CBT: 15th APRIL 2023
For PhD Classes will commence
BAHRIA UNIVERSITY LAHORE CAMPUS
5 AMONG ALL PAKISTANI UNIVERSITIES
AMONG TOP 601.800 IN THE WORLD
WHY BAHRIA UNIVERSITY? (!) HIGHLY QUALIFIED gig. EXPERIENCED FACULTY e.sc.,
STRONG INDUSTRIAL F i ATLI 01 NNKAALG E s ACADEMIC ill, Ai& 19000+ STUDENTS Iii WO 43 INTERNATIONAL LINKAGES SCHOLARSHIP GRANTS WORTH PKR 164+ MILLION
Where to Apply: www.bahria.edu.pk/admissions Processing Fee: Rs. 2,000/-
FOR DISABLED & LESS DEVELOPED REGIONS (UNDERGRADUATE & POSTGRADUATE) SPORTS (UNDERGRADUATE ONLY)
Merit & Need based Scholarships are available www.scholarships.bahria.edu.pk
For eligibility Criteria. Visit website: www.bahria.edu.pk
47-C, Civic Center, Johar Town, Near, LDA Sports Complex, Lahore. Ph: 042-99233404, 042-99233408-15 Mobile: +92 335 669 9233
www.bahria.edu.pk/bulc t admissions.bulc@bahria.edu.pk 0 instag ram.com/bulc_of f icia I facebook.com/bulcOfficial
Programs offered in Lahore Campus:
BBA 4 Years program Morning session in Finance, Marketing and Human resources department HR.
MBA weekend 1.5/ 2 / 3.5 years.
BS Morning 4 years Program in computer science and information technology
MS 2 years Evening computer science
MS 1.5 years weekend project management.
Last date of submission of admission forms in Lahore campus: 01 September 2023
Computer based Entry Test commencement date: 03 September 2023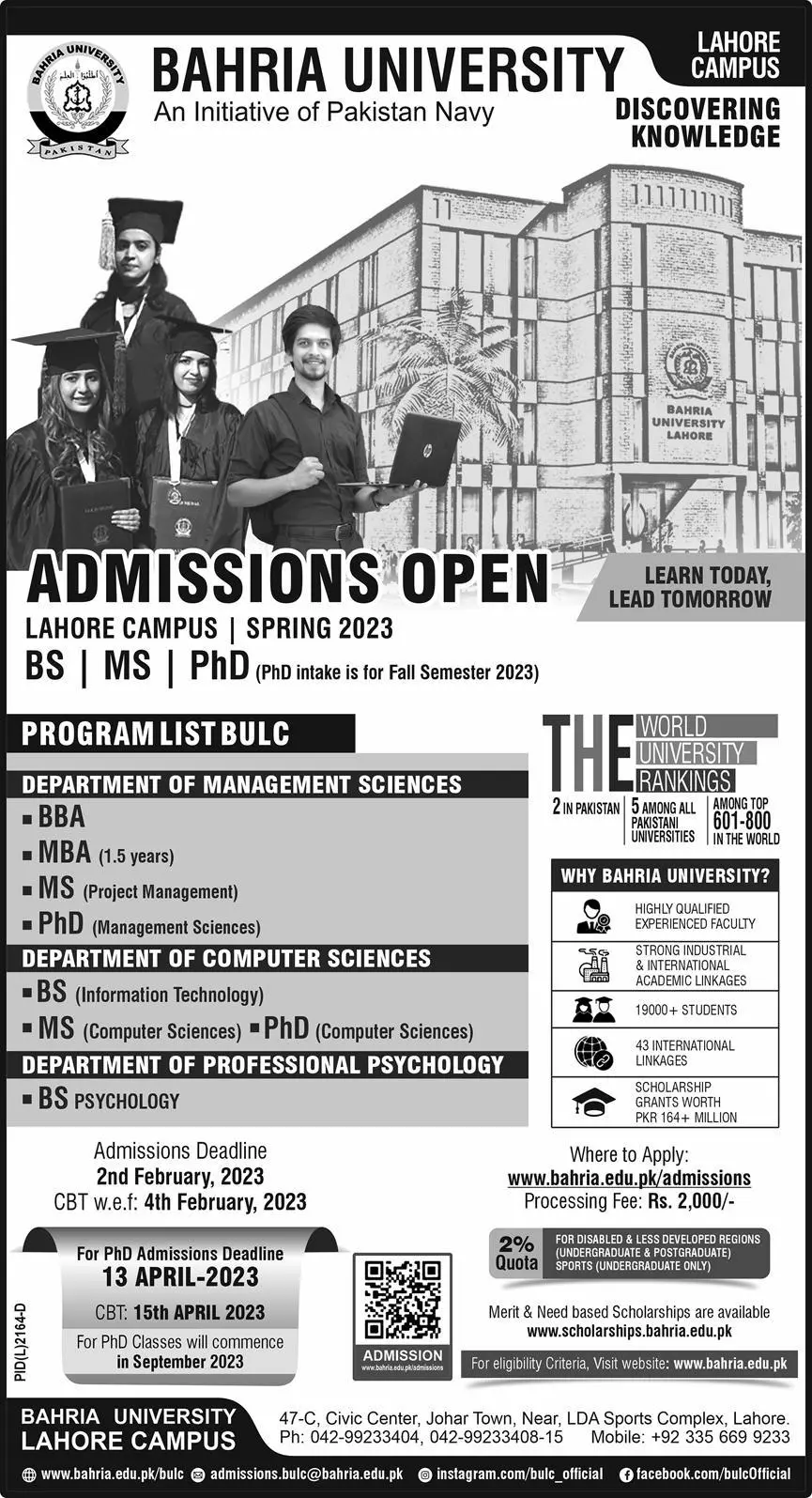 How to apply online:
The interested and eligible candidates may submit their online applications forms through www.cms.bahria.edu.pk/admissions for filling online admission forms processing fee will be Rs. 2000/-
The students can pay at any branch of Bank Alfalah or Allied bank
Bahria University all programs are accepted by HEC, PEC, NBEAC, NCEAC and PBC. The admissions will be given only on merit base; the Bahria University is also offering scholarships for Needy and Merit base. All government and HEC Scholarships can avail by Bahria University candidates. The officials of the university will be provided their facility to get scholarships as well as other benefits from government of Punjab.