Bahria University Lahore Campus organization first convocation session 2018, Convocation ceremony of Bahria University Lahore Campus is scheduled to be held on date 12 December 2018 Wednesday. Students of following entries who have completed all the degree requirements till results of spring 2018 are eligible to attend.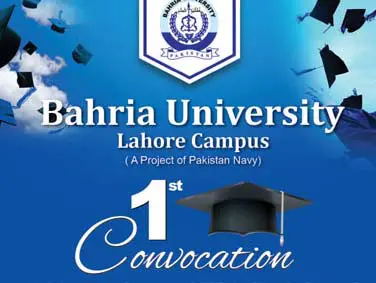 BBA 4 Years Program fall 2013 fall 2014
MBA Weekend 2 year's program fall 2013 spring 2016
MBA weekend 3.5 years programme fall 2013
MSPM weekend 1.5 years program fall 2013 spring 2017
BSCS 4 years programme fall 2014
BSIT 4 years program fall 2014
The final list of graduating students is available on the website www.bahria.edu.pk graduate students required to confirm participation by filling the online registration form available on website and depositing Rs. 2500/- as registration fee.
Last Date of registration is 11 November 2018
For more information contact to university officials during office hours.