Taraqee Foundation has planned to offer scholarships to graduates of Balochistan who cannot afford to get opportunities to refine their skills due to their income status. The scholarships will be very limited and also very competitive too. The scholarships will be offered to only those who cannot afford the opportunity to refine their skills in public institutions. The candidates will have to spend some time in Asian Institute of Technology (Thailand). AIT is a world class university. Taraqee Foundation through a MOU will send the selected candidates to AIT. The Scholarships will bear the cost of travelling, accommodation and course/ internship fee for one and half month.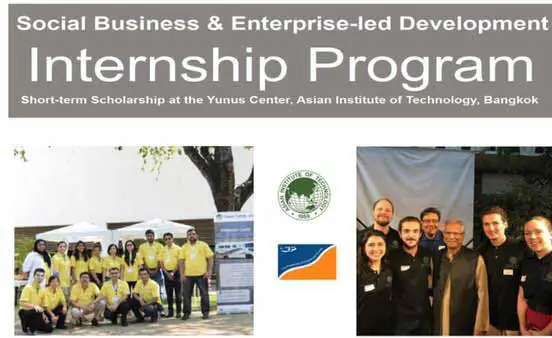 The detailed criteria for the selection of the candidates will be announced soon. Fifty percent of the scholarships will be reserved for female candidates.
It is hoped that Govt of Balochistan , private sector and local philanthropists will also support this initiative in future.
Asian Institute of technology Bangkok, Thailand offering Internship Program (short term scholarship at the Yunus center) for Balochistan Pakistan session 2019-2020.
Read Also: Rahnuma FPAP Internship Program 2019 Apply Online
Taraqee Foundation Pakistan and Asian Institute of technology Bangkok starts taking applications from balochistani youth for Internship program in Thailand.
Last Date for submission of Application form: 15 December 2019
Taraqee foundation is a Pakistani foundation that is working with international institutes to provide facility to youth employment visa distribution and launching of the concept of balochistan skill enhancement program.
Taraqee foundation will be send candidates to Bangkok after selection process. It's a social business and enterprise led development internship program short term scholarship at the yunus center, Asian institute of technology Bangkok, Thailand.
It's a chance to balochistani youth and students to take benefit of this internship program which 15 men and women graduates (whose is graduated from public university) are required to avail this internship program.
The competitively selected from all over the province will get the opportunity to attend leaning session at the Asian institute of technology Bangkok that is ranked world's most international university in projects designed around the principles of social business and work on a project they can implement upon return.
Taraqee Foundation Scholarships for selected candidates
The internship offers:
Overview of the paradigm of enterprise led development.
Introduction to global change and the sustainable development goals.
Exposure to trend in social innovative and 21st century skills.
Field visits to innovative social enterprises and community projects.
Project based learning and mentoring by international faculty and leading practitioners.
Eligibility Criteria:
All the scholarships are on merit based and will include up to 2 scholars from each division.
Selection criteria for candidates
The applicant must know English (speaking, learning, and writing)
The student must have computer knowledge that how to run Microsoft office (MS Excel, MS world, Powerpoint)
The applicant must have graduate (BA, BS, BSC, and B.com) degree or equivalent from any public university of Balochistan.
This internship is for low income, needy and on talent basis.
Age limit: the age limit should not more than 23 years old on the time of submission application form.
The male students must be pass matric, intermediate and graduate with first division and for female 50 percent marks.
Females, minorities and special persons are encouraged to apply.
Internship Covers:
The selected students under Youth Internship Program, the scholarship covers the cost of return air ticket from Quetta, Pakistan to Bangkok Thailand.
Accommodation in Bangkok (accommodation covers meals and other daily subsistence related expense).
Cost of passport and visa shall be borne by the successful candidates.
How to submit Application form:
Download scholarship application form: Click Here
Please send fill application form and required documents in application form at scholarship@taraqee.pk latest by 15-12-2019.
Read Also: 1 Year Internship Program in OGDCL for Graduates