Bcom Hons Admission 2023 Hailey College of Commerce Lahore
University of the Punjab Lahore Hailey College of Commerce Lahore open admissions in BCOM Hons for session 2023. The Hailey College of Commerce Lahore starts registration for BCOM Admissions in Morning Self finance and Evening Programs.
B.com Admission Schedule:
The admission registration starts from date 20 December 2022 and the last date to submit admission application forms 02 January 2023 Monday.
How to apply:
The students and applicants can submit admission application form online through as below websites:
Admissions.pu.edu.pk
111.68.103.22/admissions
the online registration will start from date 20-12-2022 to date 02-01-2023.
The challan form RS. 500 must be submit to HBL Bank Account or through online HBL connect online banking system of HBL.
The students can also deposit Rs. 500 to HBL Bank accounts of Hailey College of Commerce Lahore.
Read Also: BS, MA, MSc Admissions in Hailey College of Commerce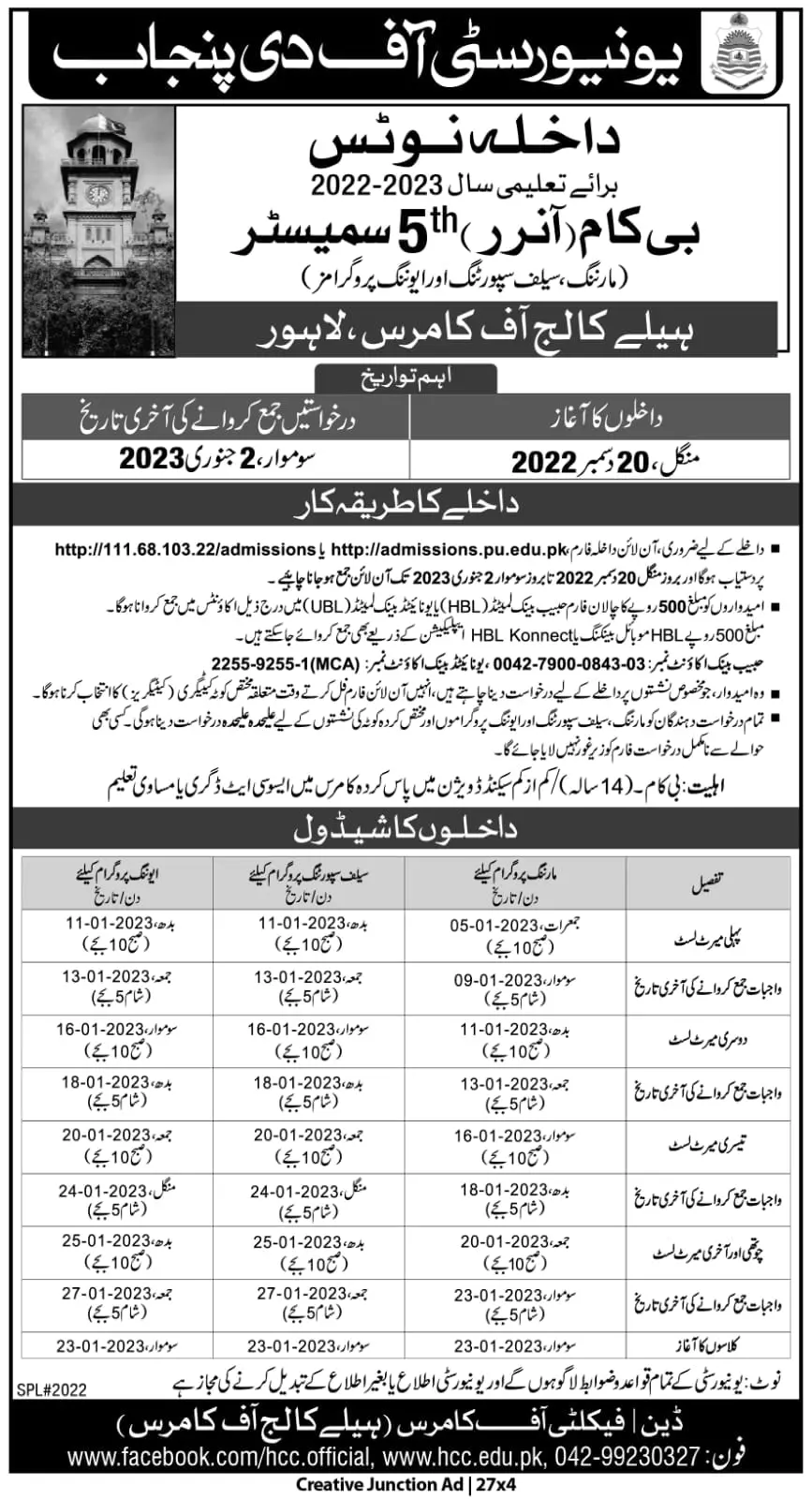 Read Also: Hailey College Entry Test Schedule for Admissions 2023
HBL Account Number:
0042-7900-0843-03
2255-9255-1 MCA
Eligibility Criteria:
14 years of education minimum second division or commerce degree or equivalent can apply for B.com Hons five semester degree program.
B.com Merit List 2023 Dates for Morning Shift:
First Merit List Date: 05 January 2023
Last for Deposit of Dues: 09 January 2023
Second Merit List: 11 January 2023
Last date for deposit of dues: 13 January 2023
Third Merit List: 16 January 2023
Last Date for Deposit of Dues: 20 January 2023
Fourth Merit List:20 January 2023
Fifth and Final Merit List: if any
Last date for deposit of dues: same day.
Classless starts from date: 23 January 2023
Hailey College of Commerce Merit List 2023