PEEF Scholarship for the students of Balochistan for Matric Intermediate For B. Sc.-B.A.B.S.; B. Com; BBA. LLB Whoever passed the exam with 60% marks in the years 2021–2023, the last date for form submission is November 30, 2023. All students can avail themselves of one scholarship, either PEEF or BEEF.
The government of Balochistan offers the BEEF Balochistan Education Endowment Fund, which provides scholarships for talented and needy male and female students in Balochistan. The Balochistan Education Endowment Fund announced the scholarship policy for the year 2023.
BEEF Scholarships for 1st year, 2nd year graduate, and professional degree holders
The last date for submission of admission application form is November 30, 2023
The Balochi students can submit scholarship application forms with certificates and a cover letter. It's necessary for all students to attest the documents and scholarship application form before submitting them to officials at BEEF. The scholarship application form can also be downloaded from www.beef.org.pk and also on this page.
For more information, students can contact the help desk, call 081-9202095, email the address info@beef.org.pk, or visit the website www.beef.org.pk. Or the candidates can contact the official accounts of Facebook and Twitter. Students can also contact the focal person, the office director of the college DEO office.
PEEF Scholarships for Balochistan
The selection will be made on a merit basis; the merit for every district will be determined on the BEAC, FBISE, or BBISE result card, which will be the main paper for the preparation of the merit list or selection list.
Download Scholarship Application Form: Download Form Here
Eligibility Criteria:
Matric pass
Intermediate Pass
Technical education students who are from the Balochistan Board or the Federal Board of Intermediate and Secondary Education and have 60 percent marks from this last annual examination can submit a scholarship application form. The local Balochistan domicile holder can only submit the application form. The monthly income of the parents of the student will not be more than $15,000; the last pass degree must have passed in session 2020 or 2021-2022 before he can apply for session 2023 scholarships.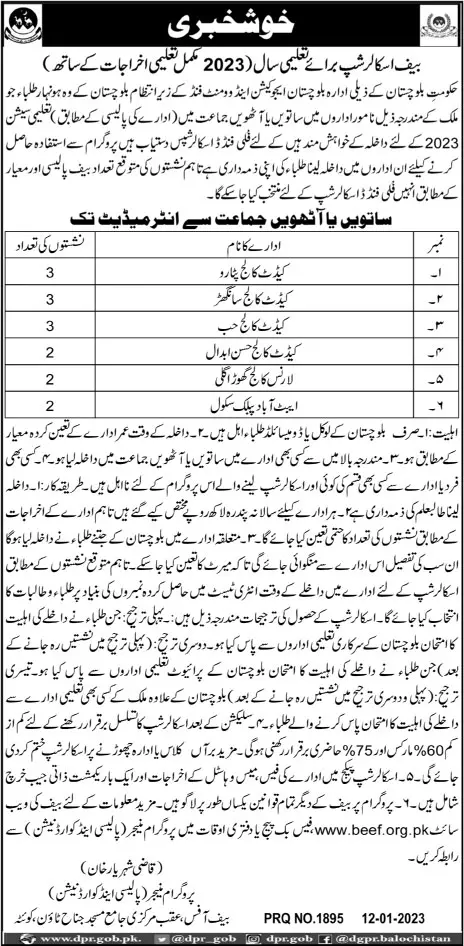 PEEF is also offering scholarships for other provinces. The students who are from KPK (Khyberpakhtunkhwa) can apply here: PEEF Scholarships for KPK Students 2023 Eligibility Criteria
The students from Punjab, Balochistan, and Sindh can read the PEEF Scholarships 2023 for Intermediate & Graduation. PEEF Master Level Scholarships for Balochistan, Punjab, and KPK students can find more information in the scholarship form: PEEF Master Level Scholarships 2023 Apply Online.