Board of intermediate and secondary education BISE Lahore announced the admission schedule for 9th class academic year session 2023-2025. The online enrolment starts from 1 April 2023.
BISE Lahore 86-Mazang road Board office issue the notification on date 24 March 2023 about the registration for 9th class.
9th Class Private Admission Form 2023 Lahore Board Registration Fee.
9th Class Registration Schedule with Single Fee: 01 April 2023 to 15 May 2023
Online enrolment fee: 1000 Pakistani Rupees
Processing Fee: Rs. 530
Sports Fee: 100 Rupees per student male/female.
The applicants must submit online admission with online data entry, Bank Fee Challan / Computerize original bank Challan and enrolment return hard copy.
9th Class Registration Schedule with Double Fee: 16 May 2023 to 30 May 2023.
Online enrolment fee Rs. 1000 with processing fee Rs. 530 and Sports Fee Rs. 100 with late fee Rs. 600 per student. (All private or government schools must be submitted the dues before last date 30 May 2023.
Bise Lahore Board Matric 10th Class Result 2023
Online Enrolment / Admission Schedule for 9th Class (Academic Session 2023-25)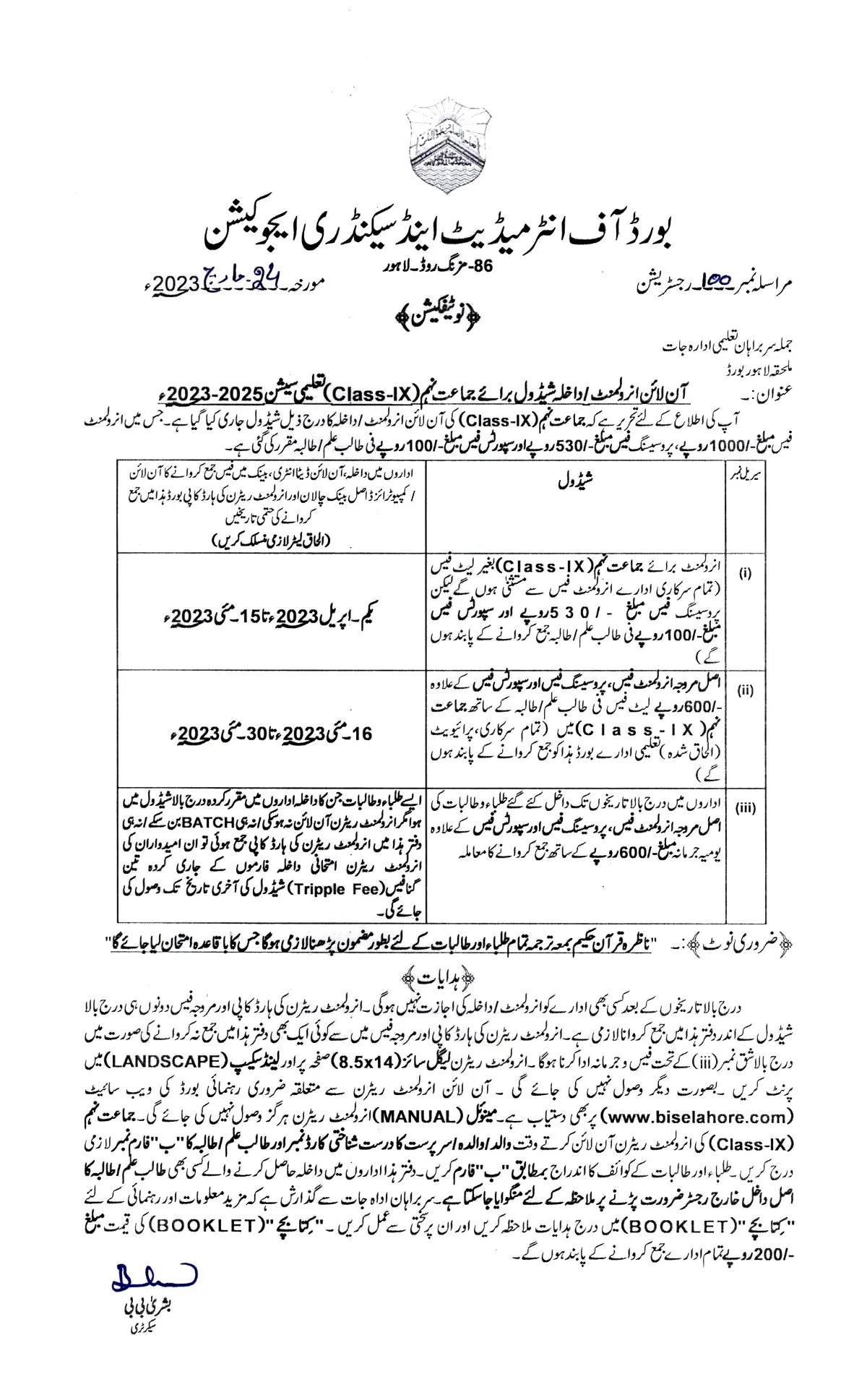 Important Note: Nazra Quran is mandatory for all Muslim male and female students.
Bise Lahore Board will not have allowed to any institute to submit admission application before last date. The applicants can submit online admission / registration through www.biselahore.com during the registration online keep following document with you for filling the form online.
Father / mother ID Card.
Student B-Foam:
The registration forms.
BISE Lahore have Booklet with Rs. 200 with full information for intuitions to submit student's application form or registration form with in due date.
Bise Lahore Board Matric 10th Class Result 2023 Check Online
Bushra Bibi Sectary of BISE Lahore.
Download Registration Schedule in PDF: Download Here