Federal education minister shafqat Mahmood recently announced official government notification about cancellation All Board Examination in Pakistan Year 2020 due to Corona virus pandemic.
Students of matric and intermediate FSC (8th, to 12th Class) already setting in home from two months due to corona virus pandemic. Before two days ago federal minister science and technology said in their statement that school, colleges and universities will be open from date 01 June 2020. The educational minister shafaqt Mahmood and other government officials said its fake news.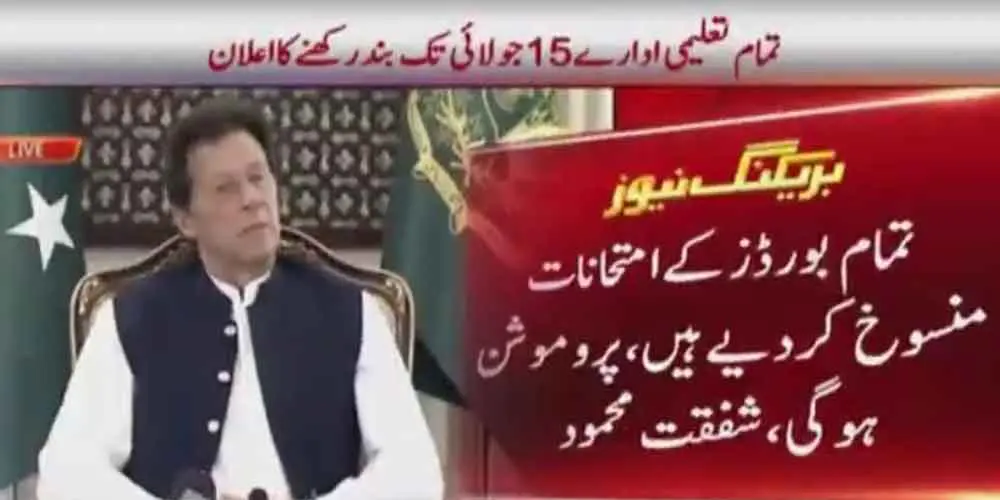 According to official notification the schools, colleges and universities will remain closed till date 15 July 2020. The federal minister of education also mention in his twitter account that educational institute will remain closed till 15 July 2020.
Board Exams 2020 Cancel Pakistan Official Notification due to Corona Virus Pandemic
All students of board of intermediate and secondary education (Lahore, Faisalabad, Gujranwala, Multan, Bahawalpur, Sahiwal) students will be consider pass and transfer to upper classes without examination. The passing marks will be taken from previous examination. The No Exam Law is implemented in Pakistani Boards including FBISE, BISE, BIEK, BISE Sukkur Sindh, BISE Mirpur Board AJK, KPK and other boards.
Shafqat Mahmood said in the official statement:
"Two important decisions taken by PM Imran Khan in the NCC today. One, All educational institutions will remain closed till July 15. Two, ALL Board exams throughout the country have been cancelled. Students would be assessed on their previous performance in Board exams."
"Universities would decide their exams schedule according to their own policies and according to the direction and SOPs issued by the Higher Education Commission"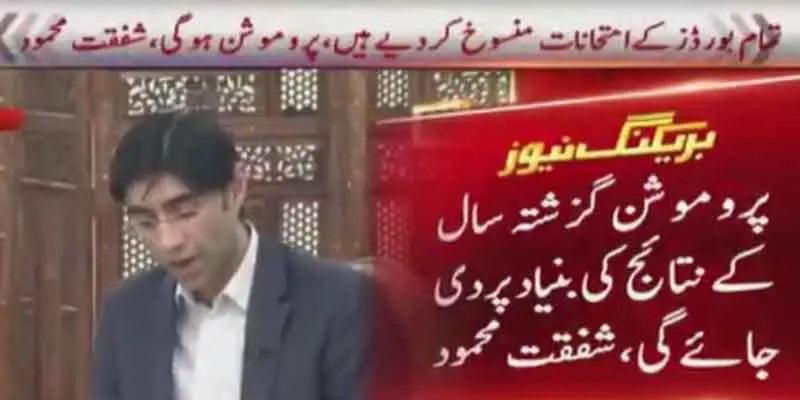 Before two days ago meeting for school opening, now today Imran khan approved the final decision. All the board examinations have been cancelled and students will be promoted to next class and they can get admission in colleges and universities on the basis of their previous Result.
Apply Here Also:
SSC AND HSSC ANNUAL EXAMINATIONS HAVE BEEN CANCELLED.
According to the statement of Federal Minister of Education & Professional Training, Mr. Shafqat Mahmood, "Students would be assessed on their previous performance in Board exams". After this decision: What will be the marking policy now? What will be the grading scheme of 9th class students? What will be the future of candidates who wanted to improve their marks and what will be the fate of those Part-II students who have supplementary in their Part-I exams? These matters will be decided and notified by the government after consultation with the concerned departments in due course of time. Thus your patience is highly appreciated.