Bolan Mining Enterprises BME Merit Scholarships 2023
Bolan Mining Enterprises (BME) is offering a scholarship program for students in Session 2023. Bolan Mining Enterprises is a petroleum limited company that already bears the tuition fees of different students to complete their studies. Applications were invited before the last date of July 9, 2023, but due to the coronavirus emergency in the country. Bolan Mining Enterprises officials are increasing the last Date to submit Scholarship applications.
The following discipline.
Bachelor's Degree in mining Engineering
BS / Master's Degree in Geology or Geological Engineering
BS / Master's Degree in Business Administration (MBA)
Eligibility Criteria:
The scholarship is available for Balochsitani students only who have passed their intermediate / graduation examination or equivalent degree, obtained at least 55 percent aggregate marks, and have reached the age limit of 20 years old for a bachelor's degree and 22 years old for a master's degree course.
Kalat division and Khuzdar division students will be given preference.
Scholarship application with full details of educational qualifications along with photographs and other related documents like local / domicile certificates CNIC and evidence confirming admission, etc.
Bolan Mining Enterprises Quetta is offering scholarships in the Jang Newspaper Pakistan on June 24, 2023.
BME offering Scholarships for the residents of "Khuzdar district only" (up to 10 students) in the given disciplines for the academic year 2023–2024 for higher studies in Pakistan.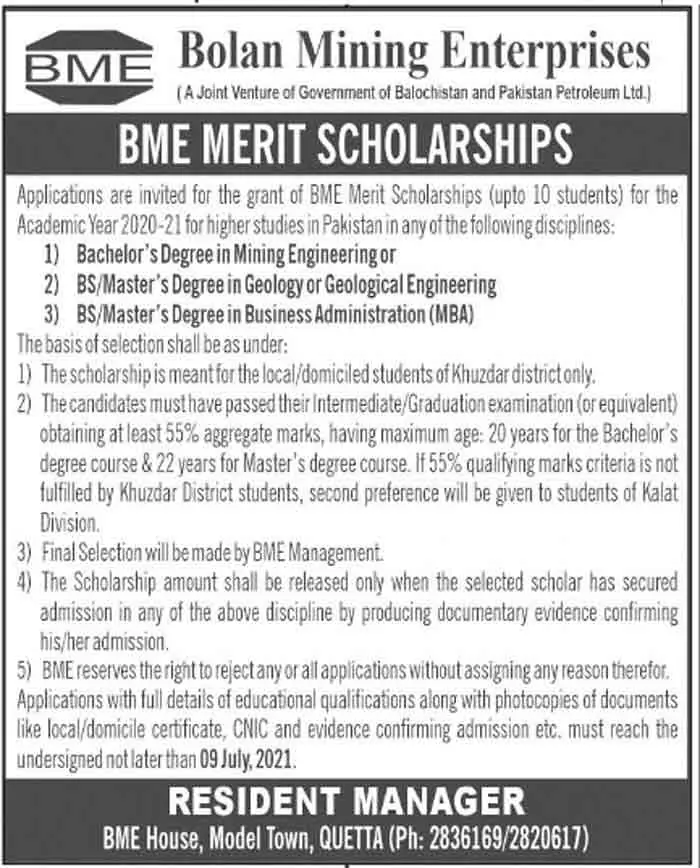 Last date to apply: July 9, 2023.
Contact number: +92-81-2836169/ 2820617
Address: Head Office
BME House, Model Town Quetta, Balochistan, Pakistan.