Kings Cadet College Gujrat starts taking admission applications from Class 1 to the 9th and 11th classes in 2024–2025.
The students who have passed their matriculation examination recently can submit an admission application form for 1st year FSC (Pre Engineering, Pre Medical, Computer Science), ICS, or FA.
How to submit the admission application form online:
The interested applicants can go to kcc.edu.pk/apply-now, click on apply online, and then submit all the information that is stated by Cadet College Gujrat Online.
You can also apply by filling out the admission application form manually. The wonderful hostel facility is available for all students who want to take admission at Cadet College Gujrat.
Last date for submission of the admission application form:
The entry test will be held on the following dates:
PAF, Pakistan Army, and Pakistan Navy employee's children can take admission with a 25% discount in fees.
How to contract officials at Cadet College Gujrat:
The Cadet College Gujrat is in 2 KM shadwal Road, Gujrat Phone Number: 0349-9497627 and 0349-9497628, Kings Cadet College admissions counselors are available to meet with you one on one to answer all of your questions about how to apply and what qualities we look for in our applicants.
Admissions are open for 1st year classes (FSc,ICS, and FA).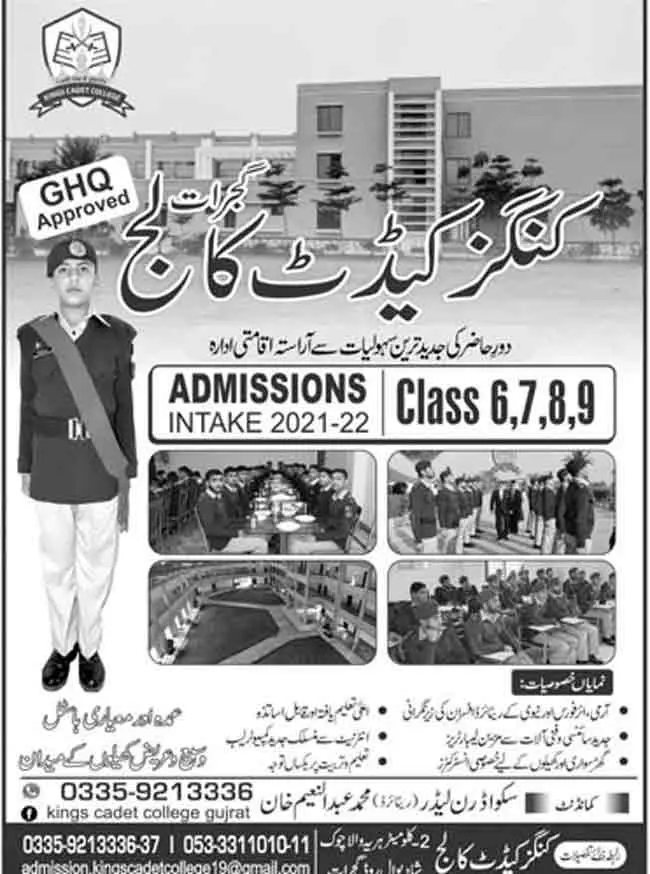 Kings Cadet College Gujrat Fee Structure (
Boarders) – Session 2023-2024 1st and 2nd Year
Sr.No.
Description
Duration
Fee Charges
1
Admission Fee
Once
30,000.00
2
Security Fee
Refundable
15,000.00
3
Tuition Fee
(1,12,500 Per Anum)
1st Installment
37,500.00
4
Hostel Fee
(Includes Messing, Lodging and
Allied Services)
Monthly
16,500.00
5
Annual Charges
(Includes Examination, Sports,
Medical & Development Etc.)
Annual
15,000.00
6
Uniform Charges
(Army Uniforms, School Uniforms,
Track Suit, Nikr Shirt etc.)
Once
26,000.00
Total
1,40,000
Note:
1. Security Fee will be refunded after completion of Academic Session in any case.
2. Fee once deposited, will not be refunded.
Fee Structure (Boarders) – Session 2023-24 9th and 10th Class
Sr.No.
Description
Duration
Fee Charges
1
Admission Fee
Once
30,000.00
2
Security Fee
Refundable
15,000.00
3
Tuition Fee
Monthly
8,500.00
4
Hostel Fee
(Includes Messing, Lodging and
Allied Services)
Monthly
16,500.00
5
Annual Charges
(Includes Examination, Sports,
Medical & Development Etc.)
Annual
15,000.00
6
Uniform Charges
(Army Uniforms, School Uniforms,
Track Suit, Nikr Shirt etc.)
Once
26,000.00
Total
1,11,000.00
if You want to Apply Other Cadet Colleges of Pakistan than Apply Here Also:
Cadet College Rawalpindi Admission 2024 Form Test Result
Cadet College Fateh Jang Admission 2024 Test Date Result – Fee Structure
Cadet College Pasrur Admission 2024 Form Test Date Result
Cadet College Kohat CCK Admission 2024 Application Form
Cadet College Qutbal Admission 2024 Form Test Result Fee structure