Cadet College Jajja
Cadet college jajja Tahsil Gujar Khan and District Rawalpindi start taking admission applications for 6th to 8th grade for Session 2024-2025. Cadet College Jajja is working under the Alnoor Welfare Trust, which provides wonderful educational activities to selected students.
Its 20th Entry schedule has been announced for January 2024. The admission form and college prospectus are available with the payment of Rs 500/- from college office during office hours.
The Entry Test Will be held on February 9, 2024
Cadet College Jajja, located in Gujar Khan, Pakistan, is a prestigious institution known for providing quality education and character development to young students. As the year 2024 approaches, parents and students are eagerly awaiting information about admission procedures, entry test dates, and the application process for Cadet College Jajja. This article aims to provide an overview of the admission process and entry test date for the year 2024.
Cadet College Jajja: A Pathway to Excellence
Cadet College Jajja has established itself as a leading institution that prepares students for a successful future. The college focuses on academic excellence, character building, physical fitness, and leadership development. It offers a well-rounded education in a disciplined environment, nurturing the potential of students and shaping them into responsible citizens.
Admission Eligibility
To be eligible for admission to Cadet College Jajja, students must meet certain criteria. Typically, candidates must have completed the required grade level (which may vary depending on the specific intake), meet age requirements, and fulfill any other academic or physical fitness criteria set by the college. It is important for interested students and parents to carefully review the official admission notice or contact the college administration for accurate information on eligibility requirements.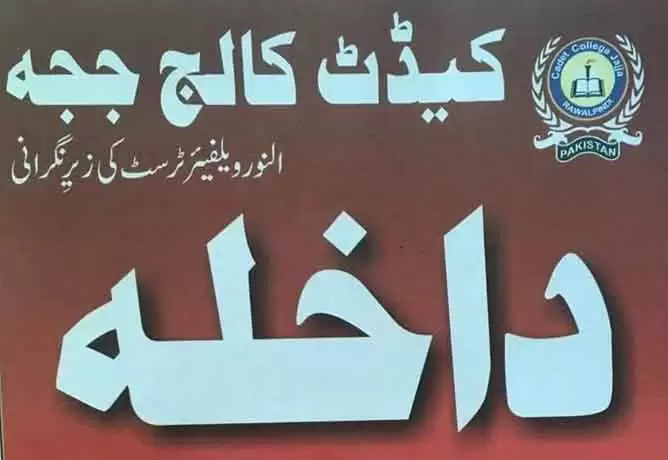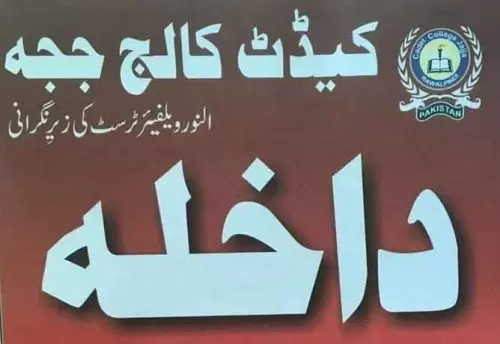 Application Process
The application process for Cadet College Jajja generally involves obtaining and submitting an application form along with the required documents. Application forms can usually be obtained from the college's administrative office or downloaded from their official website. The application form must be filled out accurately and submitted within the specified deadline. It is advisable to carefully follow the instructions provided in the application form and attach all necessary documents as per the college's requirements.
Entry Test Date
The entry test plays a crucial role in the admission process for Cadet College Jajja. It evaluates the candidates' aptitude, knowledge, and skills. The entry test date for the year 2024 is typically announced by the college well in advance. It is essential for applicants to stay updated with the official announcements from Cadet College Jajja or contact the college administration to ensure they have the accurate entry test date and schedule.
Selection Process
After the entry test, a comprehensive selection process takes place to determine the final candidates for admission. This process may include interviews, medical examinations, and assessments of physical fitness. The college administration carefully evaluates the overall performance and suitability of each candidate before finalizing the admissions.
Academics and Extracurricular Activities
Cadet College Jajja provides a well-structured academic curriculum that combines a strong foundation in core subjects with a focus on character development and leadership skills. The college also offers a range of extracurricular activities, including sports, debates, cultural events, and clubs, to provide students with a balanced and holistic education.
Cadet College Jajja's admission process for the year 2024 offers a pathway for students to receive a quality education in a disciplined and nurturing environment.
The entry test plays a pivotal role, and it is crucial for interested students to stay updated with the official announcements regarding the entry test date and application process. By joining Cadet College Jajja, students have the opportunity to develop academically, morally, and physically, preparing them for a bright and successful future.
Read Also
Army Cadet College Entrance Exam Model Papers for Entry Tests
Age Limit:
6th class 10 to 11 Years old
7th Class 11 to 12 Years Old
8th Class 12 to 13 Years Old
How to contact college
The students who wanted to get admitted to Cadet College Jajja can contact the following phone numbers: 051-3586136 and 051-3586156 and their email address is: cadetcollegejejja2001@gmail.com Cadet College Jajja Post Office, Sukho District, Rawalpindi
if You want to Apply Other Cadet Colleges of Pakistan than Apply Here Also:
Cadet College Rawalpindi Admission 2024 Form Test Result
Cadet College Fateh Jang Admission 2024 Test Date Result – Fee Structure
Cadet College Pasrur Admission 2024 Form Test Date Result
Cadet College Kohat CCK Admission 2024 Application Form
Cadet College Qutbal Admission 2024 Form Test Result Fee structure