Cadet College Khushab open admissions from class 6th to 11th, Cadet college khushab is biggest cadet college of Pakistan that provides complete residence facility with proper education for cadets. Students who wants to apply in cadet college can download admission forms and prospectus from www.cadet.pk . cadet college khushab get best achievement award in April 2020, the award grand by government of Punjab. Class 6th to 11th admissions open, the interested and eligible candidates may send their admission applications before due date.
today date 17 January 2020 Cadet college Khushab officials published Notice in Jang News paper that the candidate who get more than 90% marks in 9th class can take admission with free of cost.
Admission Last Date: 
Written Test for Admission : 
Academic Terms: 
The academic year starts in third week of April, it is divided into two terms:
First term            April to July
Second Term     September to December
Note:The College will remain closed during the month of January and June on account of winter / summer vacations.
Academic / Administrative Facilities
After completion of first phase of construction, following custom built buildings / blocks for housing various facilities exists:
Academic Block:
Nur House, double story massive, purpose built block with a Staff Room, Computer Lab, Audio Visuals plus Language Lab, Sick Room and spacious Classrooms. which are well lit airy and well furnished. Labs on ground floor and dormitories for Cadets on the first floor with comfortable furniture items such as beds, almirahs and chairs.
Residential Block: Sarwar House another massive building at rear of the academic block has been built for housing the following facilities:
Dorms for Cadets
BOQs for Senior Staff / Teachers
Examination Hall
Dining Hall
Common Room
Library
College Mosque
Admin Blocks 1 & 2: (for housing following facilities)
Admin Block 1 for office of Commandant / Principal, Vice Principal and Visitor's Room.
Admin Block 2 for office of Admin Officer and housekeeping facilities like Stores etc. the interested candidates may send their emails to cadetkhushab@gmail.com.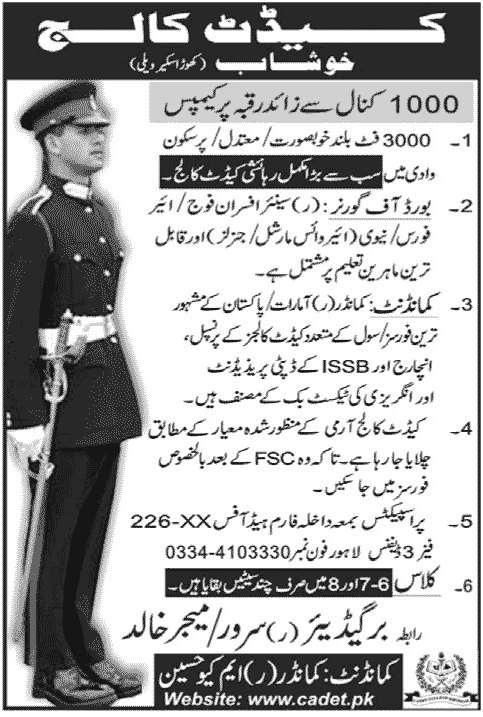 Scholarship Program:
the students who get in year session 2020 Annual Examination marks 92 percent or more, the cadet college will provide free education with free eating and other expenses.
Read Also: Cadet College Khushab Admission 2020 Test Eligibility Last Date