PN Cadet College Ormara is inviting admission applications for the 8th and 11th grade sessions in 2024-2025. Cadet College Ormara provides education and training for joining the Pakistan Navy. Ormara is located 360 kilometers west of Karachi, in Sindh. The Pakistan Navy aims to increase the literacy rate drastically in Balochistan by providing quality education and establishing a center for excellence in learning at Cadet College Ormara.
Cadet College Ormara Admission 2024 in 8th Class
8th class N-cadet for Baloch students. The Pakistan Navy (PN) proudly announces the launch of the Cadet College of Ormara; the first sessions (class VII) will commence in 2024-2025. Ormara is located 360 km west of Karachi (approximately 5 hours drive and 50 minutes flying time from Karachi).
Prospectus and admission forms can be obtained from the following PNR and sCS/cadet college Ormara/PN bases with payment of Rs. 600/- in cash or demand draft pay order to the MCB Ormara branch, branch code 1614, in favor of Principal Cadet College Ormara.
Mailing Address: Principal Cadet College Ormara at Jinnah Naval Base Ormara, Balochistan.
Silent features
The college will offer quality education from VII to class XII (pre-engineering and computer science) with the facilities to groom the intellectual, moral, and physical Trials of the cadets.
professionally qualified faculty with well trained supporting staff.
sports grounds, water sports facilities, swimming pool
Free education to N cadets only candidates from Balochistan.
payment of monthly stipend pocket money to cadets.
Students from other provinces will be charged 50% more as compared to other cadet colleges of the country.
pollution free, healthy, and secure environment.
Download Admission Form 2023-24
Download Prospectus 2023-24
Download Cadet Induction Advertisement 2023-24
Eligibility for 8th grade
Entry will be in class VII based on the following criteria.
a. N-cadets:
50% of the total seats, are reserved for cadets from Balochistan province, with the future prospects of joining the Pakistan Naval Academy after class XII subject to meeting the qualification criteria and standards.
b. paying cadets:
50% of seats are reserved for candidates as follows:
Civilian candidates other than balochistan
Sons or wards of PN personnel
Students who have completed 7th grade or who have appeared in 7th grade may also apply.
unmarried child.
C. Self Finance Cadets:
10 additional seats are reserved for the self-financing scheme.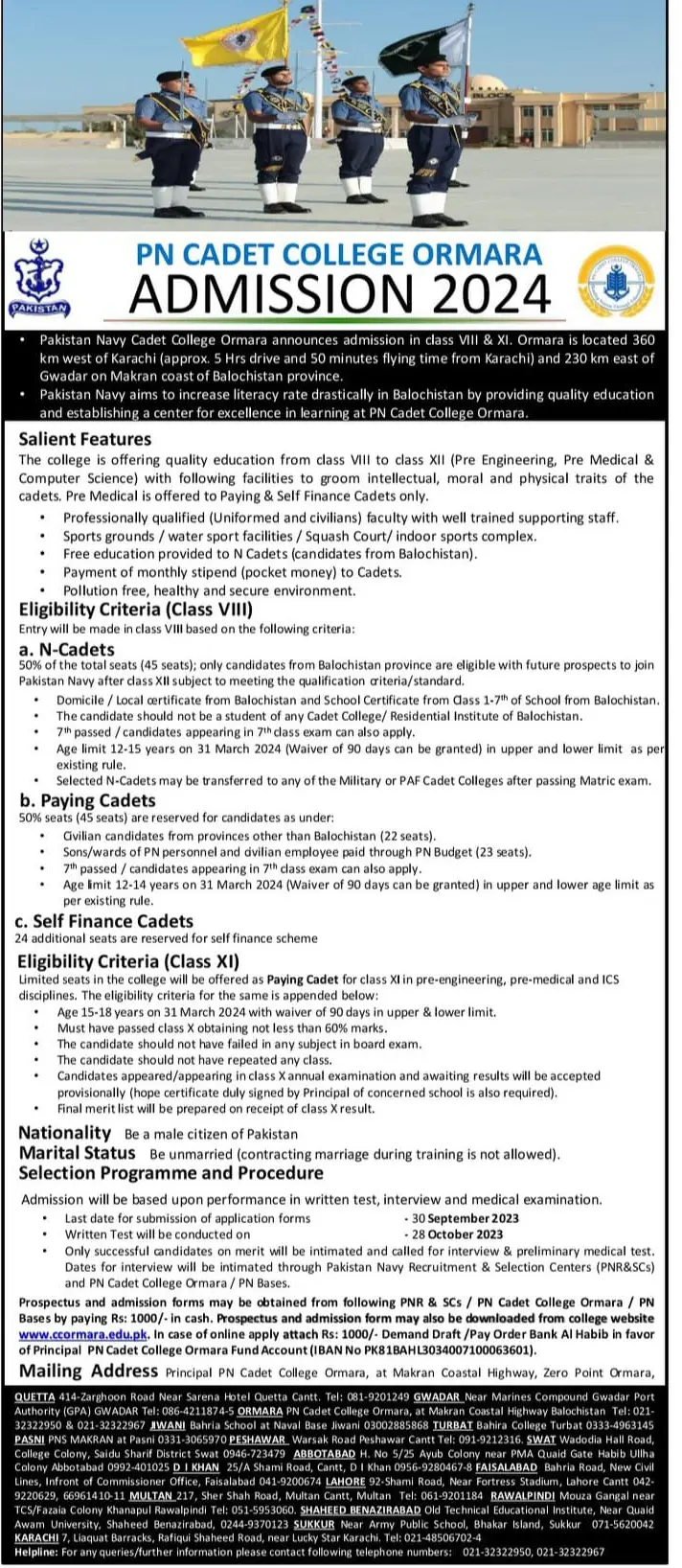 Read Also
PAF College Lower Topa Murree Admission 2023 Form Test Result
Eligibility for 11th Class
Limited seats in the college will be offered as paying cadets for class XI in pre engineering, pre medical, and ICS disciplines.
The applicant's age range must be between 15 and 18 years old as of March 31, 2023, with a 90-day upper and lower age limit.
The applicant must have a matriculation degree with at least 60% marks.
The applicant should not have failed in any subject in the board exam.
The candidate should not have had to repeat any class.
`candidates who appeared in the class X annual examination and are awaiting results will be accepted provisionally (a duly signed certificate by the principal of the concerned school is also required).
The final merit list will be prepared on receipt of the class X Result.
Nationality: Male candidates from Pakistan.
Only unmarried candidates are Eligible.
Read Also:
Cadet College Panjgur Admission 2023 Form Entry Test Result
Admission will be based on performance in a written test, interview, and medical examination.
Cadet College Ormara Admission Schedule
Last date of submission of application form: 30 September 2023
Written test will be conducted on: 28 October 2023
Selection Programme and Procedure
Only successful candidates on merit will be informed and called for an interview and preliminary medical test. Dates for interviews will be intimated through Pakistan Navy recruitment and selection centers and cadet college ormara / PN Bases.
Admission is based on an entry test, interview, and medical examination.
Read Also:
Cadet College Hasan Abdal Admission 2023 in 8th Class, O Level
Cadet College Ormara contact
Mobile no:
0341-2365787—-0334-2104897
for best Cadet colleges read also:
Top Best Cadet Colleges of Pakistan
Download the

syllabus for 8th and 9th grades

for Session 2023