Cadet College Qutbal Fateh Jang open admissions 3th 4th 5th 6th 7th 8th 9th Class Session 2023-2024. Cadet College Qutbal has one branch in Qutbal on any one other. Admission form and prospectus can be avail from www.cadetcollegequtbal.com.pk and the written Entry test and Interviews will be held at Islamabad, Lahore, Peshawar, Gilgit and Karachi cities of Pakistan. The Entry test and interviews dates will be inform though Letter to selected candidate. Cadet College Qutbal gives special Training for Joining ISSB Training.
Eligibility for 8th Class:
the candidates who have passed their 7th class and currently studying in 8th class can apply for 8th class Admission in Cadet College Qutbal.
Eligibility for 1st Year:
The candidates who already given 10th Class Annual Exams and having 60% or more marks in their SSC Part 1 class can submit their admission forms to Cadet college Qutbal.
Age Limit: 15 to 17 years old till date 01 July 2023
Fee structure: Click Here
Download 2023 Admission Application form: Click Here
Admission Date Schedule for 8th Class
Admission start date January 2023
The last date of submission of admission form is: 29 March 2023
Fee Submission Date: 19 April 2023
Admission Entry Test Date:
Classes will be start from: 30 April 2022
Now Online Application form to www.cadetcollegequtbal.com.pk
Cadet College Qutbal Admission in 1st Year Session 2023
Admission Schedule for 1st 11th Class:
Cadet college Qutbal open admission in 1st year pre engineering, pre medical and computer science. the interested and eligible candidates can submit their admission forms with 9th class Mark sheet attested copies and hope certificate of 10th class that will pass with 60% or more percent marks. the hope certificate you can take from school principal. after getting these documents and fill the admission form and send to office of Cadet college Qutbal with Demand Draft DD of Rs. 1000/- with passport size photographs and ID Card of Father. the students who have more than 80% marks can avail 100% scholarships. the students from FATA, WANA will be avail special discount in fees.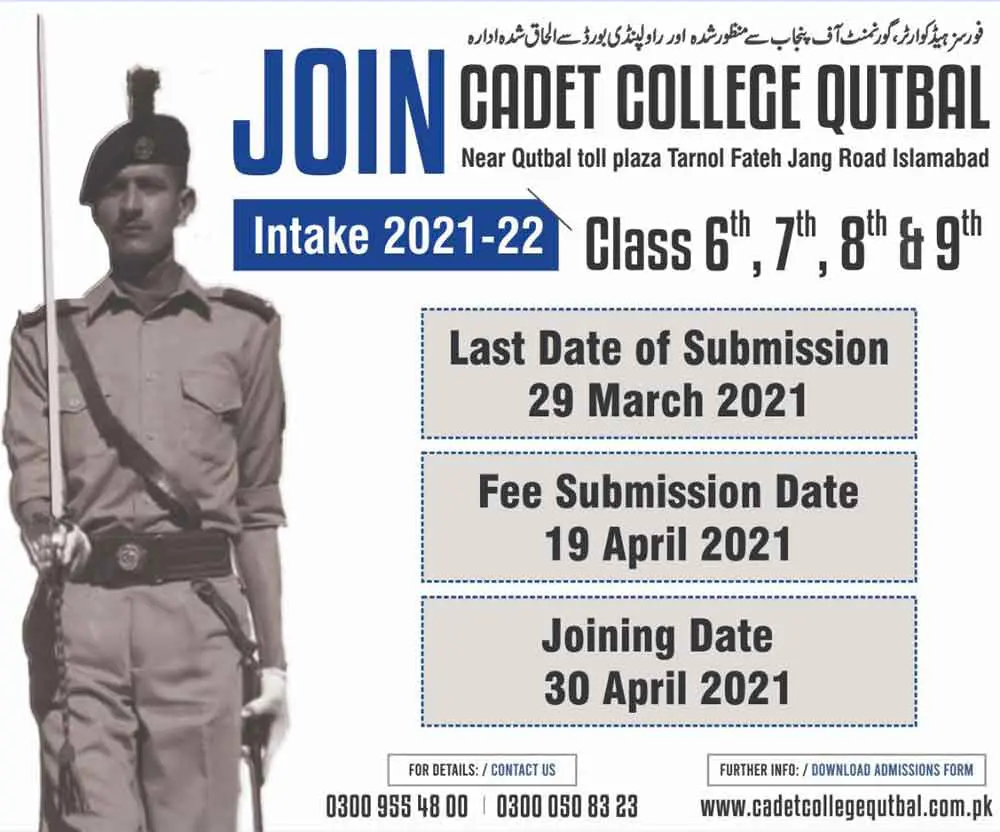 Last Date of submission of Admission Application Form for 1st Year: 19 March 2023
Entry Test Date for 1st Year:
Classes will be commence of 1st Year:  30 April 2023
Apply Here Also: Military College Sui Admissions 2023-2024 Entry Test Result