Cadet College Rawalpindi Starts admissions in Class 7th, 8th and 9th for session 2023-2024. The prospectus are available at Cadet College Rawalpindi Admissions office from Rs. 1000/- or by demand draft by Rs. 1100/- for getting prospectus by post you need to send Demand draft name of Cadet College Rawalpindi to Principal of the college as early as possible. The admissions forms can be download from college official website www.ccrwp.edu.pk.
Admissions open for 7th, 8th and 9th.
Last Date to Apply: 05 August 2023
Test/Interview: 15th August 2023
Commencement of classes: 1st August 2023
cadet college Rawalpindi has approved by the government having NOC from Armed Forces Headquarters
Admission Open for Class VII, VIII & IX
The college provides good facilities to students. College provides Air condition rooms, latest laboratory, qualified and experience faculty and playing grounds.
Admissions Open for First Year Session 2023-2024
Limited seats available for classes 7th, 8th and 9th!
Download form at https://www.ccrwp.edu.pk
Send completed form by post or email us at admissions.ccrwp@gmail.com
Download application form: Download PDF Admission Form Here
Attach two pp photographs of candidate
Attach photocopy of Form-B of candidate.
Scan the documents and send them at the following email address
ccrwp.info@gmail.com
z.alihamdani@gmail.com
Read Also:
Cadet College Gadap Admission 2023 Karachi Fee Structure
Prospectus and admission forms can be obtain from Pakistan Navy recruitment centers.
Last Date for Admission form Submission: 05 August 2023
Test and Interview Date: 15 August 2023
Commencement of Regular Classes: 01 September 2023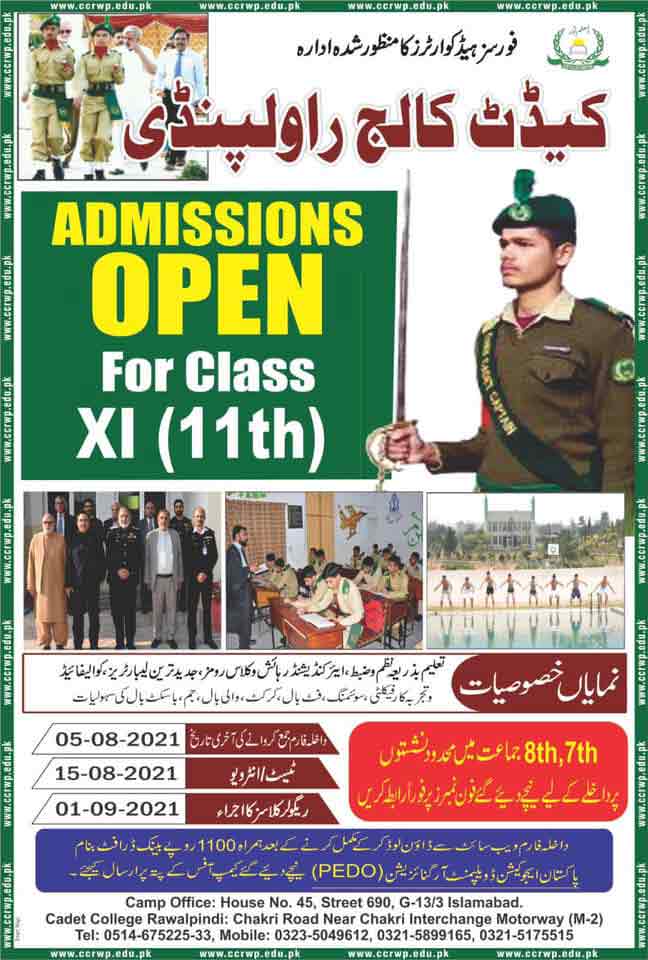 Fee Structure:
One-Time Charges Rs.40,000/- (breakdown as under):
a) Admission Fee Rs.20,000/- at the time of admission.
b) Security deposit Rs.10,000/- at the time of admission. (This amount is refundable only if a cadet leaves the college after completion of one academic session).
c) College Development Fund Rs.10,000/-
These charges are based on the prevalent market rates of different items/contingencies.
Monthly Fee Rs.20,000/-
a) The monthly fee includes tuition, messing, hostel, mid-day stand easy, laundry, barber, sports and club charges.
b) Full fee is to be charged to all till the date of announcement of results for a particular class.
Age Limit
Age limit for admission in various classes is as under:
Class VII 11 ½ to 13 years (On 1st May every year)
Class VIII 12 ½ to 14 years (On 1st May every year)
Class IX 13 ½ to 15 years (On 1st May every year)
Class XI 15 ½ to 17 years (On 1st May every year)
Admissions in Inter 11th XI Class Session 2023
Currently admissions open in 1st Year Intermediate FA FSC ICS and I.com Admission Form and Prospectus available at Navy and Other College campus. The Admission Notification Through Newspaper on date 22 August so You can apply Now also because no specific dates and Time has been published by College Officials.
Last date to apply for admission (Online or By Hand): 05-08-2023
Test and Interview: 15-08-2023
Regular Class of 11th Class will be start from dated: 01-09-2023
Read Also:
Girls Cadet College Mardan Admission 2023 Entry Test Date
Sample Admission Tests