CAMS College of Accounting & Management Sciences Admissions of Commerce & Arts First Year 2021
College of accounting and management sciences Karachi starts admissions to first year XI commerce and arts (Intermediate) for session 2021
Limited seats available so apply early, requirement for admission
Matric pass with 60% marks and above can apply O level with grade C in islamiat/urdu/pak studies.
Join Cams for intermediate and progress to Do ACCA, CIMA, CA, /MBA, With Cams.
Aptitude Test 
The campus of College of accounting and management sciences
CAMS bath Island Campus
Tipu Sultan Campus (for girls only)
Tipu sultan Campus
Email: info@cams.edu.pk
Cams.edu.pk.khi
Admissions to Intermediate Commerce / Arts are in progress at Clifton, Tipu Sultan Girls and Tipu Sultan co-ed campuses
BBA, MBA, CA (ICAP), CA (ICAEW-UK), ACCA, FD, CIMA, I.Com & Undergraduate degree programs in various disciplines from UCSI University, Malaysia.
ICAEW
ACA (CA)
ACCA
FIA (FD)
CIMA
BBA / MBA
CFA
B.Com / I.com
HNC – Accounting
HDB (IQN)
B.Com/ I.com
B.Com / I.com
UCSI
ACCA
FIA (FD)
CIMA
ACA (CA)
HDB (IQN)
Avicenna A'& O' levels
Avicenna Junior School
Gateway to Australia, New Zealand, Canada, USA, UK, Ireland and Poland.
We offer direct recruitment to UCSI University or a 2+1 year collaborative programme to students in Malaysia or any of above countries via Malaysia.
It's an opportunity to get undergrad or master's degree in unlimited disciplines such as; Hospitality and Tourism Management, Engineering Technology and Built Environment, Medicine and Health Sciences, Social Science and Liberal Arts, Applied Sciences, Business and Information Science and many more……..
Call: 34533760 or 34538615 or 033-2267-2267
Email: nabeel.siddiqui@cams.edu.pk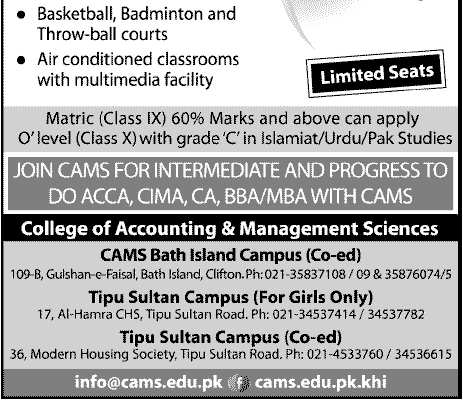 Address & Contact Details
For all programs
Email: info@cams.edu.pk
Fax: 92-21-35834783
see also Location Map
Help Desk
CAMS – Bath Island, Clifton
(CA, ACCA, CFA, ICAEW, HNC, IQN)
Ms. Monica Peter
Manager
109 – B Gulshan-E-Fasial
Bath Island Clifton
Karachi – 75530
Ph: 35837108-9 / 35876074/5
CAMS – Bath Island, Clifton
(I.Com, B.Com)
Ms. Khalida Nasir
Principal
109-B Gulshan-E-Faisal
Bath Island Clifton
Karachi – 75530
Ph: 35837108-9 / 35876074/5
CAMS – Bath Island, Clifton (CCBIT)
(BBA, MBA Morning, MBA Evening)
Mr. Anees zaidi
Director
109 -B Gulshan – e – Faisal
Bath Island, Clifton Karachi
Ph: 35837108-9, 35876074-5
CAMS – Tipu Sultan Girls Campus
(I.Com, B.Com)
Ms. Nuzhat Nasir
Principal
17 Al-Hamra CHS,
Main Tipu Sultan Road, Karachi
Tel: 34537414 / 34537782
CAMS – Tipu Sultan Co-ed Campus
(I.Com, B.Com)
Ms. Sabiha Nigar
Principal
36 Modern Housing Society
Tipu Sultan Road, Karachi
Ph: (92 21) 34538615, 34533760
Learn More About:Indus College Karachi Intermediate Admissions 2021
CAMS – Tipu Sultan Co-ed Campus
(UCSI Malaysia)
Mr. Nabeel Siddiqui
Manager Foreign Collaborations
36 Modern Housing Society
Tipu Sultan Road, Karachi
Ph: (92 21) 34538615, 34533760
CAMS – Tipu Sultan Co-ed Campus
(CA, ACCA, CIMA, CMA)
Mr. Hussain Omer
Manager
36 Modern Housing Society
Ph: (92 21) 34538615, 34533760
Avicenna School – Clifton (co-ed) campus
(Montessori – Grade VIII)
Ms. Maliha Siddiqui,
Principal
C-118 Clifton Block 2, Karachi
Ph: 35871957 / 35871960
Avicenna School – Clifton (co-ed) campus
(O'Levels, A'Levels)
Ms. Maliha Siddiqui
Principal
C-119- Block 2 Clifton, Karachi
Ph: 39250021, 35836095-6
Avicenna School – Clifton (Girls) Campus
Class IV – O'Levels)
Ms. Javaria Siddiqui
Principal
C-129, Block 2, Clifton, Karachi
Tel: 35374014
Avicenna School – Tipu Sultan Road (Girls) Campus
(Montessori – O'Levels)
Ms. Mehreen Ali
Principal
17 Al-Hamra CHS, Main Tipu Sultan Road, Karachi
Tel: 34554211, 34557903
Avicenna School – Tipu Sultan Road (Girls) Campus
(A'Levels)
Ms Nuzhat Nasir
Principal
Read Also: 1st year Admissions Open in Commecs College Karachi
17 Al-Hamra CHS, Main Tipu Sultan Road, Karachi
Tel: 34537782, 34537414
Avicenna School – Tipu Sultan (Co-ed) Campus
(A'Levels)
Mrs. Tahira Malik
Principal
36 Modern Housing Society,
Tipu Sultan Road, Karachi
Ph: (92 21) 34538615, 34533760
Avicenna School – Tipu Sultan (Co-ed) Campus
(Class VI – O'Levels)
Mrs. Tahira Malik
Principal
36 Modern Housing Society,
Tipu Sultan Road, Karachi
Ph: (92 21) 34538615, 34533760