Chief Minister of balochistan Nawab Sanaullah Khan zehri starts Free Laptop Distribution scheme in their Province Balochistan like PM Laptop Scheme in Punjab. It's a wonderful opportunity for balochistani college students that avail this scheme by registration of CM Balochistan Laptop Scheme session 2023.
The students who are studying in FSc, FA, ICS, I.com, BA, BSC, MA, MSC, MBA, PhD and MPhil are eligible to apply through proper channel, by submitting required documents.
Chief Minister and government of balochistan purchase 10,000 Laptops under CM Laptop scheme, the special Quota 10% for open merit basis and 90% of checking Mardam shumari year 1998 and checking the population of all cities. The Laptop scheme will be on merit basis. The students of balochistan who are studying in different provinces like Punjab, KPK and Sindh are eligible to apply for CM Laptop Scheme Balochistan.
Last date of submission of Application Forms: 20 June 2023
The candidates or students who are already get scholarships or any scheme under government of Balochistan are not eligible to apply.
The male and female students who are working in any government institute will not eligible to apply.
Eligibility criteria:
All female and male applicants who are studying in FSC, ICS, FA or DAE Intermediate and Two years or 4 years bachelors program, BA, BSC, B.com, BS Hons, DVM, MBBS and BDS or any other graduate or master level or M.Phil or PHD or MA or MBA students requires to have minimum 60% marks in their last Annual Exams and Semester Exams 70% marks.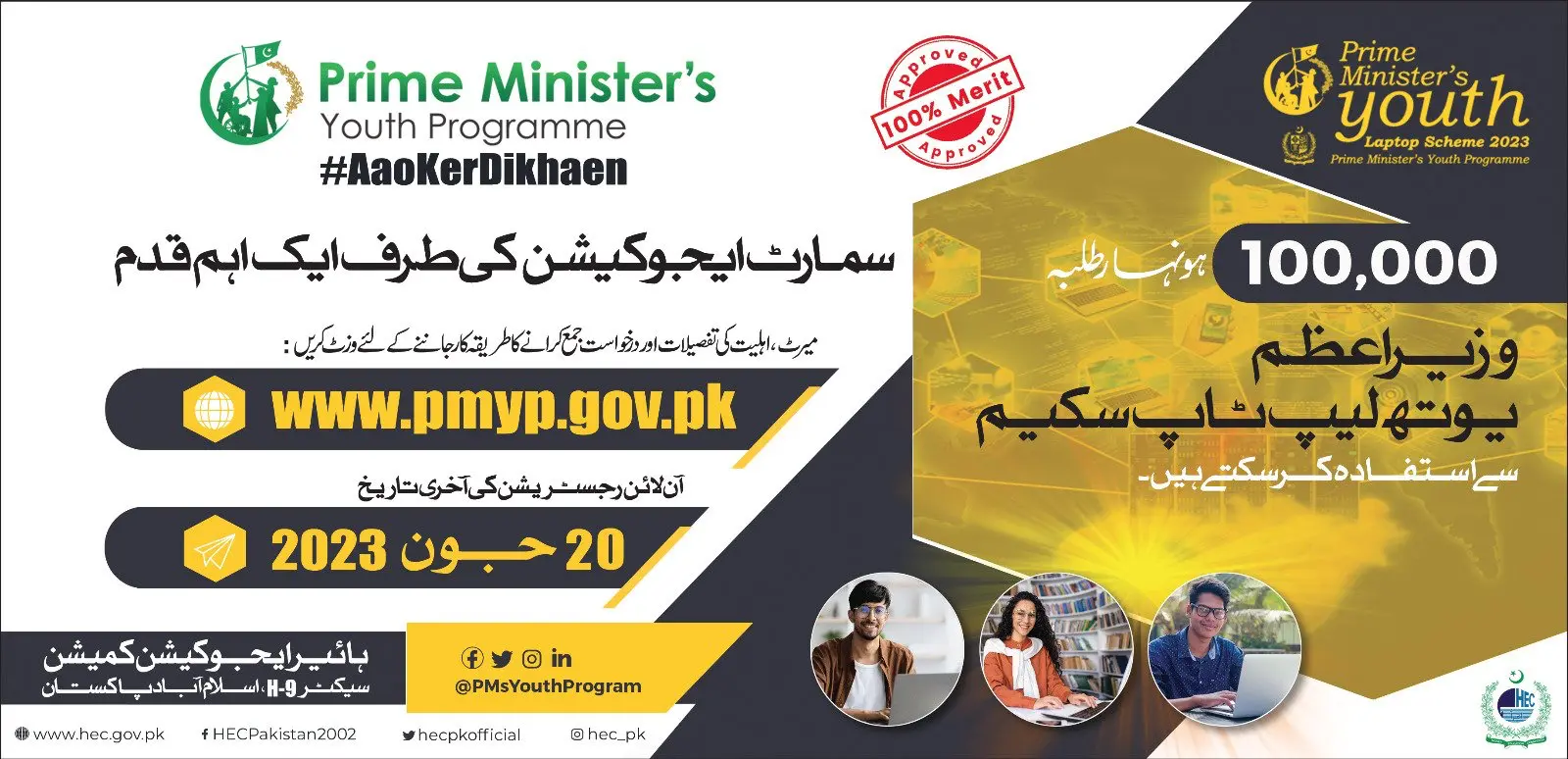 How to submit Application forms:
Apply Online Here: https://laptop.pmyp.gov.pk/
The interested and eligible male and female candidates requires following documents:
National ID card
B form
Local Domicile Certificate
Educational certificate and Degrees
Two passport size photos
Take copy of all above documents and download Application form that are available all Government and Private Institutes of balochistan, you can also download application forms from official government website balochistan.gov.pk.
After collecting all documents and fill the application form, you need to submit physically to Principal of your college or University or Institute before due date, the applications that will receive after due date will not consider.
Upcoming Laptop Distribution Schedule in Universities
Balochistan Laptop Scheme Special Notice:
The Principals or head of that colleges, Universities, or Institutes who are receiving Laptop Scheme Applications from Balochistan Students till dated 24-08-2023, its notice for that Institutes that take all data from Students and submit with covering letter and attested lists of students to Block No. 2 room No. 25 on dated: 31 August 2023 or Institute can also forward student documents through Courier Service before date. its notice by Deputy director of college higher and technical education balochistan.
PM Laptop Scheme Apply Online 2023: Apply Online for PM Laptop