Comsats Institute of Information Technology admissions spring 2023 Semester
New Admissions at COMSATS University, Islamabad:
How to Apply:
Apply online at following link:
https://admissions.comsats.edu.pk/
Application Deadline
APPLY ONLINE: https://admissions.comsats.edu.pk
Admissions Open All campuses: 4th June, 2023
Last Date for Submission of Applications
Islamabad Campus: 12 July 2023
Lahore Campus: 01 August 2023
Wah, Sahiwal and Abbottabad Campuses 10″ August, 2023
Attock and Vehari Campus: 18 August 2023
Entry Test Undergraduate:
Entry Test Graduate:
Display of Merit List:
Provisional Admission:
Commencement of Classes:
Comsats Lahore Campus Open admissions for undergraduate and Graduate and Master Programs for session 2023. Comsats Institute open admissions in All campuses like Lahore, Sahiwal, Abbottabad and many more for Undergraduate Programs, Master Programs, Graduate Programs and PhD Programs. Admission open in all campuses Lahore, Sahiwal, Islamabad, Abbottabad and Wah.
Admission Schedule for Campus
Admission Schedule for Sahiwal campus
Entrance Test Date for Graduate:
Display of Merit List:
NTS (GAT- General)
Commencement of Classes:
Programme Offered
Graduate Programme
MS in Computer Science
MS Bio Sciences
Undergraduate Programme
MBA (Executive) Weekend program
BBS (formerly MBA)
Masters in Computer Science (MCS)
M.Sc Mathematics
BS(Business Administration)
BS (Accounting & Finance)
BS (Software Engineering)
BS (Electrical Engineering)
BS (Computer Science)
BS (Telecommunication & Networking)
BS (Mechanical Engineering)
BS (Bio Bioinformatics)
admissions for the Session Spring 2023 are Open Now
Admissions for the session 2023 are open in the following undergraduate and graduate programs at CIIT Abbottabad Campus:
Undergraduate Programs
BS in Computer Science
BS in Software Engineering
BS in Telecommunication and Networking
BS in Electrical (Electronics) Engineering
BS in Electrical (Power) Engineering
BS in Electrical (Computer) Engineering
BS in Earth Sciences
BS in Biotechnology
BS in Environmental Sciences
BS in Economics
BS in Business Administration
BS in Development Studies
Master of Development Studies
Graduate Programs
MS Programs
Earth Sciences (Applied Geology/Applied Geophysics)
Biotechnology
Environmental Sciences
Sustainable Water Sanitation Health and Development
Mathematics
Environmental Engineering
Chemistry
Computer Science
Economics
MBA (1.5 Years)
Management Sciences
Project Management
Banking and Finance
Development Studies
Conflict, Peace and Development
Electrical Engineering
PhD Programs
Biotechnology
Environmental Sciences
Chemistry
Computer Science
Pharmacy
Electrical Engineering
How to Apply
Register on: admissions.comsats.edu.pk
Complete Application Form and submit online
Visit the Admission Office of the Campus to complete all formalities before the last date of submission of application
Contact Details
Telephone Number: +92-992-383596
Email: admissions@ciit.net.pk
admission information:
Comsats Institute Of Information Technology open admissions in following campus Islamabad, Abbottabad, Lahore, Wah, Attock, Sahiwal, and Vehari. the Express news paper advertisement. the admissions detail given below. The Last date of application Test Dated Commencement of classes Lahore Campus Admissions.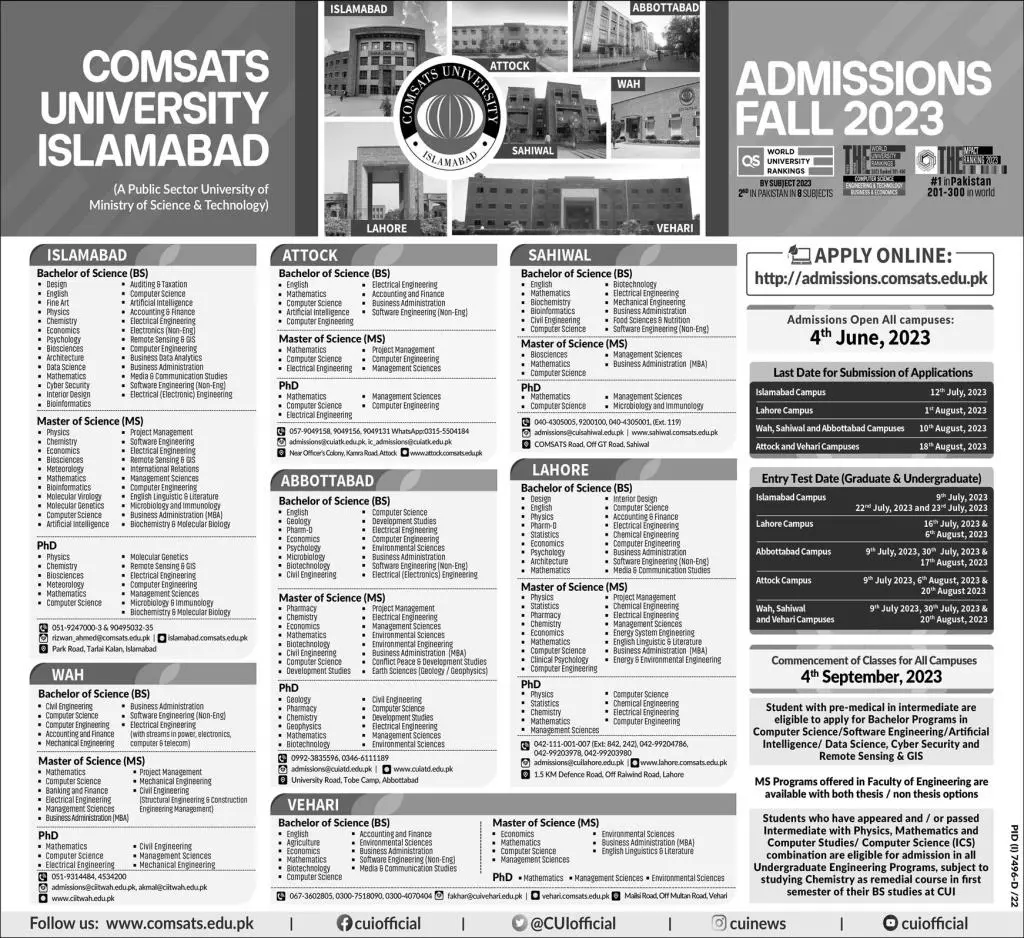 Comsats University Announced First Merit List today date to know the merit list: Comsats Merit Here