Construction Technology Training Institute Islamabad Admissions open in different courses for the session 2023. CTTI courses detail are given below on this advertisement dated June 2023 and for more detail check website www.ctti.edu.pk
Construction Technology Training Institute Islamabad offering short courses with effect from today. Prospectus along with admission forms are available at CTTI office and the same can be downloaded from ctti.edu.pk official website.
CTTI Islamabad short courses 2023
Download admission form and attach bank draft of Rs. 150 in favor of director CTTI with the admission form. For the request of admission form by post attach a bank draft of Rs. 200 in favor of Director CTTI.
Course Duration: 03 months
Education Matric
Name of courses:
Web development with PhP
Oracle 11g database development and administration
JAVA
CCNA
ASP. NET C#
Computer software
Autocad 2D, 3D civil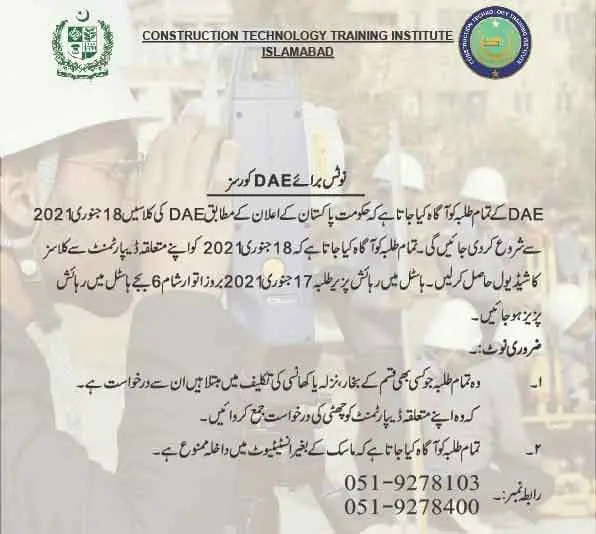 Last Date for submission of admission application from: 18 November 2023
First Merit List will be display on Date:
How to apply:
Duly filled admission form along with copies of educational certificates, marks sheet, CNIC / Form B. domicile and two copies of passport size picture must be attached.
Female are encouraged to apply 30% quota reserved for female candidates. Female faculty is available to cater for female students.
List of selected candidates will be displayed at ctti.edu.pk on date
Successful candidates will submit their fee in college. Also those selected candidates belonging to remote areas will submit their fee through the bank.
The candidates will submit their fees at meezan bank Peshawar road Rawalpindi branch with the account number 0805-0102309505. Copy of challan form must be send to email address info@ctti.edu.pk
Read Also:
NUML University Islamabad Short Courses 2023 Apply Online
All courses will be start from
CTTI Announced their first Merit List for session 2023-2024 Download Merit List and Selection list given below:
Notice 1st merit List DAE candidates
DAE Merit List 2023-2024
Selected candidates must be submit their fees Rs. 9650 before 23 August 2023 to Know Notice in Urdu Download Here:
Notice for Selected Candidates in Urdu
Apply Here Also:
Short Courses In National Institute of Electronics Islamabad
CTTI administration informs its students that information shared on CTTI Web page and FB page are for general masses. For individual queries call on the office number which is available on website and FB page or visit administration offices which are open Monday to Friday from 0800 to 1500 hrs. Please do not trust information from any other source or social media. CTTI is constantly updating its students for their future.
DAE students are enrolled with PBTE (Punjab Board of Technical Education) and CTTI follows the rules of PBTE with regards to annual exams.
Students of first year have already submitted their exam fee at the time of admission, hence need not to worry.
As one time measure, Due to Coronavirus epidemic, CTTI administration has decided to give a fair chance to all its students. Therefore, all students irrespective of their attendance or send up exam results can appear in Board Exams after submitting the fees.
Decision about modalities of conducting the exam or promotion to next session will be decided by PBTE and subsequently intimated to all students through available means.
For your convenience, you can use multiple options to submit the exam fee to include Online Fees submission by logging into your student portal or by visiting the institute as per your convenience. All Administration offices are open to help the students from Monday to Friday during office hours i.e 8 am to 3 pm. In case of any query please contact 051-9278103 or visit during office hours.
Please clear your all dues (including regular fees etc) and submit the exam fee before due date which is 7 JUNE 2023.
It is once again reiterated that all the measures are taken by the institute to facilitate its students and CTTI is following the PBTE decisions in order to safeguard its student's future. Also, inform your classmates, who are in touch with you about these steps,
Best of luck and best wishes for Eid Ul Fitr and exams in advance by CTTI administration.