Chief Minister of Punjab Sardar Usman Buzdar gives approval to Higher education commission about College Teaching Trainees CTI hiring for those college who are working under HEC.
Now male and female Master (MA, MSc) degree holders can submit Internship application form on temporary basis may be permanent after.
CTI Official Announcement in Urdu:
Eligibility Criteria Official Statement:
Job Name: College Teaching Trainees
Age Limit: any
Stipend Amount: Rs. 30,000/- Per Month
Duration: 13 January 2021 to 15 January 2021
Education Eligibility: MA / MSc with minimum second division.
How to submit Application form:
The interested male and female applicants can apply from Date 15 January 2021 to nearest boys or Girls College.
Just go to nearest Punjab Government Colleges and ask them about CTI Trainees Program, and check Notice boards about hiring details of College Teaching Trainees.

Interviews:
The Interviews will be held in All Punjab Government colleges from Date 05 November 2018 to 07 November 2019.
On the day of interview, it's requested to all male and female applicants that they must bring CV and other original Certificate or documents.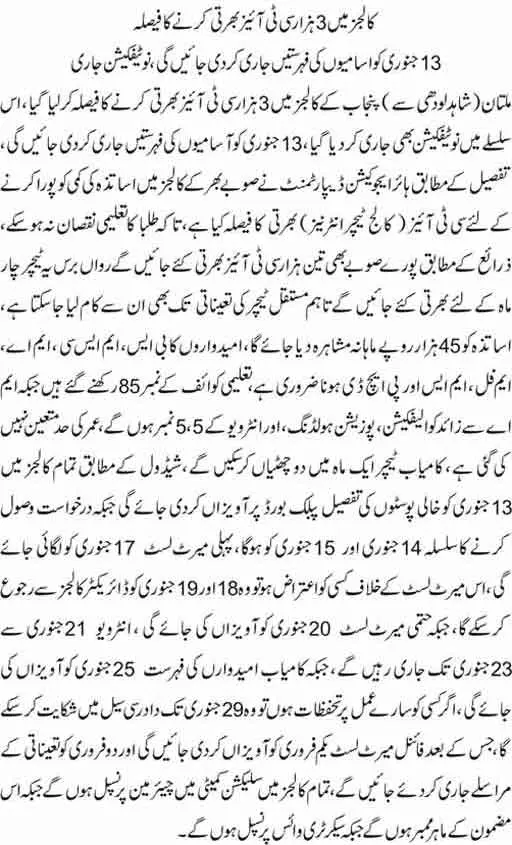 Merit List:
After interviews the final selection list will be shown on all Punjab colleges notice board on date. Tentative Merit list for the placement of CTIs will be Ii prepared by the Selection Committee latest by after duly scrutinised by the Director concerned. The list will also be placed at HED
CTI Internships are on limited time so apply as early as possible, after completion of Trainee Program government of Punjab will be issue Degree certificate of CTI Training.