Dawood college of engineering and technology offer admissions on self finance and sport base.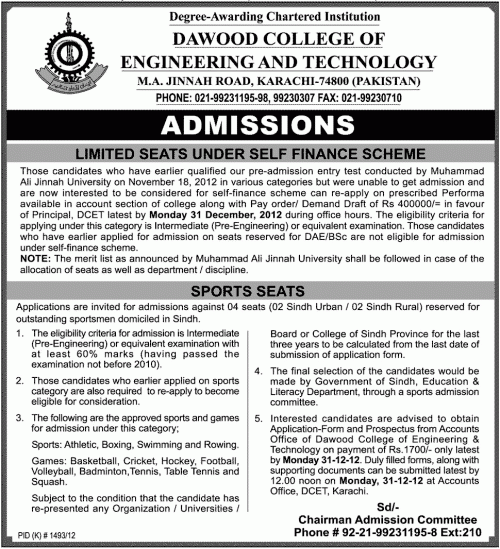 Admissions on limited seats. those candidate who have earlier qualified our pre-admission test conducted by the Muhammad Ali Jinnah university on November 18, 2020 in various degree program but were not unable to get admission  and are now interested to be considered for self finance scheme can re apply on prescribed performa available in account section of college along with pay order/ bank draft of rs 4000000 in favor of of principal, DCET latest by Monday 31 December 2020 during office hours. Eligibility criteria: intermediate (pre engineering) or equivalent examination. those candidates who have earlier applied for admission on seats reserved for DAE/BSC are not eligible for admission under self finance.
Note: The merit list is announced by Muhammad Ali Jinnah university shall be followed in the case of the allocation of seats as well as department/discipline.
Sport seats:
Application are invited for admissions against 04 seats (02 urban sindh/02 rural sindh) reserved for outstanding sportsmen domicile in sindh.
Eligibility: Intermediate have passed the examination not before 2010.
Those candidate who apply before also apply again.
The following are the approved games and sports:
Sports: Athletic,Boxing, swimming and rowing.
Games: Basketball, cricket, hockey, football, volleyball, Badminton, tennis, table tennis and squash.
Subjected to the condition that candidate representing any organization/institution/college or board of sindh province for the last three years to be calculated from the last date of the submission of the application form.
The final selection would be made by the government of sindh, education and literacy department  through sport committee.
Interested candidate are collect the form from the DCET admission office at the payment of 01700 Rupees.
Last date of submitting the form is 31.12 2020 before 12 00 noon.
Charmain admission committee
Phone: 92-21-99231195-8 ext 210.
Address: M.A Jinnah road Karachi – 74800 Pakistan.