Faysal Bank Limited offering management Trainee Program for graduates' session 2021. It's a chance for those whose wants to make their career in banking field, faysal bank will be provide complete Management Training to selected candidates under this scheme.
Trainee Branch Services Officer
Industry Banking/Financial Services
Category Accounts, Finance & Financial Services
Job Type Full Time/Permanent (First Shift (Day) )
Job Location Islamabad, Karachi, Lahore
Gender No Preference
Minimum Education Bachelor (14 Years)
Degree Title Bachelor's degree in any discipline.
Career Level Entry Level
Minimum Experience Fresh (Fresh graduate)
Apply Before Date 07 November 2021
Posted On Oct 23, 2021
Apply Online Through Rozee.pk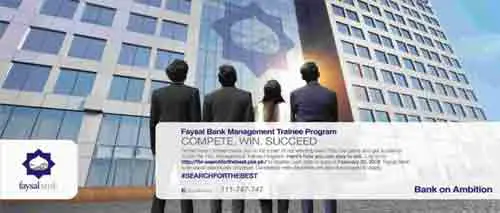 Faysal bank invites you to become a part of winning team and get a chance to join faysal bank limited.
How to submit MTO Application Online:
The interested and eligible candidates may submit their application form online through To create an account click https://fbl-searchforthebest.plai.pk/ first of all you need to sign up at this official page of faysal bank after registration provide complete Educational and personal information than click submit. Take the first step towards building your career. Sign up here for the Searchforthebest Faysal Bank MT recruitment program. Excellent job opportunities for FRESH GRADS and Experienced Professionals in banking/financial sector of Pakistan (as received to share for info, Faysal Bank Limited announces its Management Trainee Program 2021.
 Last date of submission of Application Form: 
Faysal bank is providing equal opportunity to all applicants to join Management Trainee Program and become successful banker.
The candidates male or female and disability are also encouraged to apply for management trainee program.