FBISE Improvement Policy 2023 Exam Form: how to apply online
The Federal Board of Intermediate and Secondary Education (FBISE) Announced today, August 22, 2023, the HSSC Part 1 Results and Position Holders List.
Many fbise students are not happy with their Marks and want to improve their Marks or grades. Intermediate HSSC Part 1 and HSSC Part 2 Passed students can apply for Improvement.
11th and 12th grade passed students asked many Questions about the improvement of Exams.
FBISE Announced the Question and Answer Sheet as below:
Question # 1: Sir, if I improve my elective subjects, will my compulsory subjects and part-1 subject marks also improve in the 2nd annual exams in 2023?
Answer: Yes
Question # 2: sir if i will improve only Phy-2 of HSC, will my Phy-1 also improve as we have given only Part-2 elective papers in the 1st annual exams in 2023?
Answer: Yes
Question # 3: 2nd year K-3 paper dene se humare 1st year K marks b improve ho jaynge?
Answer: Yes
Question # 4: Please guide me as to whether improved marks will be added in all subjects of HSSC-I and compulsory subjects of HSSC-II (that is, English, Urdu, Pakistan Study, and Islamiat) or otherwise.
Answer: Yes
Question #5: How will the results of HSC2 be made for the students who want to give improvement exams?
Answer: As per 1st Annual
Question # 6: SIR I recently got 559 marks in HSC 2, so I have to improve my marks. If I give Part 2 exams, then Part 1 marks will be improved according to
Answer: Yes
Special Exam Schedule Below:
FBISE Federal Board Announced Special Exam Date 2022 Schedule
Question # 7: HSSC 2 Improvement Subject's Main De Sattay Hain? Ore jin Subjects main hum improvement dain ge uss ka effect baki subjects pr b lagay ga?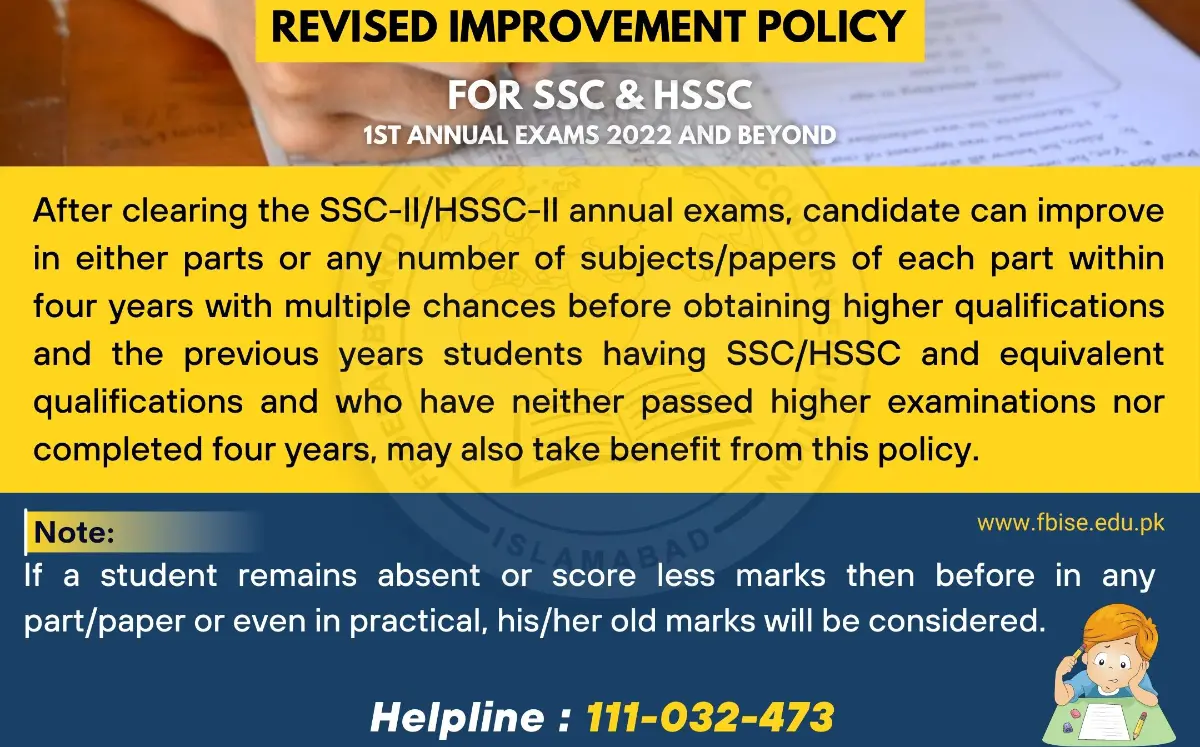 Answer: Elective only, and Yes.
Question # 8: Agar abhi 2nd year walay nay improvement Deni ho to us kai improvement kai baad 1st year or compulsory subjects mai bhi marks increase hongay?
Answer: Yes
Matric Top Position Holders 2023
FBISE Matric Top Position Holder List 2023 10th Class Name
Question # 9: Sir improvement papers k ly form ex private waly portion sa send karain gy ya institute ki taraf s Or fees kia ho 2 papers ki matlab agr hssc 2 k paper den gy to marks hssc 1 ma bhiilen gy ya nhai us k ly alag fees or alag paper ho ga or paper reduce syllabus s hi ay ga
Answer: Yes
Read Also:
Fbise Improvement Form Only for HSSC Part-I Passed Candidates
Question # 10: Sir, kindly ye bta dein k agr me nov me jo special exams conduct ho the hein un me phy part 2 ka dubara paper dena chahti hun apne marks improve krne k lie or agr mere marks pehle se ziada ate hein to kia part 1 k or compulsory subjs me bhi mrks increase houn ge ya nai Or tyari reduce syllb se hi krni he ya full book se?
Answer: Yes
Check Results:
FBISE Federal Board Matric 10th class Result 2023 SSC Part 2
How to apply Online:
The students can download an Improvement of Marks or Grade and submit it to the FBISE Office or Online through www.fbise.edu.pk. The candidates who want to improve their results will also submit an admission form along with the pro forma.
improvement with a fee of Rs. 1700 per candidate (within Pakistan) and US $ 125 (for Abroad).
The last date of submission of admission form is 2023.
HSSC Part-I Annual Examination 2023 will appear in HSSC 2nd Annual Examination 2023.
Download Improvement Form PDF: Download Here