FBISE Postponed SSC HSSC Exam papers 2021 Date Sheet
Federal board of intermediate and secondary education Islamabad and government of Pakistan announced to postponed Examination for Secondary School Matric (9th and 10th) and Intermediate HSSC (11th and 12th) Class.
The second wave of corona virus is dangerous and from last week the corona virus cases increasing vastly.
Government of Pakistan try to control the situation Pakistan as like our neighbor Country of India corona virus is not under control. The daily cases reached more than 400,000/- as today date 08 May 2021. The all schools and colleges in India already closed and still situation is not under control.
As per reports only today date 07 May 2021 more than 4000/- death due to corona and registered cases today 414000/-.
FBISE (Federal board of intermediate and secondary education) postponed the all SSC and HSSC Exam Papers in Pakistan as well as overseas examination centers like UK, USA, Saudi Arabia, and UAE.
FBISE Officially Announced as below:
"SSC and HSSC annual examinations 2021 within the country and abroad have been postponed as announced by the Govt. of Pakistan.  Examinations shall be held from last week of June and July 2021 in accordance with the policy of the Govt. of Pakistan"
Promotion of Students Without Exams in Pakistan 2021
the few next weeks is critical, because government of Pakistan and education minister want to escape the students and their family from coronavirus.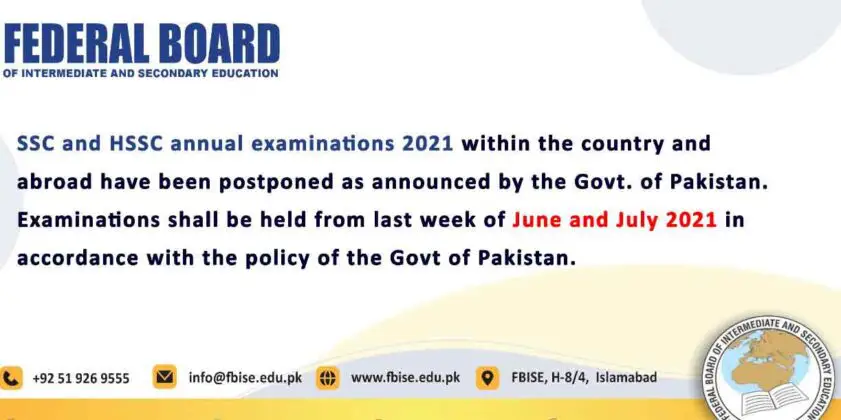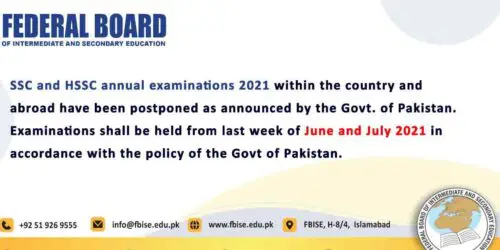 So as per government policy and Education Minister Shafqat Mehmood press release the Examination will be start from Last Week of June and start of July 2021.
Students reaction:
The students are angry due to cancelation or delay the Examination because education minister already announced that no any student will be passed or provide them promotion to next class without examination. As one student write.
Federal Board 9th 10th Class Date Sheet 2021
In June, another announcement will be there that now exams are at end of July Why r u wasting time of students don't keep on delaying or cancel them.
 Fawad Ahmad Writes:
We attended the colleges for 2 months only. how can you expect us to clear our concepts with counter-productive online classes? Stop playing with our future.
Ayesha Writes:
If you wanted to take exams then at least you should've provided some facilities to government schools, so that they could conduct online classes because we didn't even have online classes.
BISE Federal Board Inter 11th Class Date Sheets 2021