Federal Urdu University of Arts, Science, and Technology, Islamabad, admissions spring 2024 Soharwardi Road,near zero, G-7/1, Islamabad
Commerce:
BS Commerce morning and evening shifts 4 years and 8 semester and B.com two years with 4 semester Morning and evening classes.
Admission detail are given below
BBA(hons )
MBA(3.5 years)
MBA(1.5 years)
MBE (2 years)
MCOM (2 years)
Bachelor of science (bcom/commerce)
BS (computer science) 4 years
MSC 2 years
Ms 1.5 years
Bs (applied physics) 4 years
MS applied physics 2 years
MPHIL 2 years
Msc economics
MPHIL
PHD
MA urdu 2 years
MPHIL urdu 2 years
Phd urdu 3 years
Last date for applying is : 12 March 2024
Admission form are available from hbl campus branch on the payment of Rs. 1000 admission are also download from university official website.
Download Admission Application form

: Click Here
For contact
Deputy registrar (academic)
phone# 051-9255861 ext 217,201.
Website: www.fuuastisb.edu.pk
The candidates can apply online through Islamabad campus website www.fuastisb.edu.pk. After filling online admission application form. The students can print the admission form and submit to university with related documents and processing fees voucher Rs. 2000/- to HBL Bank Account or Pay order Rs. 2200/- the name of FUUAST Islamabad.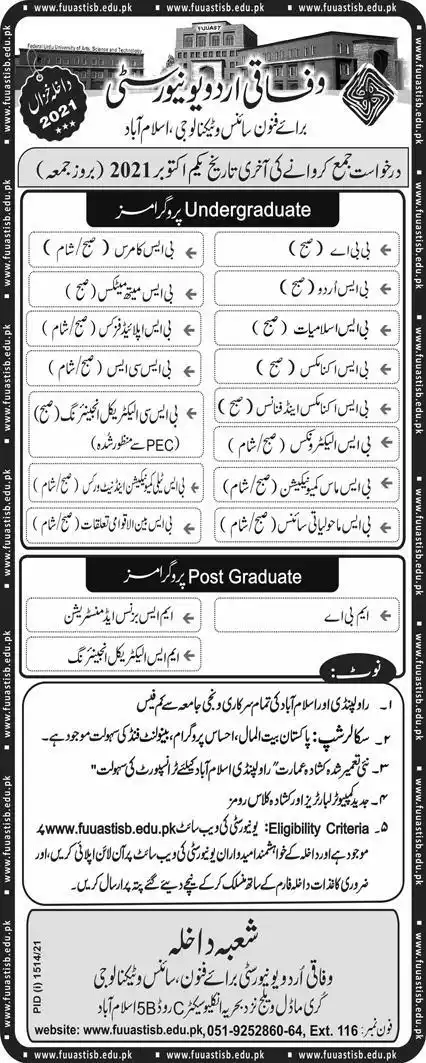 Fee Structure (2024) Bachelors Programmes (Morning)
Faculty of Law
| | | | | | | |
| --- | --- | --- | --- | --- | --- | --- |
| S.No: | Department | Tuition | Others | At the time of Admission | Even Semester | Odd Semester |
| 1 | L.L.B. (5 Years) Ten Semester | Rs.40000/- | Rs.5000/- | Rs. 45000/- | Rs.40000/- | Rs.43000/ |
Faculty of Pharmacy
| | | | | | | |
| --- | --- | --- | --- | --- | --- | --- |
| S.No: | Department | Tuition | Others | At the time of Admission | Even Semester | Odd Semester |
| 1 | Pharm.D. (5 Years) | Rs.27500/- | Rs.11000/- | Rs. 38500/- | Rs.27500/- | Rs.30500/ |
Note*: Donation Amount for Pharm-D Self Finance Seat Rs. 4,50,000/- (Four Lac fifty thousand)
Faculty of Arts BS (4 Years) / Hons. (3 Years) (Abdul Haq Campus) :
| | | | | | | |
| --- | --- | --- | --- | --- | --- | --- |
| S.No: | Department | Tuition | Others | At the time of Admission | Even Semester | Odd Semester |
| 1 | Arabic | Rs.5000/- | Rs.5000/- | Rs. 10000/- | Rs.5000/- | Rs.8000/- |
| 2 | English | Rs.5000/- | Rs.5000/- | Rs. 10000/- | Rs.5000/- | Rs.8000/- |
| 3 | Sindhi | Rs.5000/- | Rs.5000/- | Rs. 10000/- | Rs.5000/- | Rs.8000/- |
| 4 | Urdu | Rs.5000/- | Rs.5000/- | Rs. 10000/- | Rs.5000/- | Rs.8000/- |
| 5 | Mass Communication | Rs.5000/- | Rs.5000/- | Rs. 10000/- | Rs.5000/- | Rs.8000/- |
| 6 | General History | Rs.5000/- | Rs.5000/- | Rs. 10000/- | Rs.5000/- | Rs.8000/- |
| 7 | International Relations | Rs.5000/- | Rs.5000/- | Rs. 10000/- | Rs.5000/- | Rs.8000/- |
| 8 | Islamic History | Rs.5000/- | Rs.5000/- | Rs. 10000/- | Rs.5000/- | Rs.8000/- |
| 9 | Political Science | Rs.5000/- | Rs.5000/- | Rs. 10000/- | Rs.5000/- | Rs.8000/- |
| 10 | Pakistan Studies | Rs.5000/- | Rs.5000/- | Rs. 10000/- | Rs.5000/- | Rs.8000/- |
| 11 | Psychology | Rs.5000/- | Rs.5000/- | Rs. 10000/- | Rs.5000/- | Rs.8000/- |
| 12 | Social Work | Rs.5000/- | Rs.5000/- | Rs. 10000/- | Rs.5000/- | Rs.8000/- |
Faculty of Education BS (4 Years)/ Hons. (3 Years) (Abdul Haq Campus)
| | | | | | | |
| --- | --- | --- | --- | --- | --- | --- |
| S.No: | Department | Tuition | Others | At the time of Admission | Even Semester | Odd Semester |
| 1 | Education | Rs.5000/- | Rs.5000/- | Rs. 10000/- | Rs.5000/- | Rs.8000/ |
| 2 | Special Education | Rs.6000/- | Rs.5000/- | Rs. 11000/- | Rs.6000/- | Rs.9000/ |
| 3 | B.Ed. (4 yrs) | Rs.11000/- | Rs.5000/- | Rs. 16000/- | Rs.11000/- | Rs.14000/ |
| 4 | B.Ed. (2.5 yrs) | Rs.11000/- | Rs.5000/- | Rs. 16000/- | Rs.11000/- | Rs.14000/ |
Faculty of Teacher Education (Gulshan Campus)
| | | | | | | |
| --- | --- | --- | --- | --- | --- | --- |
| S.No: | Department | Tuition | Others | At the time of Admission | Even Semester | Odd Semester |
| 1 | B.Ed. (4 yrs) | Rs.11000/- | Rs.5000/- | Rs. 16000/- | Rs.11000/- | Rs.14000/ |
| 2 | B.Ed. (2.5 yrs) | Rs.11000/- | Rs.5000/- | Rs. 16000/- | Rs.11000/- | Rs.14000/ |
Faculty of Islamic Studies BS (4 Years)/ Hons. (3 Years)
| | | | | | | |
| --- | --- | --- | --- | --- | --- | --- |
| S.No: | Department | Tuition | Others | At the time of Admission | Even Semester | Odd Semester |
| 1 | Islamic Learning | Rs.5000/- | Rs.5000/- | Rs. 10000/- | Rs.5000/- | Rs. 8000/- |
Faculty of Science & Technology BS (4 Years)/ Hons. (3 Years)
| | | | | | | |
| --- | --- | --- | --- | --- | --- | --- |
| S.No: | Department | Tuition | Others | At the time of Admission | Even Semester | Odd Semester |
| 1 | Geography | Rs.6000/- | Rs.10000/- | Rs.16000/- | Rs.6000/- | Rs.9000/- |
| 2 | Statistics | Rs.6000/- | Rs.10000/- | Rs.16000/- | Rs.6000/- | Rs.9000/- |
| 3 | Botany | Rs.13000/- | Rs.10000/- | Rs. 23000/- | Rs.13000/- | Rs.16000/- |
| 4 | Environmental Sciences | Rs.13000/- | Rs.10000/- | Rs. 23000/- | Rs.13000/- | Rs.16000/- |
| 5 | Statistics with Finance | Rs.13000/- | Rs.10000/- | Rs. 23000/- | Rs.13000/- | Rs.16000/- |
| 6 | Zoology | Rs.13000/- | Rs.10000/- | Rs. 23000/- | Rs.13000/- | Rs.16000/- |
| 7 | Biochemistry | Rs.13000/- | Rs.10000/- | Rs. 23000/- | Rs.13000/- | Rs.16000/- |
| 8 | Chemistry | Rs.13000/- | Rs.10000/- | Rs. 23000/- | Rs.13000/- | Rs.16000/- |
| 9 | Mathematical Sciences | Rs.13000/- | Rs.10000/- | Rs. 23000/- | Rs.13000/- | Rs.16000/- |
| 10 | Microbiology | Rs.13000/- | Rs.10000/- | Rs. 23000/- | Rs.13000/- | Rs.16000/- |
| 11 | Physics | Rs.13000/- | Rs.10000/- | Rs. 23000/- | Rs.13000/- | Rs.16000/- |
| 12 | Computer Science | Rs.18000/- | Rs.10000/- | Rs. 28000/- | Rs.18000/- | Rs.21000/- |
| 13 | Geology | Rs.10500/- | Rs.10000/- | Rs. 20500/- | Rs.10500/- | Rs.13500/- |
| 14 | Biotechnology | Rs.22000/- | Rs.10000/- | Rs. 32000/- | Rs.22000/- | Rs.25000/- |
Faculty of Business Administration, Commerce & Economics : (Abdul Haq Campus)
| | | | | | | |
| --- | --- | --- | --- | --- | --- | --- |
| S.No: | Department | Tuition | Others | At the time of Admission | Even Semester | Odd Semester |
| 1 | BS (Business Administration) (BBA) | Rs.19000/- | Rs.5000/- | Rs. 24000/- | Rs.19000/- | Rs.22000/ |
| 2 | BS(4 Year) / B.Com Hons Commerece (3 Year) | Rs.7500/- | Rs.5000/- | Rs. 12500/- | Rs.7500/- | Rs.10500/ |
| 3 | BS(4 Year)/ BA Hons Economics (3 Year) | Rs.6500/- | Rs.5000/- | Rs. 11500/- | Rs.6500/- | Rs.9500/ |
Faculty of Business Administration, Commerce & Economics : (Gulshan Campus)
| | | | | | | |
| --- | --- | --- | --- | --- | --- | --- |
| S.No: | Department | Tuition | Others | At the time of Admission | Even Semester | Odd Semester |
| 1 | BS (Business Administration) (BBA) | Rs.19000/- | Rs.5000/- | Rs. 24000/- | Rs.19000/- | Rs.22000/ |
| 2 | BS(4 Year) / B.Com Hons Commerece (3 Year) | Rs.7500/- | Rs.5000/- | Rs. 12500/- | Rs.7500/- | Rs.10500/ |
Note: Candidates possessing Diploma of associate engineer (DAE) from Institutions recognized by the Federal Urdu University
Faculty of Arts :
| | | |
| --- | --- | --- |
| S.No: | Department | fee |
| 1 | Open to all Departments | Department based |
Faculty of Science and Technology:
| | | | | | | |
| --- | --- | --- | --- | --- | --- | --- |
| S.No: | Department | Tuition | Others | At the time of Admission | Even Semester | Odd Semester |
| 1 | Computer Science | Rs.18000/- | Rs.10000/- | Rs. 28000/- | Rs.18000/- | Rs.21000/- |
| 2 | Environmental Sciences | Rs.13000/- | Rs.10000/- | Rs. 23000/- | Rs.13000/- | Rs.16000/- |
| 3 | Physics | Rs.13000/- | Rs.10000/- | Rs. 23000/- | Rs.13000/- | Rs.16000/- |
| 4 | Statistics | Rs.6000/- | Rs.1000/- | Rs.16000/- | Rs.6000/- | Rs.9000/- |
| 5 | Statistics with Finance | Rs.13000/- | Rs.10000/- | Rs. 23000/- | Rs.13000/- | Rs.16000/- |
| 6 | Chemistry | Rs.13000/- | Rs.10000/- | Rs. 23000/- | Rs.13000/- | Rs.16000/- |