Fields after FSc Pre Medical
FSC Pre-Medical is the most famous and attractive field for talented and high-scoring students in Pakistan for session 2023–2024. Completing FSc Pre-Medical opens doors to numerous undergraduate study options for students interested in pursuing a career in the field of medicine and healthcare.
List of Undergraduate Programs after FSC pre-medical students
While medical and dental programs are popular choices, there are a wide range of alternative undergraduate programs that provide exciting career opportunities. In this article, we will explore a list of undergraduate programs available to students after FSc Pre-Medical, highlighting their potential career paths and benefits.
Medicine and Dentistry
For students, passionate about becoming doctors or dentists, pursuing a Bachelor of Medicine and Bachelor of Surgery (MBBS) or Bachelor of Dental Surgery (BDS) degree is the most direct path. These programs typically span five to six years, equipping students with the necessary knowledge and skills to practice medicine or dentistry.
MBBS
BDS
BS Audiology
BS Optometry
BS Ophthalmology
BEMS
BS Biochemistry
DVM
BHMS
BS Dental Hygiene
BS dermatology
BS Cardiac Perfusion
BS Cardiology
BS Neuroscience
BS Neurophysiology
BS Surgical Technology
BS physiology
BS Speech Language and Pathology
BS Emergency and Intensive Care Technology
BS Chemistry
BS Zoology
BS Physics
BS Microbiology
BS Biotechnology
BS Botany
BS Orthotics & Prosthetics
BS Respiratory Therapist
BSc Hons. Psychological Sciences
Pharmacy
A Bachelor of Pharmacy (B-Pharm) program is an excellent choice for those interested in the pharmaceutical industry. This program focuses on the study of drugs, their composition, therapeutic uses, and their impact on patients' health. Graduates can work as pharmacists in hospitals, community pharmacies, or pursue careers in pharmaceutical research and development.
Pharm.D
BS Transfusion Medicine (UHS)
Biomedical Engineering
Combining elements of engineering and medicine, a Bachelor's degree in Biomedical Engineering prepares students to design and develop medical equipment, prosthetics, and healthcare technologies. This interdisciplinary field offers opportunities to work for medical device companies, research institutions, hospitals, and government agencies.
BS Biomedical Engineering
BS Biomedical Sciences (UHS)
BS Genetics and Molecular Biology
B5 Bioinformatics
Bachelor of Science in Molecular Biology and Biotechnology
BS Biological Sciences (Genetics)
Nursing
A Bachelor of Science in Nursing (BSN) program provides comprehensive training in patient care, healthcare management, and nursing research. Graduates can work as registered nurses (RNs) in hospitals, clinics, and community healthcare centers, or pursue advanced degrees for specialized nursing roles.
BS Nursing (male or female)
BS Nursing Admission 2023 in Balochistan
BS Nursing Admission 2023 NCS Islamabad
Liaquat National College of Nursing Admission 2023
Shifa College of Nursing Admissions 2023
Physiotherapy
A Bachelor's degree in Physiotherapy focuses on the study of physical rehabilitation and the treatment of injuries and disorders using various therapeutic techniques. Graduates can work as physiotherapists in hospitals, rehabilitation centers, sports clinics, or establish their own private practice.
DPT (Doctor of Physical Therapy)
BS in Sports Sciences and physical Education
Nutrition and Dietetics
A Bachelor's degree in Nutrition and Dietetics equips students with knowledge of food science, human nutrition, and diet planning. Graduates can work as nutritionists, dietitians, or consultants in hospitals, wellness centers, research institutions, or even start their own nutrition clinics.
BS Human Nutrition and Dietetics
BS Human Diet and Nutrition
Medical Imaging Technology
A Bachelor's degree in Medical Imaging Technology trains students in various diagnostic imaging techniques such as radiography, ultrasound, and nuclear medicine.
Graduates can work as medical imaging technologists in hospitals, diagnostic centers, or research institutions.
Bachelor of medical imaging Sciences
BS Occupational Therapy
BS Vision Science
BS radiation Therapy
BS Dialysis
BS Radiology Technology
BSc Hons. Neuro Electrophysiology
BSc Hons. Radiotherapy Technology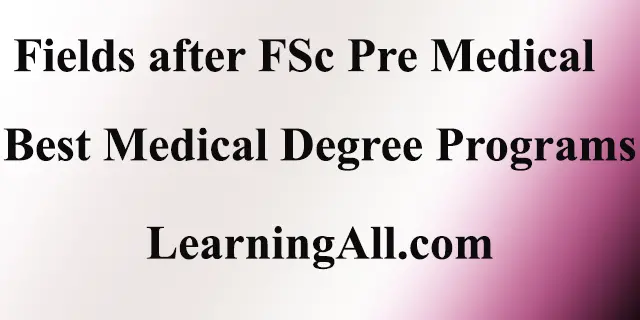 Medical Laboratory Technology
A Bachelor's degree in Medical Laboratory Technology focuses on laboratory testing and analysis of patient samples. Graduates can work as laboratory technologists or technicians in hospitals, clinical laboratories, research facilities, or pursue further studies in specialized areas.
Bachelor of Medical Laboratory Sciences
BS Radiography and Medical Imaging
BS Operation theatre Technology
BS Medical laboratory technology
BS Clinical Psychology
BS Dental Technology
BS Medical ultrasound technology
BS Anesthesia Technology
BS Renal/ Urology Technology
BS Forensic Science
Health Informatics
A Bachelor's degree in Health Informatics combines healthcare and information technology, focusing on managing and analyzing healthcare data for improved patient care. Graduates can work in healthcare organizations, health technology companies, or pursue careers in healthcare data analysis and management.
BS Cosmetology and Dermatological Sciences
BS Dairy Technology
Public Health
A Bachelor's degree in Public Health emphasizes community health, disease prevention, and health promotion. Graduates can work in public health departments, non-profit organizations, government agencies, or pursue advanced degrees for leadership roles in healthcare policy and management.
Bachelor of Science in Health Safety and Environment
BS Anthropology
BS Sociology
BSc Hons. Agriculture
BS Forestry
Environmental science
BSc. Hons. Food Science & Technology
BS Agri. Business
BS Animal Sciences
BS Gender Studies
BSPH( Bachelor of Science in Public Health)
BSc Hons. Fisheries and Aquaculture
BS Space Sciences
BS Poultry Sciences
BS Geology
BS Applied Bioscience
BS Tourism and Hospitality
Conclusion
While pursuing a medical or dental career is a popular choice after FSc Pre-Medical, there are various undergraduate programs available that offer exciting career paths in the broader healthcare field. Exploring these alternative programs allows students to align their interests, skills, and career goals with diverse opportunities in healthcare, research, technology, and public health. By considering these options, students can embark on a fulfilling educational journey and contribute to the betterment of health and well-being in their communities.
Your comments will be highly appreciated. For more information, go to the LearningAll.com page.