Forland truck Pakistan offering internship and career opportunities session 2018-2019. The interested Matric pass or DAE Candidates who wants to make their career in mechanical field can submit internship application with copy of ID card, Experience letters, Educational Certificates and forms to:
Foton JW Auto Park Pvt limited 19.5 KM, Raiwind Road, Lahore
Forland is a truck making company who start their business on 28 August 1996, its Chinese company Beijing with 40,000/- employees.
FOR Artisan Trainee Program apply Here: POF Artisan Training Scheme 2019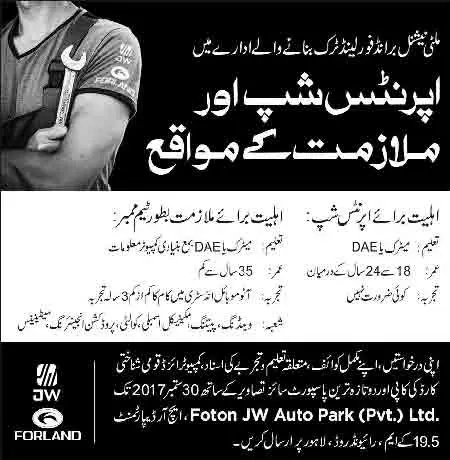 Read Also: Nestle Internships 2019 Apply Online Pakistan Fresh Graduates
China Address:
Contact Information
Mapoling Furong District Changsha 410125 Hunan China
Tel:+86-731-84075153
Fax:+86-731-84075297
E-mail:overseas@foton.com.cn
Read Also: Federal Government Employees Housing Foundation Internship 2019
Eligibility criteria for internship:
Minimum Qualification: Matric degree holders or DAE Degree holders.
Age limit: 18 to 24 years old.
No experience required
Eligibility for Hiring:
Qualification: Matric pass or DAE Degree holders with information about computer.
Age limit: 35 years old minimum
The minimum 3 years working experience in same field.