The United States Educational Foundation in Pakistan, named USEFP, invites scholarship application forms for the 2024–2025 session.
The Fulbright Scholarship Program from USEFP will fund up to 12 months of scholarship programs for post-doctoral research or a combination of the two at a USA college or university.
The selected students will be share information about Pakistani society and culture with students and community groups in the US.
Read also: Pakistan Scottish Scholarship Scheme 2024
After completion of Fulbright scholarship programs, the Pakistani students and successful scholars will be participate to make successful and significant contribution to Pakistan's development and share their USA experience with the students of Pakistan at different colleges and universities and community groups in Pakistan.
Learn Read Also: Punjab Workers Welfare Board Scholarship Form 2024 EOBI, PESSI
Priority is given to faculty researchers in early stages of their careers 2 to 7 years from the completion of their PhD or terminal degree.
Grand Benefits:
The grand benefits an incidental research allowances, a living stipend and health insurance. The program also funds on accompanying dependent, USEFP will assist with visa application process.
The last date for submission of the online application form is February 28, 2024, at 04:30 PM Pakistan standard time.
Paper applications will not be accepted, plagiarism, fraudulent publications, or other misrepresentation will lead to disqualification, at any stage of the program.
Program department
The United States Educational foundation in Pakistan
Email address: scholar@usepakistan.org
Phone number: 051-8431300 and fax number 051-8431555.
Women people with disabilities and individuals from FATA, Khyber pakhtunkhwa, AJK, Gilgit Baltistan, Balochistan, Northern Sindh and southern Punjab are highly encouraged to apply.
Read Also: Fulbright Foreign Language Teaching Assistant (FLTA) program 2024
How to apply:
Application form and instructions are available at Apply Online Here
Only online applications will be considered.
USEFP is now accepting applications for the 2024 Fulbright Student (Master's and PhD) Program. The program fully funds graduate degree study, including tuition, maintenance, insurance, and air travel. The Graduate Record Examination (GRE General) will be required for all applicants.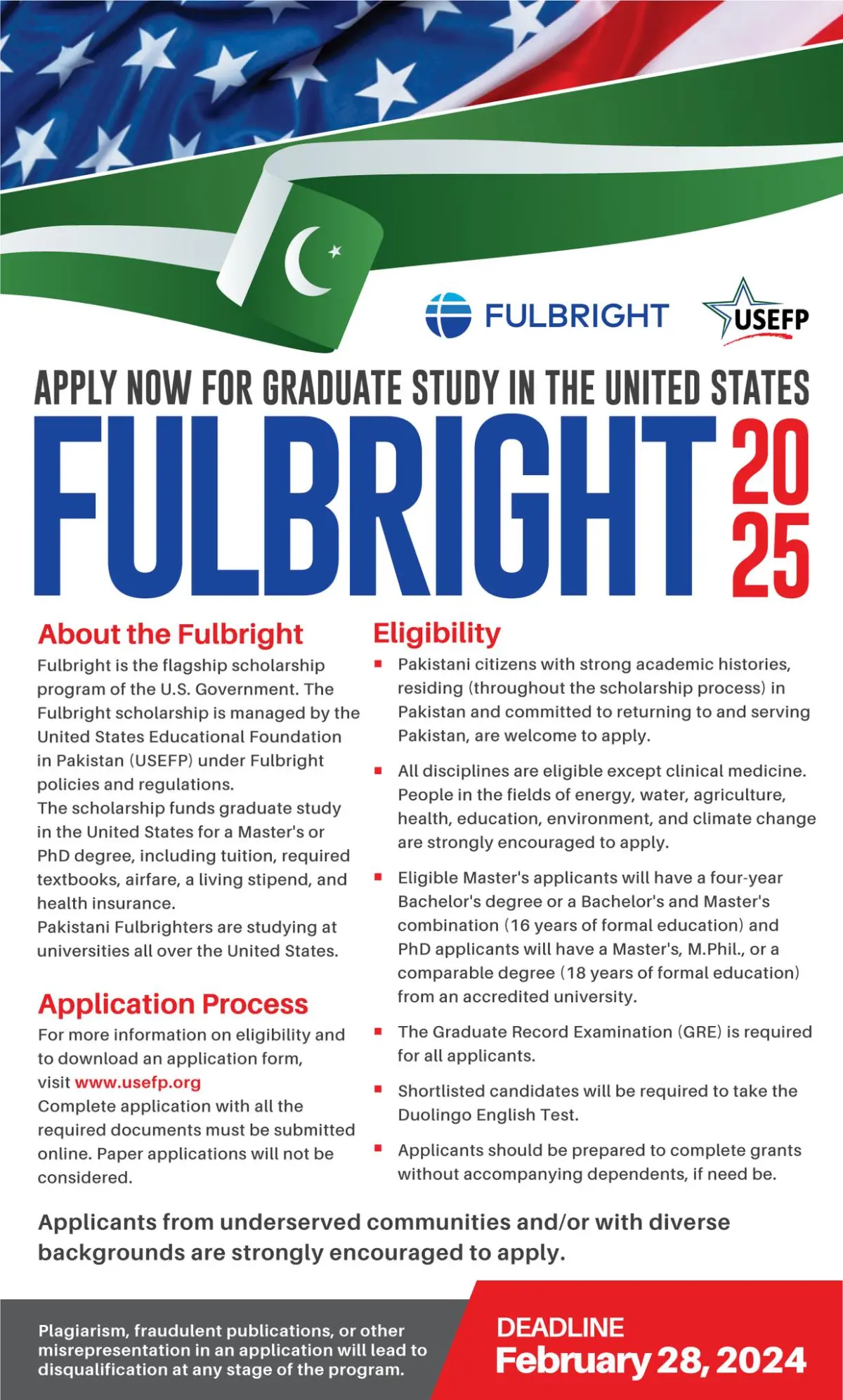 USEFP invites Pakistani students to apply for the prestigious 2024 Fulbright Student (Master's and PhD) Program, which fully funds graduate degree study in the United States. The highly competitive and merit-based scholarship covers tuition, maintenance, insurance, and air travel. This year, the required minimum Graduate Record Examination (GRE General) score is 145 for the Verbal and Quantitative sections.
The application deadline is February 28, 2024.
To apply, visit www.usefp.org
For queries, email info@usefp.org