Msc Chemistry envying first merit list has been announced today date
First Merit list display: November 3, 2023 (Wednesday)
Ghazi University DG Khan announced today 1st and Now second Merit List for Session 2023
Faculty of Agricultural Sciences Merit List 2023
B.Sc. (Hons.) Agriculture
Agronomy
Horticulture
Plant Breeding and Genetics
Plant Protection
Soil and Environmental Sciences Merit List 2023
Faculty of Arts
English
Islamic Studies
Political Science
Pakistan Studies
Urdu
Faculty of Management and Social Sciences Merit List 2023
Business Administration
Economics
Education
Sociology
Faculty of Science Merit List 2023
Botany
Chemistry
Computer Science & IT
Mathematics
Physics
Statistics
Zoology
Ghazi University Merit List 2023
ADP and ADS (1st merit list) October 2022
Physics: Download PDF
English: Download PDF
Zoology: Download PDF
Mathematics: Download PDF
Botany: Download PDF
Computer Science: Download PDF
MA/MSc./MCS Merit Lists October 2023
Faculty of Science 1st 2nd and 3rd Merit List 2023
Physics
| | | |
| --- | --- | --- |
| 1st Merit List (M) | 2nd Merit List(M) | 3rd Merit List(M) |
| 1st Merit List (E) | 2nd Merit List(E) | 3rd Merit List(E) |
Chemistry
| | | |
| --- | --- | --- |
| 1st Merit List (M) | 2nd Merit List(M) | 3rd Merit List(M) |
| 1st Merit List (E) | 2nd Merit List(E) | 3rd Merit List(E) |
Computer Science & IT
| | | |
| --- | --- | --- |
| 1st Merit List (M) | 2nd Merit List(M) | 3rd Merit List(M) |
| 1st Merit List (E) | 2nd Merit List(E) | 3rd Merit List(E) |
Mathematics
| | | |
| --- | --- | --- |
| 1st Merit List (M) | 2nd Merit List(M) | 3rd Merit List(M) |
| 1st Merit List (E) | 2nd Merit List(E) | 3rd Merit List(E) |
Zoology
| | | |
| --- | --- | --- |
| 1st Merit List (M) | 2nd Merit List(M) | 3rd Merit List(M) |
| 1st Merit List (E) | 2nd Merit List(E) | 3rd Merit List(E) |
Botany
| | | |
| --- | --- | --- |
| 1st Merit List (M) | 2nd Merit List(M) | 3rd Merit List(M) |
| 1st Merit List (E) | 2nd Merit List(E) | 3rd Merit List(E) |
FACULTY OF ARTS
English
| | | |
| --- | --- | --- |
| 1st Merit List (M) | 2nd Merit List(M) | 3rd Merit List(M) |
| 1st Merit List (E) | 2nd Merit List(E) | 3rd Merit List(E) |
Islamic Studies
| | | |
| --- | --- | --- |
| 1st Merit List (M) | 2nd Merit List(M) | 3rd Merit List(M) |
| 1st Merit List (E) | 2nd Merit List(E) | 3rd Merit List(E) |
Political Science
| | | |
| --- | --- | --- |
| 1st Merit List (M) | 2nd Merit List(M) | 3rd Merit List(M) |
| 1st Merit List (E) | 2nd Merit List(E) | 3rd Merit List(E) |
History
| | | |
| --- | --- | --- |
| 1st Merit List (M) | 2nd Merit List(M) | 3rd Merit List(M) |
| 1st Merit List (E) | 2nd Merit List(E) | 3rd Merit List(E) |
Pakistan Studies
| | | |
| --- | --- | --- |
| 1st Merit List (M) | 2nd Merit List(M) | 3rd Merit List(M) |
| 1st Merit List (E) | 2nd Merit List(E) | 3rd Merit List(E) |
Urdu
| | | |
| --- | --- | --- |
| 1st Merit List (M) | 2nd Merit List(M) | 3rd Merit List(M) |
| 1st Merit List (E) | 2nd Merit List(E) | 3rd Merit List(E) |
FACULTY OF MANAGEMENT & SOCIAL SCIENCES
Business Administration
| | | |
| --- | --- | --- |
| 1st Merit List (M) | 2nd Merit List(M) | 3rd Merit List(M) |
| 1st Merit List (E) | 2nd Merit List(E) | 3rd Merit List(E) |
Economics
| | | |
| --- | --- | --- |
| 1st Merit List (M) | 2nd Merit List(M) | 3rd Merit List(M) |
| 1st Merit List (E) | 2nd Merit List(E) | 3rd Merit List(E) |
Education
| | | |
| --- | --- | --- |
| 1st Merit List (M) | 2nd Merit List(M) | 3rd Merit List(M) |
| 1st Merit List (E) | 2nd Merit List(E) | 3rd Merit List(E) |
Sociology
| | | |
| --- | --- | --- |
| 1st Merit List (M) | 2nd Merit List(M) | 3rd Merit List(M) |
| 1st Merit List (E) | 2nd Merit List(E) | 3rd Merit List(E) |
BS PROGRAM MERIT LISTS October 2022
FACULTY OF SCIENCE
Physics
| | | |
| --- | --- | --- |
| 1st Merit List (M) | 2nd Merit List(M) | 3rd Merit List(M) |
| 1st Merit List (E) | 2nd Merit List(E) | 3rd Merit List(E) |
Chemistry
| | | |
| --- | --- | --- |
| 1st Merit List (M) | 2nd Merit List(M) | 3rd Merit List(M) |
| 1st Merit List (E) | 2nd Merit List(E) | 3rd Merit List(E) |
Computer Science & IT
| | | |
| --- | --- | --- |
| 1st Merit List (M) | 2nd Merit List(M) | 3rd Merit List(M) |
| 1st Merit List (E) | 2nd Merit List(E) | 3rd Merit List(E) |
Mathematics
| | | |
| --- | --- | --- |
| 1st Merit List (M) | 2nd Merit List(M) | 3rd Merit List(M) |
| 1st Merit List (E) | 2nd Merit List(E) | 3rd Merit List(E) |
Statistics
| | | |
| --- | --- | --- |
| 1st Merit List (M) | 2nd Merit List(M) | 3rd Merit List(M) |
| 1st Merit List (E) | 2nd Merit List(E) | 3rd Merit List(E) |
Zoology
| | | |
| --- | --- | --- |
| 1st Merit List (M) | 2nd Merit List(M) | 3rd Merit List(M) |
| 1st Merit List (E) | 2nd Merit List(E) | 3rd Merit List(E) |
Botany
| | | |
| --- | --- | --- |
| 1st Merit List (M) | 2nd Merit List(M) | 3rd Merit List(M) |
| 1st Merit List (E) | 2nd Merit List(E) | 3rd Merit List(E) |
FACULTY OF ARTS
English
| | | |
| --- | --- | --- |
| 1st Merit List (M) | 2nd Merit List(M) | 3rd Merit List(M) |
| 1st Merit List (E) | 2nd Merit List(E) | 3rd Merit List(E) |
| | | |
| --- | --- | --- |
| 1st Merit List (M) | 2nd Merit List(M) | 3rd Merit List(M) |
| 1st Merit List (E) | 2nd Merit List(E) | 3rd Merit List(E) |
Political Science
| | | |
| --- | --- | --- |
| 1st Merit List (M) | 2nd Merit List(M) | 3rd Merit List(M) |
| 1st Merit List (E) | 2nd Merit List(E) | 3rd Merit List(E) |
History
| | | |
| --- | --- | --- |
| 1st Merit List (M) | 2nd Merit List(M) | 3rd Merit List(M) |
| 1st Merit List (E) | 2nd Merit List(E) | 3rd Merit List(E) |
Pakistan Studies
| | | |
| --- | --- | --- |
| 1st Merit List (M) | 2nd Merit List(M) | 3rd Merit List(M) |
| 1st Merit List (E) | 2nd Merit List(E) | 3rd Merit List(E) |
Urdu
| | | |
| --- | --- | --- |
| 1st Merit List (M) | 2nd Merit List(M) | 3rd Merit List(M) |
| 1st Merit List (E) | 2nd Merit List(E) | 3rd Merit List(E) |
FACULTY OF MANAGEMENT & SOCIAL SCIENCES
Business Administration
| | | |
| --- | --- | --- |
| 1st Merit List (M) | 2nd Merit List(M) | 3rd Merit List(M) |
| 1st Merit List (E) | 2nd Merit List(E) | 3rd Merit List(E) |
Economics
| | | |
| --- | --- | --- |
| 1st Merit List (M) | 2nd Merit List(M) | 3rd Merit List(M) |
| 1st Merit List (E) | 2nd Merit List(E) | 3rd Merit List(E) |
Sociology
| | | |
| --- | --- | --- |
| 1st Merit List (M) | 2nd Merit List(M) | 3rd Merit List(M) |
| 1st Merit List (E) | 2nd Merit List(E) | 3rd Merit List(E) |
FACULTY OF AGRICULTURAL SCIENCES
Environmental sciences
| | | |
| --- | --- | --- |
| 1st Merit List (M) | 2nd Merit List(M) | 3rd Merit List(M) |
| 1st Merit List (E) | 2nd Merit List(E) | 3rd Merit List(E) |
Agriculture
| | | |
| --- | --- | --- |
| 1st Merit List (M) | 2nd Merit List(M) | 3rd Merit List(M) |
| 1st Merit List (E) | 2nd Merit List(E) | 3rd Merit List(E) |
Ghazi University Dera Ghazi Khan opens admissions for undergraduate and postgraduate degree programs session 2023-2024. Ghazi University is recognized from HEC Pakistan offering admissions for Graduate and Master Level programs. The Admission application forms available from today dated: at city campus X government postgraduate college DG Khan. The admission forms and prospectus can be avail from university campus of Rs. 500/- during office and University timing. The Admission form can also download from gugk.edu.pk. Hostel facility also available.
The last date of submission of admission forms: 09 March 2024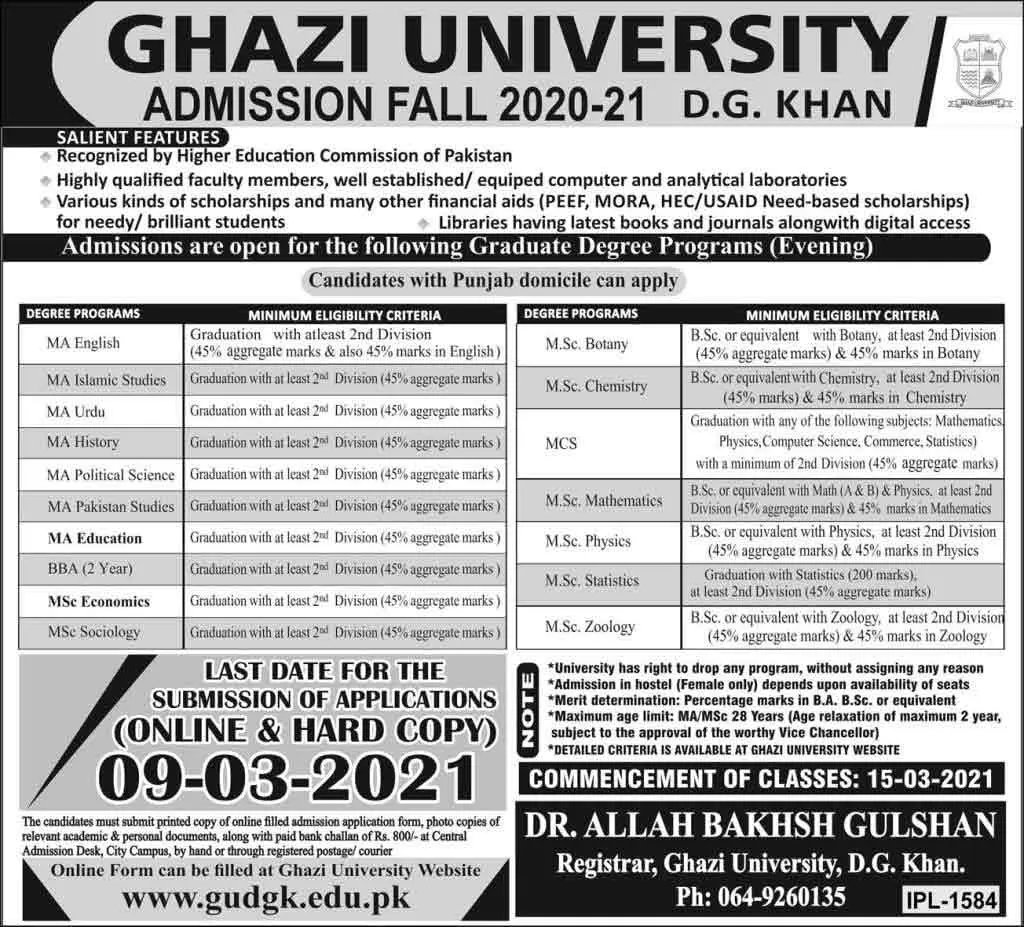 B.Sc. (Hons.) Agricultural Sciences
BBA (Hons.)
Eligibility:
Intermediate examination or equivalent securing at least 45% marks in aggregate. Graduates are not eligible for admission in the BBA (Hons.) program.
Duration: 4 years (8 semesters)
Seats: 50 morning and 50 evening
BS Botany
BS Chemistry
BS Economics
BS English
BS Information Technology
BS Mathematics
BS Physics
BS Sociology
BS Statistics
BS Zoology
Master Level Programs:
B.Ed.
M.A. Education
M.A. English
M.A. Islamic Studies
M.A. Pakistan Studies
M.A. Political Science
M.A. Urdu
M.Sc. (Hons.) Agri. Entomology
M.Sc. (Hons.) Agronomy
M.Sc. (Hons.) Horticulture
M.Sc. (Hons.) Plant Breeding & Genetics
M.Sc. (Hons.) Soil & Environmental Science
M.Sc. Botany
M.Sc. Chemistry
M.Sc. Economics
M.Sc. Mathematics
M.Sc. Physics
M.Sc. Sociology
M.Sc. Statistics
M.Sc. Zoology
MBA
MBA 1 ½ years
MBA Executive
MCS
Eligibility:
BA/BSc or equivalent with a minimum of 2nd division (45% marks)
M.Phil Islamic studies Evening session Admissions.