Higher education of Pakistan announced scholarship program for undergraduate science students. The Intermediate passed candidates having subjects Biology, Chemistry, Maths & Physics in HSSC higher secondary school certificate and having 70% marks can apply for BS Studies. HEC will be afforded BS Studies fees and expenses of selected students.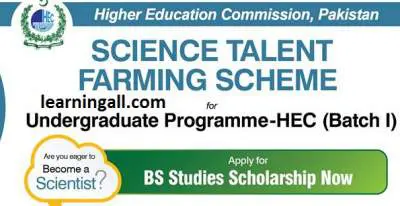 The last date of submission of application form:
Eligibility criteria:
Only Pakistani and AJK national holders can apply.
The applicants having 50% marks in their matriculation and 70% marks in HSSC Part 1 11th (subjects chemistry, physics, biology, mathematics) class can and waiting their 12th class result and expected and he will receive 70% or more marks in Annual Exam of 12th class are eligible to apply for Science Talent Farming Scheme session 2020.
The candidates who have availing already scholarship are not eligible to apply.
The dual national holders are not eligible to apply for HEC Scholarship scheme.
The interested and eligible candidates may submit their online application form. HEC inviting scholarship applications from youth talented Pakistani students for award fully funded BS Four year's program scholarships are being offered for BS Level studies in the discipline and sub disciplines and universities available at HEC official website.
The main theme of the scheme is that the scholars who have aptitude towards science and are outstanding in their studies could be productive scientists for future by developing their critical thinking skills. The intellectual capacity of Pakistani youth is not less than any other nation rather has more potential if enabling environment and resources are provided.  Following additional interventions shall be made along with formal education to groom the scholars under the scheme.
  How to submit application online:
HEC is receiving online applications only, the application online form available at hec.edu.pk. the candidates who will submit their online applications requires to take their form print for further office use. The candidates are requested to apply well before the closing date to avoid any power failure or overburdened server issues.
The merit list or selection will be depends on online information provided by the student or applicants. In case of wrong information after that the selection will be canceled with mark subject.
The scholarship test will be taken by HEC officials from intermediate course.
Science subjects combination:
Physics, chemistry, biology, and English.
Physics, chemistry, mathematics, and English.
Physics, mathematics, statistics, and English.
Physics, mathematics, computer and English.
Statistics, mathematics, economics and English.
The candidates who shall complete online applications successfully shall get roll number slips at their provided email address and via SMS at their given mobile numbers. The roll number slips can also be downloaded from HEC official website.
Specialized Interventions HEC Officials:
The scholars shall be provided laptop once during the studies for online access to the latest research in their respective fields.
A three to four months/Semester long noncredit hour language course shall be arranged in the selected universities during the first year of studies for the scholars under the scheme to enhance their spoken and expression skills of English Language.
Every scholar shall appear in the IELTS/TOEFL examination conducted by relevant organizations periodically within six months' time period after the completion of English language course to measure his/her language proficiency.
A special summer semester shall be arranged for the scholars at participating universities to attend the lectures and to carryout research activities during the second year of study. Scholars shall be encouraged to design the proposal for the final year project.
One hundred outstanding scholars shall be sent abroad each year in the third year of their study to attend a semester at a high ranking foreign university of technologically advanced country in their respective field of study.
Research Project shall be mandatory for all Scholars in their final year of BS studies under the Science Talent Farming Scheme. The scholars are expected to start designing the research project in the second year of studies. The universities shall be asked to provide the lab facilities and supervision during the summer vacations.