HEC Commonwealth Scholarships for Doctoral Studies in UK 2020
Higher education commission of Pakistan invites scholarship applications from all provinces of Pakistan with AJK for commonwealth scholarships for doctor studies tenable in the United Kingdom UK year 2020. All Pakistani candidates who want to get scholarships must be apply though proper channel means though HEC, direct scholarship applications to commonwealth UK will not be accepted. HEC always trying to provide educational activities for Pakistani studies, the female candidates are encouraged to apply for these scholarships.
The last date to submit hand copies of the online application by post addressed to HEC is 13 February 2020
Programmes offered
Commonwealth PhD Scholarships are for candidates from low and middle income Commonwealth countries, for full time doctoral study at a UK University. These scholarships are offered under following six themes:
​Science and technology for development
Strengthening health systems and capacity
Promoting global prosperity
Strengthening global peace, security and governance
Strengthening resilience and response to crises
Access, inclusion and opportunity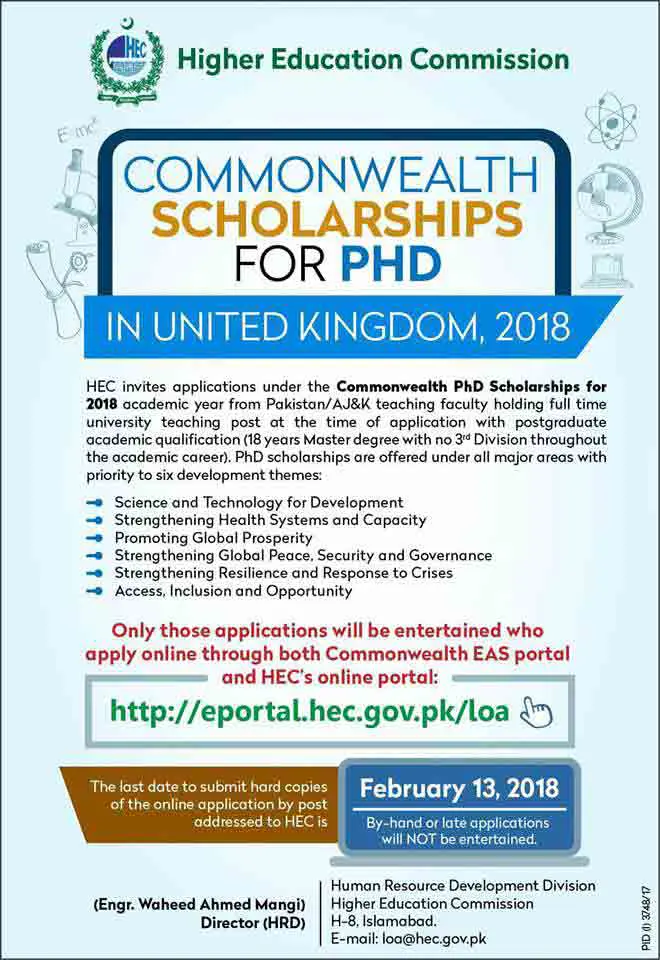 The candidates who want to apply can download scholarship application forms from www.hec.gov.pk/ffsp direct link of HEC official website.
Interested candidates can also apply direct though online system to this link https://cscuk.dfid.gov.uk/apply/eas/applicants/scholarships/
Dear students if you want to apply from above this link please its necessary to select HEC as your nominating agency. For Master and PhD study scholarship applications.
After that send all these scholarship applications to HEC with Rs 1000/- payment online to this HEC Account: 17427900133401 in habib bank limited Pakistan, scholarship applications must be submit before dated 30-October-2020, those applications must be completed with all aspects to this address:
Engr. Waheed Ahmed Mangi
Deputy Director HRD / In charge
Commonwealth United Kingdom
Higher education commission Islamabad H-9