HEC higher education commission update scholarship program page today date 22 March 2021 that china road and bridge corporation CRBC people's republic of china one of the four large scale state owned companies in china, international construction market, mainly focusing on contracting of roads, bridges ports, railways, airports etc.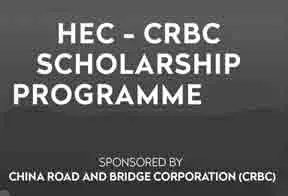 HEC and CRBC starts 2nd batch for scholarship program in china
According to CRBC HEC scholarships the company provides scholarship for master degree holders in the field of transportation engineering through southeast university china.
Last date for submission of scholarship application form: 22-03-2021
Last Date: March 22, 2021
Eligibility criteria:
The graduate engineering degree holders who want to do master in transportation engineering field can submit scholarship application form.
The selected students will be study in southeast university china for two years in china till complete their master in transportation engineering. One year for course learning and one year for thesis writing & internship course also including course, seminar, visits, investigation, internship and thesis, thesis writing, defense in second year.
At the end of second year university will be award certificate master of engineering in transportation engineering field.
Read Also: Scholarships in China for Pakistani Students
The selected scholars will be get admission in Southeast university china:
Southeast University is one of the Higher Education Institution first established in China which is key university of nationwide directly administered by the Central Government and subordinated to Ministry of Education, and is among the famed eight construction universities, first rank in national key discipline of traffic engineering in China.