How to get computerized arms licenses through NADRA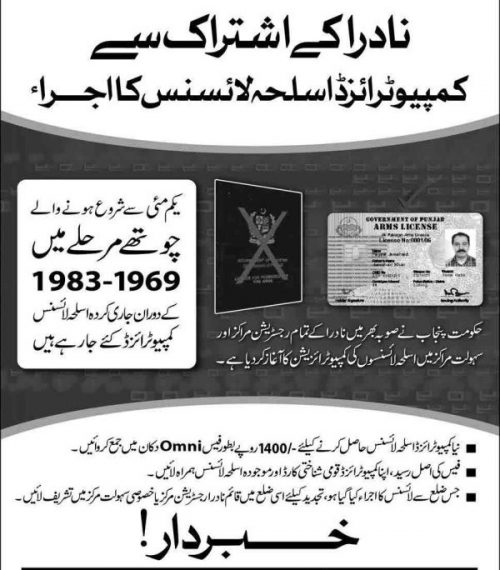 Government Pakistan takes decision to make all arms licensed though NADRA Pakistan. Government will issue arms licenses through NADRA registration. The 4th session of registration of arms will be though NADRA and computerized.
Government of Punjab and NADRA registration offices starts to registered arms computerized.
How to register your Arms
First of all submit registration fee RS 1400 though Omni any shop and take invoice from that Omni shop.
The original receipt of Fee with National ID Card and current arms license takes with you before coming to NADRA office.
You need to come your nearest NADRA office for easily complete computerized registration.
Important Notice:
The arms license from year 1969 to 1983 will be cancelled on dated 31-May-2020 if anyone don't come to NADRA office or made New computerized arms license.
The license from 1984 to 2020 for correction date has been extended till 10 June 2020.
National database and registration authority of Pakistan will not be responsible if any Pakistan or non Pakistan has no computerized license.