How to Submit Passport Fee Payment with MobiCash
Mobicash is one of the best payment transfer system in Pakistan, the Mobicash cash payment service provides you the service to submit or payment Passport fee though outlets of MobiCash. MobiCash has more than 58000/- online Shops in Pakistan that are serving to the customers of Mobicash to transfer payment and receiving payments though out the Pakistan.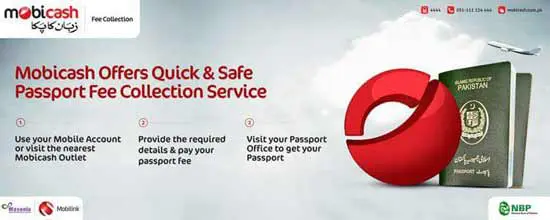 Now MobiCash added New Service Passport Fee Payment Service in their service to support Pakistani to transfer or pay Passport Fee easily without long lines in Passport Offices.
How to Submit Passport Fee:
First of All you need to go your nearest MobiCash Agent; you can find these Shops near of your home or market.
Said to MobiCash Agent that you want to submit Passport Fee Payment after than MobiCash Agent can take following information from you.
CNIC Number
Category
5 years or 10 years validity of Passport
Normal or Urgent (Means you want to make Passport Normal or Urgent there are different fees)
Pages of Passport 36 or 72 or 100
Home delivery (Rawalpindi and Islamabad Rs. 200/- and other cities of Pakistan will be 250/- if you want to receive passport at you home address.
And you're Mobile Number
MobiCash Service Charges will be Rs. 100/- After taking all above information from you he will pay your passport fee online though MobiCash Software.
After than take voucher or payment slip and go to passport office to submit your Form
Fee of Passport:
For 5 Years Passport Fee Payment Schedule with Pages:
Normal Urgent
3000 5000/- (36 Pages Passport)
5500 9000/- (72 Pages Passport)
10,800 12000/- (100 Pages Passport)
10 years Passport Fee payment Schedule with Pages:
Normal Fee Urgent Fee
5400/- 9900/- 36 pages passport copy
9000/- 16200/- 72 pages passport copy
10800/- 21600/- 100 pages passport copy