IBA University Sukkur 8th Convocation 2021
IBA University Sukkur Announced the Convocation Schedule for Session 2021. Nisar Ahmad Siddique road University Campus officials announced the Degree distribution and 8th Convocation 2021.
The passed-out batches of year fall 2019 and spring 2020 are eligible to participate in the convocation 2021.
IBA Sukkur University going to honour distinguished graduates and recognize their achievements, sukkur IBA University is organizing convocation 2021 on date 03 April 2021 Time 10:00 Am (Morning) on Saturday.
 Graduates are requested to register for the convocation 2021 from 22 February 2021 to 23 March 2021 between 09:00 AM to 07:00 PM at registration Desk, Administration Block, Nisar Ahmed Siddique road sukkur for more information students can visit as below:
www.iba-suk.edu.pk/convocation2021/graduates
the students are required to wear the academic robes that will be available at registration desk two days prior to convocation by paying the amount of Rs. 2000/- which are refundable on the convocation day after safe return of gown and deduction of rent.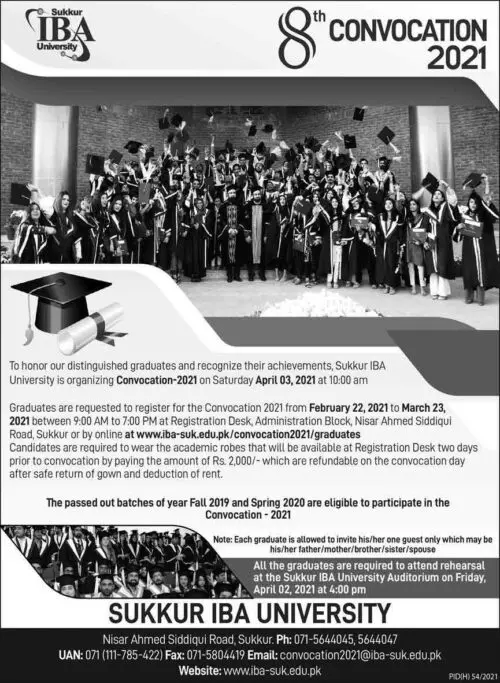 Rehearsal:
All the graduates are required to attend rehearsal at the sukkur IBA university auditorium on date 02 April 2021 Friday.
IBA Sukkur Institute BS/BE/BBA/MBA Admission starts 2021
IBA Sukkur Convocation Date: 03 April 2021
IBA Karachi National Talent Hunt Program 2021 Scholarship Application