Islamabad King Sejong Institute is an institute that is working under National University of Modern Languages NUML Islamabad, Islamabad King Sejong Institute starts taking admission applications for the following course programs:
IKSI Certificate
IKSI Advance Diploma
Duration of Program:
The both course classes will be start from date 19 June 2023
Application Last dates: 28 May 2023 to 12 June 2023
Interview Date: 29 May 2023 to 12 June 2023
Merit List (selection list):
Fee submission last Date: 29 May 2023 to 12 June 2023
 Commencement of classes: 19 June 2023
Fees for IKSI Certificate is 10,000 and for IKSI Advance diploma is 20000/-
Eligibility criteria:
Matric pass students are eligible to apply for IKSI Certificate and for IKSI advance diploma the applicant must have diploma in Korean Language course.
It's a great news for candidates seeking quality education in Korean language for Jobs in Korea. Matric or Equivalent and Certificate in Korean language
Benefits:
Free Korean culture and skill test classes
100 percent success in HRD Korea employment Test.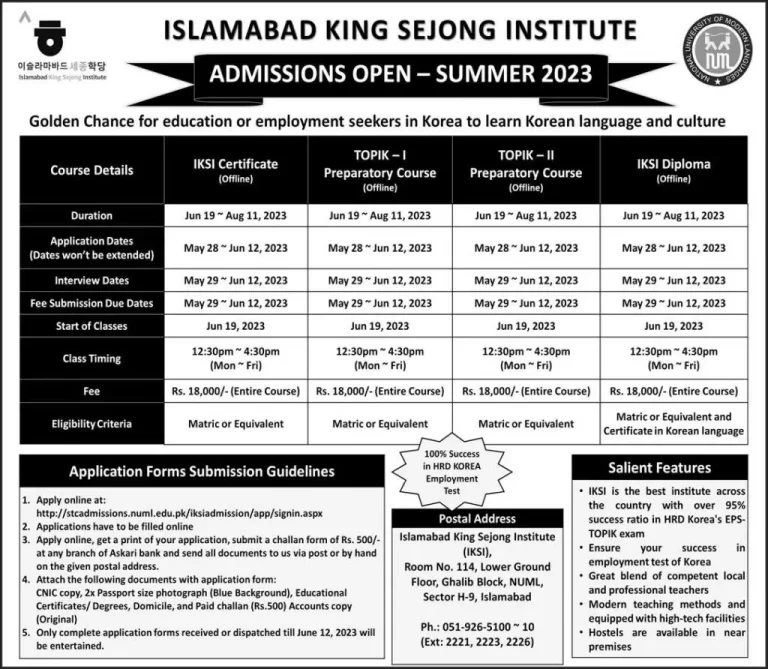 How to submit Application form:
Apply online at www.numl.edu.pk
Apply online at: https://stcadmissions.numl.edu.pk/iksiadmission/app/signin.aspx
2. Applications have to be filled online
3. Apply online, get a print of your application, submit a challan form of Rs. 500/-at any branch of Askari bank and send all documents to us via post or by hand on the given postal address.
4. Attach the following documents with application form: CHIC copy, 2x Passport size photograph (Blue Background), Educational Certificates/ Degrees, Domicile, and Paid challan (Rs.500) Accounts copy (Original)
5. Only complete application forms received or dispatched till June 12, 2023 will be entertained.
100% Success in HRD KOREA Employment Test
Interviews / final merit list will be display on NUML university website and IKSI official website.
Manually filled admission application form will not be consider. Apply online get a print of application form and challan form, after that submit this challan form to bank of Rs. 500/- at any askari bank branch after that send the related documents to following postal address:
Department of Korean Room Number 114, Lower Ground Floor, Ghalib block, NUML Sector H-9, Islamabad.
Phone number: 051-926-5100 to 10
Salient Features
IKSI is the best institute across the country with over 95% success ratio in HRD Korea's EPS-TOPIK exam
• Ensure your success in employment test of Korea
• Great blend of competent local and professional teachers
• Modern teaching methods and equipped with high-tech facilities
• Hostels are available in near premises
Postal Address
Islamabad King Sejong Institute (IKSI), Room No. 114, Lower Ground Floor, Ghalib Block, NUML, Sector H-9, Islamabad
Ph.: 051-926-5100′ 10 (Ext: 2221, 2223, 2226)
Islamabad king sejong institute admission fee
numl korean language course fee 2023
numl korean language course admission 2023
online admission numl
1st year admission in islamabad
bsc admission in islamabad
isb university admission 2023
admission in islamabad model colleges