Join Pakistan Army as Captain through Lady Cadet Course LCC-17 Entry Nov 2020
Pakistani ladies can join Pakistan army through lady cadet course. As every year this year session 2020, again registration is open for lady cadet course LLC-17 Entry November 2020.
Positions:
Inter service public relations ISPR
Judge Advocate general JAG
Corps of ordnance (ORD)
Army service Corps (ASC)
Corps of Engineers
Corps of Signals
Electrical and Mechanical Engineers EME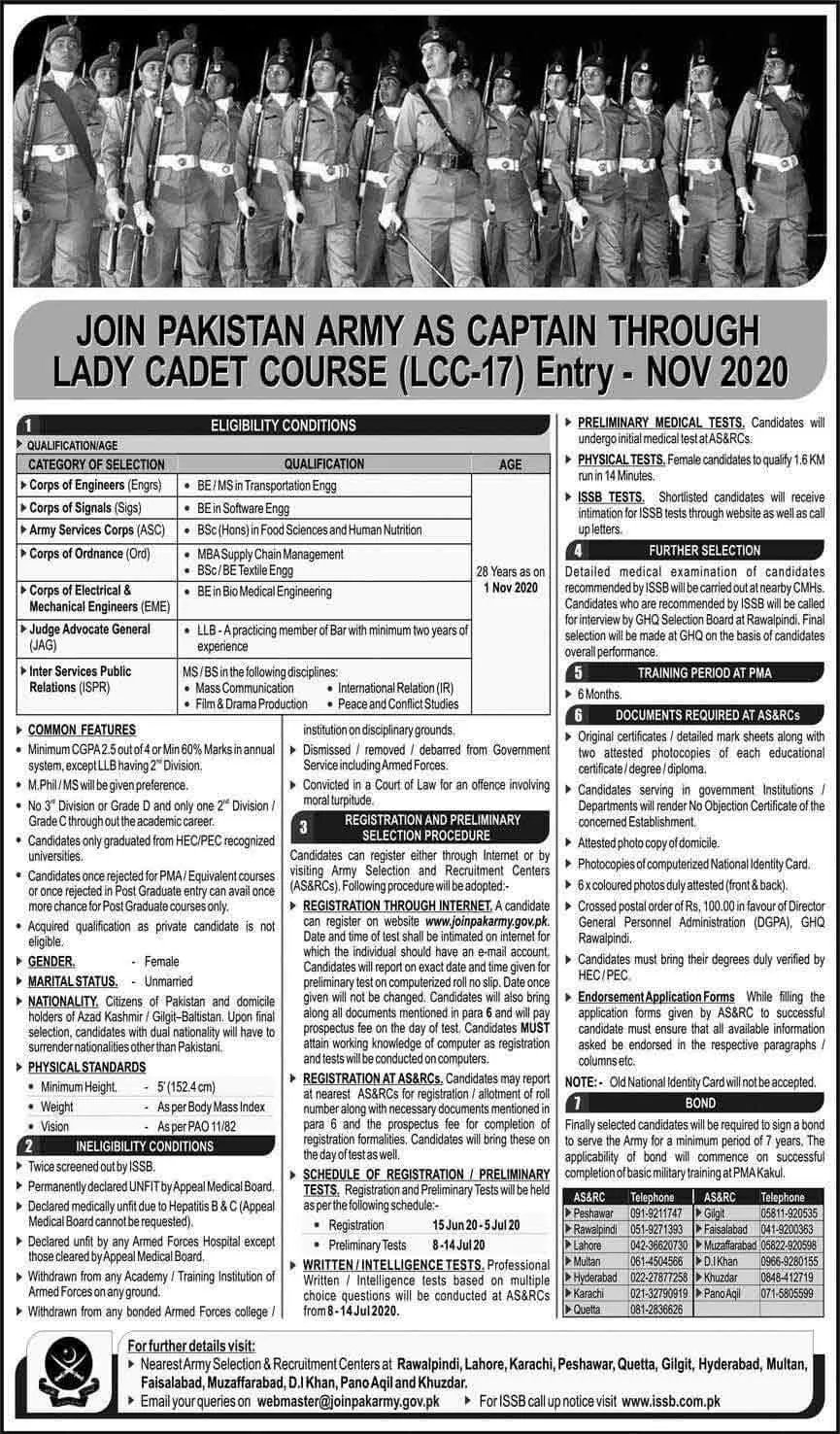 Eligibility Criteria:
The age limit of female applicant: 28 Years old till date 01 November 2020. Pakistani unmarried females having following Qualifications are eligible to apply.
BE / MS in transportation Engineering
BE in software engineering
BSC Hons in food science and human nutrition
MBA supply chain management / BSC / BE Textile Engineer
LLB with minimum two years bar experience for Judge
MS / BS in Mass communication, International Relations, Film and Drama Production, peace and conflict studies
Minimum height: 5" (152.4 cm)
Weight: as per body mass index
Vision: as per PAO 11/82
Entry Tests:
Medical test is necessary for all applicants.
Female candidates to qualify 1.6 KM run in 14 minutes.
Shortlisted candidates will be received call up letters for ISSB Tests and interviews.
Training Period at PMA:
6 Months
Registration / Test Dates:
Registration and preliminary Tests will be held as per following schedule:
Registration starts from date 15 June 2020 till Date 05 July 2020
Preliminary Test: 8 to 14 July 2020
Read Also:
Lady Cadet Course 2020 Eligibility Online Registration Pak Army
Contract:
The successful candidates will be required to sign a bond to serve the army for a minimum period of 7 years.
Peshawar Telephone Number: 091-9211747
Rawalpindi Phone number: 051-9271393
Lahore phone number: 042-36620730
Multan Army Phone Number: 061-4504566
Hyderabad Army Phone Number: 022-27877258
Karachi Army Helpline No: 021-32790919
Quetta Pakistan Army helpline Number: 081-2836626
How to register online:
The registration starts from today so apply through www.joinpakarmy.gov.pk or www.joinpakarmy.gov.pk/LCC/RegistrationForm.html